Sports
An ode to Sourav Ganguly on his 44th birthday
Former India skipper could look eye-to-eye, lifted the team from turbulent times in 2000.
One of India's loved cricket captains, Sourav Ganguly, has taken up administrative role as Cricket Association of Bengal president following his retirement from international cricket. (Photo: PTI)
Mumbai: "I, I will be king, and you, you will be queen; though nothing, will drive them away, we can beat them, just for one day; we can be heroes, just for one day," – if the David Bowie song acted catalyst to the ultimate collapse of the Berlin Wall, it also sketched stories of those who didn't know fear, who could look eye-to-eye.
Former India cricket captain Sourav Ganguly is one such fable. When he took over the reins as skipper (in 2000), he washed the match-fixing stain and made players believe that they could be heroes, the one day multiplied into countless instances. Today, the 'Maharaja' (the King), fondly called, turns 44.
Barring home tournaments, India started competing overseas against giants like Australia, South Africa and Pakistan. The Australians thought they were tough, the best in the world; Ganguly was tougher.
Steve Waugh (former Australia captain) still sulks having been made to wait at the toss repeatedly by Ganguly. Sri Lanka cricketer Russell Arnold believed he would hoodwink the Indians running on the pitch but it caught Ganguly's eye. The 'don't f**k around' video is still available on YouTube. Stuart Broad, the current English pace sensation and a fresher back then, chose the wrong guy to brush up his sledging skills. The next ball went beyond the fence.
'Maharaja' isn't his only sobriquet, English cricket legend Geoffrey Boycott – stupefied by his left-handed elegance – called him 'The Prince of Calcutta'. His brilliance on the off side earned him another moniker – the God of the off side. But the best one remains 'Dada' (elder brother).
Ganguly – a Bengali from Behala, in South West Kolkata – grew up with football, a part of Bengali culture. Cricket came much later, he didn't even know if he would bat right-handed or left; being a right-hander, he opted for the opposite so that he could use his brother's (Snehasish) gear. But once he picked up the willow, school was substituted with Eden Gardens.
Despite excessive cricket camps and tours, he bagged the national scholarship after the higher secondary examinations.
However, Ganguly's courage came to the forefront right from his U-19 days. One such incident dates back to the U-19 Test match between India and Pakistan at the Wankhede Stadium. The Pakistan pacers were breathing down the neck of the Indians and one bowler, Liyak, injured Jatin Paranjpe – the local boy. He had to be carried off leaving blood patches on the pitch.
Ganguly took guard, the Pakistan wicketkeeper urged the bowler to hit him on the head. He kept taunting with phrases like: "Isse bhi le le, ye darpok ko le le (get him, get the coward). Liyak could break Jatin, but failed to overcome Ganguly's resistance. The left-hander's power probably doubled with Jatin's blood on the wicket.
Ganguly made his ODI debut in 1992, scored three runs, and was dropped. Selectors, those days, had a liking for Bombay, Delhi and when no cricketer impressed as such, it was Bengal's turn. There were allegations that he was arrogant and refused to carry drinks as 12th man, but if he was haughty, let him be; if he is proud, he should be; the gargantuan, colossal, at times Hercules attitude escalated India to an all new level under his ruthless captaincy; the batch of 1992 stayed far away from the accolades.
The left-hander, who could bowl seam (right-arm), earned a call-up four years later, for the tour of England. Apart from his batting exploits, his seam bowling could have been handy in the fickle English weather. The gentleman ended up scoring a hundred on Test debut at Lord's and followed it up with another one at Trent Bridge.
Owing to his familiarity with the conditions in England, it looked easy. As a 14-year-old, he had lived and played cricket in England for the Star Cricket Club. The 1996 tour reunited him with old friend Sachin Tendulkar who, by then, was 38-Tests old and didn't mind taping his friend's bat handle (which became loose) at tea.
(Photo: PTI)
There began a steady partnership, one of the best in ODI cricket. Ganguly and Tendulkar – a menace to opponents carried on for years before the former became captain and occasionally, stepped down the order after the arrival of Virender Sehwag.
His bowling turned heads for the first time in Toronto in the Friendship Cup against Pakistan in 1997. Ganguly swung the ball like a boss, bagging best figures of 5/16. He dominated the series with 15 wickets and 222 runs in five matches. Therefore, earned the Man of the Series award.
(Photo: Twitter)
Under Ganguly, India beat West Indies in West Indies, Pakistan in Pakistan, beat England in England, tickled Australia in their own backyard in 2003-04.
Ganguly trusted his youngsters, he introduced Yuvraj Singh and Mohammad Kaif – who turned the tide of Indian fielding. When everyone discarded Harbhajan Singh, Ganguly supported the turban-clad off-spinner. He had tremendous faith in Javagal Srinath, Anil Kumble and Ajit Agarkar. Co-incidentally, MS Dhoni – the current India limited-overs skipper – also made his debut under 'Dada'.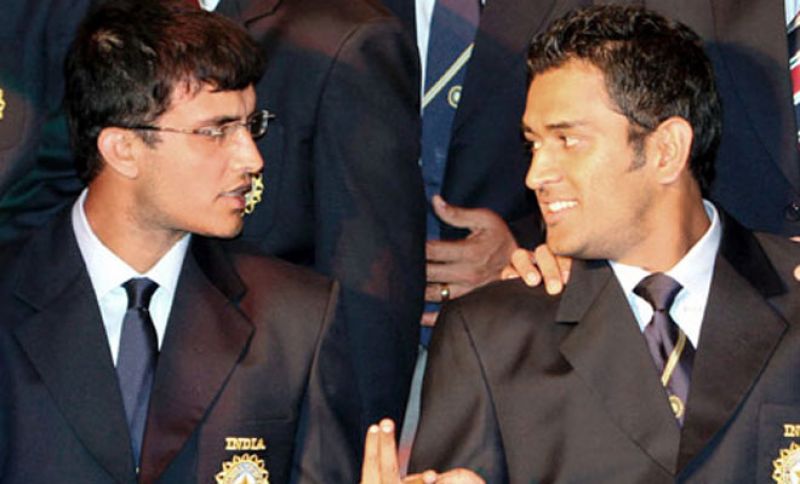 (Photo: PTI)
People say Ganguly couldn't shine in Indian Premier League (IPL) but fans would like to believe that IPL didn't deserve a classy player like him.
The Greg Chappell episode is written to death, so is the altercation with John Buchanan in the IPL but when India won the World Cup in 2011, it was the 1983 skipper Kapil Dev who came on air to say that the winning team belonged to Ganguly, led by Dhoni.
Years went by, players came and retired, but it was once again Ganguly - along with Tendulkar and VVS Laxman - who chose India's new head coach, Anil Kumble.
Ganguly at a glance:
ODI: 311 Runs: 11,363 100s: 22 50s: 72 Wickets: 32
Tests: 113 Runs: 7,212 100s: 16 50s: 35 Wickets: 100
Latest News
Most Popular
Columns