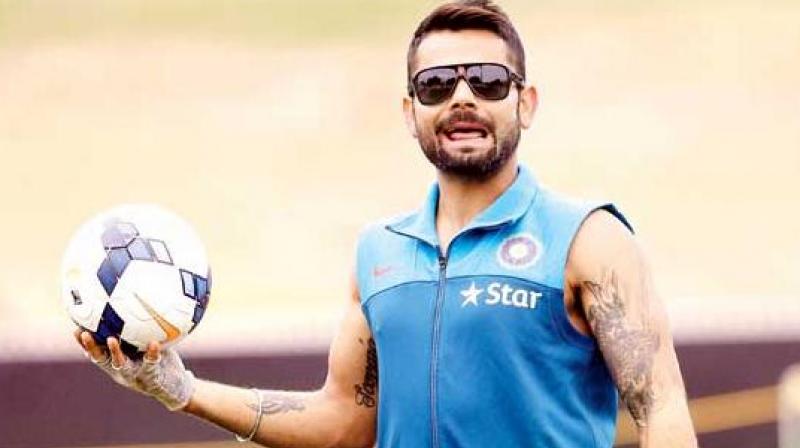 Dhaka: Days before the Asia Cup final, Bangladesh fans went overboard with their celebrations taking a dig at the skipper of the Indian team Mahendra Singh Dhoni. The picture that went viral caused a huge outrage on social media.
However, Team Director Ravi Shastri said his team doesn't pay heed to such incidents and 'their duty is to perform on the field.' Dhoni and Co did exactly what the doctor ordered as they notched a thrilling eight-wicket win defeating 'The Tigers' in their own backyard on Sunday night.
The sight was not a good one for the 25,000 partisan Bangladesh fans at the Shere Bangla National stadium.
(Photo: AP)
(Photo: Facebook)Read: Asia Cup: Pakistan loyal fan harassed in Bangladesh after loss
Moments after the celebrations began, another Bangladesh fan has accused India's Test skipper of using a rubber bat.
The fan accused Kohli of using rubber in the 'inside part' of his bat which helps him to score runs consistently.
The fan posted his message on Facebook.
The fan also said that the outside part of the bat was covered in some kind of wood, so all Kohli had to do was get a light touch and the ball would race away to the boundary.
The aggressive approach India's Test skipper brings to the table has worked wonders for his team. (Photo: AP)
Kohli has been in fine form with scores of 41*, 56* and 49 in his last three innings. The fan did not stop there. He also accused the BCCI of being involved in a conspiracy to get Bangladeshi pacer Mustafizur Rahman injured which forced him to miss the final.
Read: India vs Pakistan: Hot TV actress calls Shahid Afridi 'mad'
Bangladesh fans have not been displaying sportsmanship spirit. After Dhoni's men lost a three-match ODI series against Bangladesh last year, a local news paper had published an image of Mustafizur holding a cutter and beneath him was Ajinkya Rahane, Rohit Sharma, Virat Kohli, Ravindra Jadeja, Dhoni, Shikhar Dhawan and Ravichandran Ashwin with half shaved heads.
...