Sports
Champions Trophy, India vs Pakistan: Yuvraj, Kohli hand India massive win
Deccan Chronicle | DC Correspondent
Published on: June 4, 2017 | Updated on: June 5, 2017
While Rohit Sharma, Virat Kohli, and Yuvraj singh clicked with the bat, Umesh Yadav, Hardik Pandya and Ravindra Jadeja shone with the ball.
It was an all-round performance by India, as they edged Pakistan in almost every department. (Photo: AP)
Birmingham: India got off the mark in their 2017 ICC Champions Trophy campaign with a massive 124-run victory over Pakistan, in a rain-threatened game at the Edgbaston Cricket Ground, in Birmingham, on Sunday.
The Men in Blue got off to a rather slow start in the first innings, after being put in to bat by Pakistan skipper Sarfraz Ahmed.
Openers Shikhar Dhawan and Rohit Sharma were just looking to up the tempo, when the weather gods decided to interfere with the game as the showers poured down. They did not last for long though, as play resumed later, with Dhawan and Rohit needing to acclimatise themselves to the conditions again.
Rohit and Dhawan got to their half-century mark, before launching into the overdrive mode. This aggression did Dhawan in, as he got caught in the deep, trying to slog spinner Shadab Khan.
The rains interrupted again, while Virat Kohli and Rohit Sharma attempted to get the momentum back to the Indian innings.
However, the Mumbai batsman soon found himself short of his crease, as he tried to seal a run. Babar Azam showed great awareness to hurl it at Sarfraz, who swiftly whipped off the bails.
Man of the Match Yuvraj Singh's entry completely changed the dynamics of the Indian innings. The southpaw played a brisk knock of 53 from 32 balls, smacking eight boundaries and one six.
This late surge by Yuvraj, and one massive last over (23 runs) by Hardik Pandya and Kohli meant that India reached a mammoth total of 319 runs from their rain-curtailed quota of 48 overs.
Pakistan made a steady start to their own innings as well, scoring at over five runs per over. However, Bhuvneshwar Kumar, who has had a brilliant IPL season with Sunrisers Hyderabad, struck first, as he trapped the Pakistan opener plumb in front of the middle and off stump.
Bhuvi's fellow opening bowler Umesh Yadav soon struck a second blow to Pakistan, as the dangerous Babar Azam sliced it straight to Ravindra Jadeja at point.
Pakistan looked to be in the game as long as Azhar Ali was at the crease, and the 31-year-old built up a steady 30-run partnership with Mohammad Hafeez, scoring his 11th ODI 50 on the way.
However, Jadeja soon trapped Azhar, who tried to slog sweep the spinner, sending his top-edged shot straight to Hardik Pandya in the deep. The southpaw manufactured yet another wicket with a brilliant direct throw, on the turn, when he had just one stump to aim at. Shoaib Malik was caught way off his crease.
The sun seemed to shine brightly on India's fortunes, as the Men in Blue kept picking up wickets at regular intervals. Pandya, who had bowled tight spells till then, picked up a couple of wickets, removing Pakistan skipper Sarfraz Ahmed and Imad Wasim.
Virat Kohli brought his strike bowler Umesh Yadav in to bowl, as soon as the Pakistan tail was exposed, and the lanky Kolkata Knight Riders paceman wrapped-up the innings with some intelligent change of pace, removing Mohammad Amir and Hassan Ali. With Wahab Riaz already out injured, Pakistan ran out of batsmen, resulting in a massive 124-run win for India.
Scorecard:
India: 319-3 from 48 overs (Rohit: 91, Kohli: 81*; Shadab: 1-52)
Pakistan: 164-all out from 33.4 overs (Azhar Ali: 50, Mohammad Hafeez: 33; Umesh Yadav 3-30).
India win by 124 runs (D/L method)
Man of the Match: Yuvraj Singh
Pakistan: 164-9 (all out) from 33.2 overs (41 overs)
WICKETS! Brilliant bowling by Umesh. He changes up the pace to wrap-up the Pakistan innings with two deliveries still left in his over. First, Mohammad Amir lobbed an easy catch to Kedar Jadhav at short cover to, and then a couple of balls later, Hasan Ali hit one straight at Wahab Riaz at short midwicket. to end the match.
Pakistan may have lost just nine wickets, but Wahab Riaz, who injured himself earlier in the game, will not be able to bat, which means that India win the match by 124 runs.
Pakistan: 151-7 from 29.3 overs (41 overs)
WICKET! A soft dismissal. Pandya pitches it just short of good length as the ball takes a little outward movement off the seam. That was enough to deceive the Pakistan captain, as he edged it into the safe gloves of Dhoni.
Pakistan: 135-6 from 27.3 overs (41 overs)
WICKET! Pakistan are in deep trouble now.Imad Wasim slashes hard on the off side, as the ball flies straight into the palms of Kedar Jadhav.
Pakistan: 131-5 from 26.3 overs (41 overs)
WICKET! Jadeja has wiped away all the questions about his selection over Ashwin's with this performance today. Hafeez goes for a slog sweep against the turn, and top edges it to Bhuvneshwar in the deep. Pakistan are in deep trouble now.
Pakistan: 114-4 from 23.3 overs (41 overs)
WICKET! What a throw by Jadeja. Hafeez steers be ball away, and looks to steal a single. However, Jadeja caught Shoaib Malik off-guard with a gem of a throw, on the turn, as he hits the stumps directly. He had only one stump to aim at. This is a very important wicket, as Shoaib Malik was scoring at a rather brisk pace, and was looking quite comfortable out there.
India have had their poor moments on the field so far. However, Jadeja's brilliant solo effort with the Shoiab Malik wicket makes up for it to some extent.
Pakistan: 91-3 from 20.5 overs (41 overs)
WICKET! Jadeja's consistency with his line and length pays off finally. Azhar did steer the ball away for his FIFTY, but a couple of balls later he perished while trying to slog sweep Jadeja, but only managed to get a top edge, as Hardik Pandya took a smart catch in the deep.
Pakistan: 76-2 from 16 overs (41 overs)
Those two wickets have put a big cap on Pakistan's scoring rate, as the required run rate has now crept up to higher that 8 runs per over. However, Pakistan have targetted Pandya today, scoring 9 runs off his last over, to give some relief to the asking rate.
Pakistan: 61-2 from 12.2 overs (41 overs)
WICKET! Umesh gets a big wicket for India. The in-form Babar Azam sneaked in a boundary through backward-point, as Kedar Jadhav slipped at the ropes. However, Umesh pitches it short and wide again, the next delivery, in order to entice Babar to slice hard at it; and he does. This time however, the ball flew straight to Ravindra Jadeja at point.
Pakistan: 47-1 from 9 overs (41 overs)
WICKET! Jasprit Bumrah gets the wicket that India were so desperately looking for. A little in-swing caught Shahzad off guard, and wrapped him on the pads, as the Indian players go up in appeal; the umpire signals out. Although height might have been an issue there, the Pakistan batsman decides not to for for a review. Hawkeye suggests that it was plumb.
Good news. The rains have suddenly stopped, the covers are off, and we are all raring to go, as Team India get into another huddle. The good part about this is that the sun is out, and we can see clear blue parts of the sky.
Update: Rain had stopped for a while, and the game was supposed to resume at 4.55 pm local time (9.25 pm IST). However, the downpour is back again, throwing the result of the match into jeopardy.
Pakistan: 22-0 from 4.5 overs
And the rains have started to pour down on Edgbaston Cricket Stadium yet again. The English weather just cannot make up its mind today. the covers are out, as the players run off to the dressing room again. We'll bring you more updates from Birmingham, as and when we get them.
Pakistan have gotten off to a decent start, scoring at a little less than five runs per over. They seem to be employing the same tactic as the Indians.
By virtue of Duckworth Lewis method, Pakistan need 324 runs to win from 48 overs.
India: 285-3 from 48 overs
Hardik Pandya is going berserk in the last over. He hit three consecutive sixes of the first three balls. Virat Kohli then finished things off with a four, taking India to a massive score.
India: 285-3 from 46.2 overs
WICKET! Hassan fires in a perfect yorker, and traps Yuvraj plumb in front of the middle stump. The umpire hesitated, as there was some confusion whether it hit the bat, but Yuvraj was given out lbw after Pakistan called for a DRS referral.
FIFTY! Now Yuvraj reaches his half-century, as he top-edges a Riaz delivery behind the wicket for a four. He brought up his 50 in just 29 balls.
FIFTY! Virat Kohli brings up his 50 with a massive six down the ground off Hassan's bowling. The Pakistani pacer had rolled his fingers over the ball, but that did not deter the India skipper. Yuvraj also got into the act, hitting a couple of boundaries in that over. 17 off that over.
Mohammad Amir suddenly goes down to the ground, clutching his ankle, as the Pakistan team physio comes out onto the field, to inspect the paceman, who eventually walks off to the dressing room. Wahav Riaz comes in to bowl in Amir's place.
India: 222-2 from 41 overs
Pakistan have come back well, after Rohit's wicket, but Yuvraj Singh seems to have come out to bat with the intention of scoring the quick runs. Sparsed boundaries have kept India's run rate up, as we enter the last eight overs.
India: 192-2 from 36.4 overs
WICKET! Kohli tries to steam a quick single off Shadab's bowling, but Rohit was struggling there. Babar put in a good throw at Sarfraz, who whipped off the bails quickly. Rohit, who had actually made it to safe ground, had his bat in the air, which at the end of the day, did him in.
India: 176-1 from 35 overs
And we get off to yet another slow start. Rohit Sharma has certainly slowed down quite a bit, after that rain delay. Meanwhile, Virat Kohli seems to be taking the cautious approach, as India would benefit from having more wickets in hand, if the D/L method comes into play.
Update: Rain has stopped again, as the Umpires come out. The match has been curtailed by yet another over. Its a 48-over game now.
Update: The players came back onto the pitch to warm-up, but so did the rain. We will update you about the rain as and when we get them ourselves.
Update: The match has been shortened by one over. It's a 49-over match now.
Update: Rain has stopped, according to reports, and the covers are off. The umpires have come out onto the pitch, for a short inspection.
And guess who's in the house...
India: 173-1 from 33.1 overs
And the rain have decided to pour down on the Edgbaston Cricket ground yet again. This stop-start play could affect India's momentum.
India: 162-1 from 30 overs
Shikhar Dhawan's wicket has calmed things down a little bit, as he was the one who was going after the bowlers. One thing that happens when Virat Kohli is at the crease though, is that the India skipper always makes his partner, Rohit Sharma in this case, run the close singles, and the 2s.
And Virat Kohli comes out to bat.
India: 136-1 from 24.3 overs
WICKET! Shadab Khan tosses the ball up, and Dhawan takes the bait, as he dances down the tract to smack it on the full towards the leg side. It was a simple catch for Azhar Ali at deep-midwicket.
India: 110-0 from 20 overs
FIFTY! And Shikhar Dhawan has decided that he does not want to wait around at the crease too much. Goes after Riaz, and clobbers four consecutive boundaries, to take himself closer to his half-century. He finally got to that mark with a double. This is the 18th half-century of Dhawan's career.
India: 95-0 from 19 overs
FIFTY! Rohit Sharma has played a well-paced innings, and is not launching into attack mode. He brings up the 30th 50 of his ODI career with a massive six by virtue of a slog sweep off Shadab's bowling.
India: 79-0 from 16 overs
And they finally seem to have hit the launch pad. Rohit Sharma and Shikhar Dhawan have picked Wahab Riyaz's over to launch into overdrive mode. Rohit hit a cracking drive through the covers, and Dhawan played a dangerous looking upper cut off the last ball of the over. They also showed more urgency in running between the wickets. 13 off that over.
India: 66-0 from 15 overs
The rain delay has certainly halted the momentum that India were starting to pick up, towards the end of the first 10 overs of the match. Rohit and Dhawan are looking to get their eye in again, something that has caused a drop in the run rate.
Rohit Sharma smashes a Hasan Ali free-hit delivery down the ground, to bring up the 50-run-mark for India.
India: 46-0 from 10 overs
Rohit Sharma politely prods away the last ball that was left from the 10th over, by Imad, as we resume play once again. He would probably need a little more time to get his eye in once again.
Update: The match is set to resume within 10 minutes.
And we have some good news from Edgbaston. Rain has stopped, and the covers are off. India and Pakistan are all set to resume their rivalries again, in a while.
Birmingham: Just when it looked like the India openers were starting to pick up the pace, the weather gods have decided to play spoilsport. The rains have started to pour down over the Edgbaston Cricket Ground, as the covers have come on.
The weather forecast suggests that the thunder-storm may linger around for around an hour.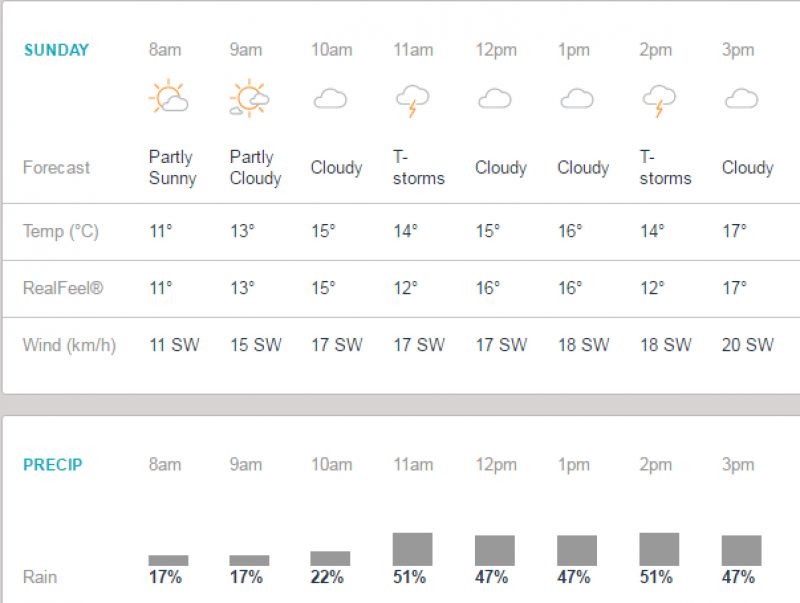 (Photo: Screengrab from accuweather website)
India: 46-0 from 9.5 overs
Rain could mean bad news for India, who have had a slow-ish start. Also, it breaks the momentum that Rohit and Dhawan were starting to pick up.
Rohit Sharma had played a few deliciously timed drives for boundary, while Dhawan slog swept Imad for a lofty boundary on the leg side. India picking up their pace also put the Pakistan fielders under some pressure, as they made a few mistakes in the field.
A four over spell seems to be enough for Amir, for now. Paskistan skipper Sarfraz wants to preserve him for later. Hasan Ali into the attack, in the 9th over.
India: 15-0 from 5 overs
A tight start by Amir and Imad. Rohit Sharma and Shikhar Dhawan have found it difficult to get going. Rohit has been beaten past the bat a couple of times by Amir. However, the Mumbai Indians skipper also gave it back to the left-arm pacer by hooking him towards the fine-leg boundary.
They might be the fiercest rivals on the pitch, but at the end of the day, everybody is respectful to each other.
India: 3-0 from 2 overs
Imad Wasim comes in to open the bowling from the other side, for Pakistan. A spinner opening in English conditions is highly unusual, indeed. He makes a good start, however, giving away only three runs from that first over.
India: 0-0 from 1 over
And the two Indian openers are out onto the pitch, after a minute's silence in honour of the victims of the London terror attacks yesterday, and the national anthems of the two sides. Rohit Sharma takes strike, as Mohammed Amir hurls in an outward angled delivery that flies past the former's bat.
Birmingham: Sarfraz Ahmed has done exactly the opposite of what Sourav Ganguly had said after the pitch inspection as the Pakistani skipper has won the toss and put India to bat in the ICC Champions Trophy clash between the arch-rivals at the Edgbaston Cricket Ground in Birmingham on Sunday.
Indian skipper Virat Kohli did not look too unhappy with Pakistan's decision as India bat first.
"It is a pretty good wicket, it will stay even. We need a complete performance to win a game of cricket, today is going to be no different. The preparations are like usual," Kohli, who is leading Indian senior team for the first time in an ICC event for the first time, said at the toss.
Sarfraz, who like Kohli, will be leading Pakistan for the first time, hoped that his team would play without any pressure.
"It is a good pitch and won't change much. India-Pakistan is a pressure game, hopefully we play as a free game. Our batting is much better," said Sarfraz.
India, the defending champions, are fielding 4 pacers including Hardik Pandya as ace off-spinner R Ashwin and pacer Mohammad Shami are left out from the playing XI.
Win toss and bat first, says Sourav Ganguly as he inspected the pitch ahead of the India-Pakistan ICC Champions Trophy clash in Birmingham on Sunday.
"It is a very good surface, it is getting orange-ish, which says the moisture content is not much. It is hard and overall good for batting," added the former India skipper.
Meanwhile, fans of the both the sides have set the stadium buzzing.
The wait of over two years is finally over as arch-rivals India and Pakistan square off at the Edgbaston Cricket Ground in their ICC Champions Trophy opening game in Birmingham on Sunday.
While the rain is expected to play spoilsport, the fans, who will make sure the stadium is jam-packed, will be hoping that rain gods alter their plans and match to proceed smoothly.
There was no shortage of excitement before the match. However, the alleged Anil Kumble-Virat Kohli row added more spice to the build-up for the game. Although Kohli vehemently denied the reports of trouble between him and Team India coach, it will be interesting to witness how Indian team performs following the huge media coverage the entire saga garnered.
While Pakistan have never beaten India in ICC World Cup and World T20, they enjoy 2-1 win-loss record in ICC Champions Trophy. India, on the other hand, though would take confidence from the fact that what transpired when these two sides faced off eachother in Champions Trophy event the last time. Additionally, India enjoy a good record in their previous three games at the venue where they have won all the matches; including one against Pakistan.
Talking about to key battles, a lot of eyes will be on Mohammad Amir versus Virat Kohli showdown. However, with Bhuvneshwar Kumar, Umesh Yadav, Mohammed Shami and Jasprit Bumrah to choose from, this could well be the first time when Indian pace attack has more firepower and variety than Pakistan's. The presence of Hardik Pandya also means that Kohli has a welcome problem at his hand.
Indian batting though looks a bit shaky despite the presence of veterans like MS Dhoni and Yuvraj Singh. While Shikhar Dhawan looked in a fine form during India's warm-up games against New Zealand and Bangladesh, the other opening options – Rohit Sharma and Ajinkya Rahane – did not enjoy a good time in the middle. Kohli, who did not bat in the second warm-up, though looked comfortable in the first practice match against the Kiwi side. While Kedar Jadhav and Dinesh Karthik staked claims with some impressive batting show, Yuvraj Singh's lack of match time and Dhoni not batting in the second game, mean that India will have a tricky task at their hand.
Pakistan, meanwhile, have the likes of Ahmed Shehzad, Mohammad Hafeez, Sarfraz Ahmed, Shoaib Malik, Haris Sohail in their ranks. But the player to watch out for will be the young Babar Azam, who impressed one and all with his solid showing in limited-overs cricket over the last one year.
In bowling, Pakistan have the services of Imad Wasim and Shadab Khan with the pace-bowling department consists of the likes of Wahab Riaz, Amir, Hasan Ali.
Squads:
India: Virat Kohli (Captain), Rohit Sharma, Shikhar Dhawan, Yuvraj Singh, Ajinkya Rahane, Dinesh Karthik, Kedar Jadhav, MS Dhoni (wicketkeeper), Hardik Pandya, Ravichandran Ashwin, Ravindra Jadeja, Bhuvneshwar Kumar, Jasprit Bumrah, Umesh Yadav, Mohammed Shami.
Pakistan: Sarfraz Ahmed (Captain and wicketkeeper), Ahmed Shehzad, Azhar Ali, Babar Azam, Fahim Ashraf , Hasan Ali, Imad Wasim, Junaid Khan, Mohammad Amir, Mohammad Hafeez, Shadab Khan, Shoaib Malik, Wahab Riaz, Fakhar Zaman, Haris Sohail.
Latest News
Most Popular
Columns