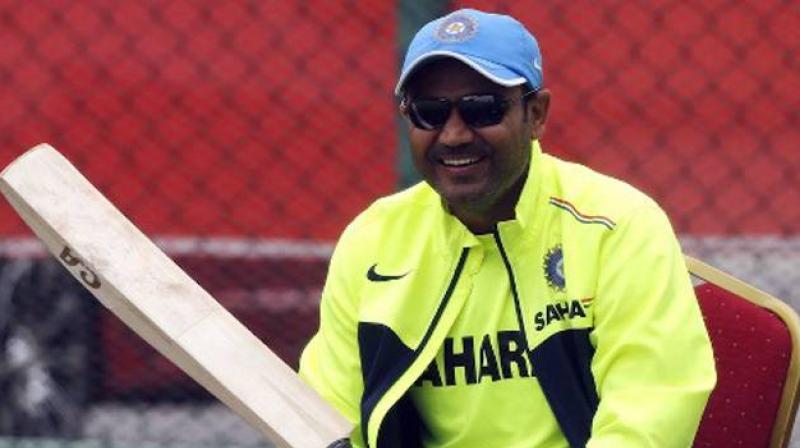 Mumbai: While he may be known to decimate opposition bowling by simply remaining unfazed by with the situation or the bowler, former India opener Virender Sehwag also holds a strong sense of humour.
The aggressive Delhi batsman was at his best when he ridiculed the 'Rawalpindi Express' Shoaib Akhtar's words of praise for Indian cricket, pointing out the sole reason of the latter's statement was to only achieve business in the sub-continent.
"Shoaib Akhtar became a really good friend because he wanted to establish business in India. That's why he had to talk good about India so that he could get paid by doing commentary. Whenever you see Akhtar today, you'll notice him praising India so much, nobody would even believe him praising India so much in his life. During my time when he used to bowl to me, there was no love lost. Money can do everything," Sehwag poked fun at former Pakistan speedster, here during the launch of mobile streaming service Viu.
Sehwag and former India pacer Zaheer Khan will feature in a brand new celebrity cricket chat show 'What The Duck' anchored by cricket humorist Vikram Sathaye on the digital platform. The 12-minute episode will showcase the funny side of former and current cricketers.
Sehwag gave audiences present on the terrace garden at the Mumbai hotel, a glimpse of his humorous best, tickling them with rib-tickling tales.
The veteran batsman led his side Gemini Arabians to clinch the inaugural Masters Champions League.
Former Pakistan bowler Rana Naved-ul-Hasan (who played for Sehwag's team in the MCL) changed his stance saying earlier it was Inzamam-ul-Haq who was his best captain but now it's clearly Sehwag.
"Yes, definitely, because now he too is in search of maybe a job in a news channel in India. If Star Sports is listening then they too can call him to give Sehwag some company and have another Pakistani commentator. Nowadays Pakistani people such as Mohammad Yousuf, Saqlain Mushtaq or Rana, who work in Pakistan TV channels, all want to come to India because they know India is a big market and obviously if you get Rs 1 lakh over here, then its Rs 2 lakh in Pakistan," the 37-year-old Sehwag told Sathaye in a chat much to the laughter of the corporate gathering.
However, Sehwag, who announced his retirement last year in October is quite relieved to leave the game specially when it comes to his two kids Aryavir and Vedant, who would taunt their dad while he was in his playing days.
"When you have children they tease you to such levels that you can't even expect. Today also when they watch television, they tell me, 'Papa, agar aap khel rahe tho aap out ho jaate, tho hamara kya hota, hamare dost tho haemin maar ke ate' (Papa, if you were playing today and if you were out then our friends would hammer us). Imagine if I was playing and got out, how much would I have to listen? Luckily now I have left cricket and my children too have grown older and mature," Sehwag guffawed.
During the course of the chat it was revealed that former India skipper and currently coach of India under-19 cricket team Rahul Dravid, who used to meditate for 20 minutes, would not see Sehwag attend the meditation course.
"I don't think it's needed. My funda is to play the ball you just need 30 seconds or 20 seconds. If you can meditate for that time then it's very good. Whenever I tried to meditate, be it for 20, 30 or 50 seconds, I just couldn't do it so that's why I didn't even try to mediate. I though whatever I am doing that's fine. Singing songs, blowing whistles (while batting), in that way I am getting to score runs and more than Dravid so what's the problem," he added heartily.
...