Mumbai: If India are on a great run in the shortest format of cricket winning nine out of the 10 T20Is they played, a lot of credit has to be given to the bowlers and in particular, veteran Ashish Nehra, whose comeback has been most talked about in cricketing circles.
Former India pace spearhead Zaheer Khan believes Nehra, who made a raging comeback to the Mahendra Singh Dhoni-led side after five years, is doing a brilliant job.
Read: IPL is a great help for bowlers, says Ashish Nehra
"I should take some tips from Nehra on how to survive for so long. It's not easy to comeback at this stage in the career and he's doing well which is amazing. He has motivated me to train. I got hope to train for IPL," Zaheer said during a promotional here on Thursday.
Zaheer and his 2011 World Cup teammate Virender Sehwag have been roped in as guests for a celebrity chat show 'What The Duck' by cricket humorist Vikram Sathaye.
Shoaib Akhtar speaks well of India to make money: Sehwag
Sathaye, also present in the event, set the ball rolling for the former India cricketers and asked Zaheer why is he called the 'Gyan Baba' of the Indian team?
"There's no particular reason for me being called 'Gyan Baba'. I think it just somehow started like that. Maybe I can't stop myself but going up to bowlers and always giving them advice, that's how it came into existence I think," Zaheer added with a grin.
However, host Sathaye began to dig further and enquired rather cheekily if the southpaw had given any advice to Sehwag.
"He's the one who advised Sourav Ganguly to let me open the innings. All credit goes to him and because of that I was able to score 8000 (exact 8568 runs) Test runs," Sehwag was quick to comment.
"End of the day he was the 'Gyan Baba', he was advising Ganguly also," Sehwag said with a huge laugh.
With 610 international wickets, Zaheer finished as one of India's most successful bowlers, being the fourth-highest wicket-taker for India across formats. The 37-year-old veteran who was a fighter on the field said sledging had to be a part of the game.
"Sledging always doesn't mean that you have to go and use bad words. When I was playing on the field, I always used to find ways of disrupting the batsman's concentration for those 30 seconds when he bats. When he does that you give yourself a better chance. That way I ended up picking wickets," he said.
The chat was getting serious and Sathaye unearthed an interesting fact that makes Zaheer the only cricketer who got retired before marriage.
"You're the only one who could give attention to these kind of things," Zaheer said.
"Fast bowling in the sub-continent is very tough. I knew I could focus on only one thing at a time. It was either bowling or getting married, having kids and running after them. So I thought I better run after the wicket and bowl," he added.
Sehwag, who is also known for his humour then decided to pick on his former teammate. "Getting married is not tough. So many girls were following you and you didn't pick one?" Sehwag asked.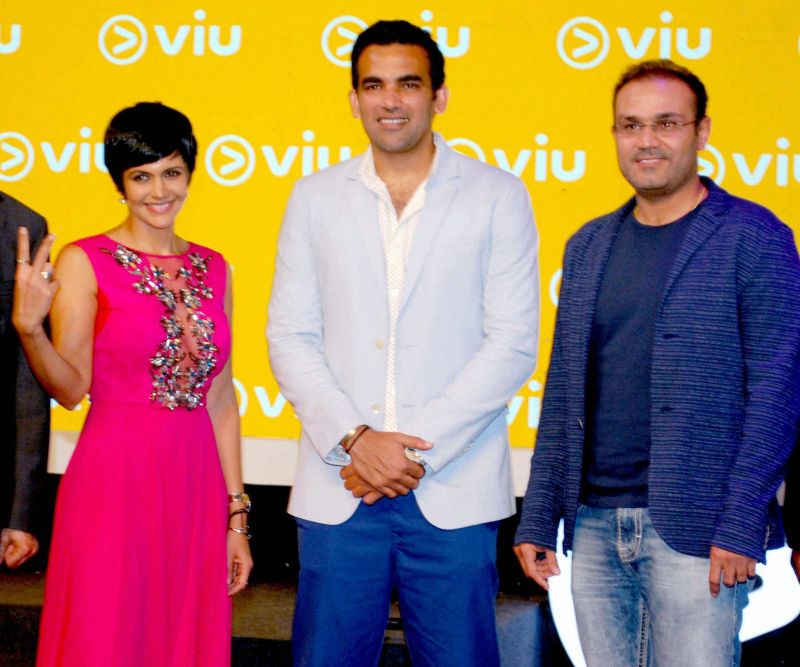 (Photo: PTI)
"I was too focussed on the game," Zaheer answered.
The former India pace machine today is also a reputed businessman being the owner of a chain of restaurants and gyms. When enquired on what could be the reason for starting both diametrically opposite ventures, Zaheer saw the lighter side to it.
"It's a great strategy. You first give them food, make sure it's rich, they become nice and plum and then you tell them, now you have to work out so get in the gym," Zaheer said, adding that retirement from the game was the reason he could smile so much.
...