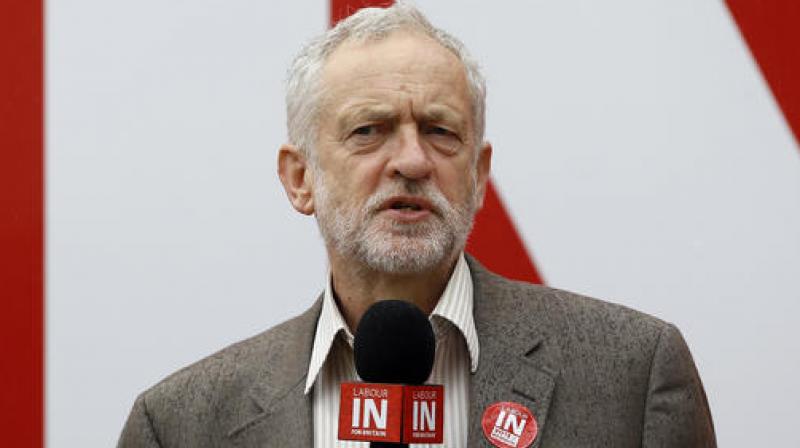 Over 700,000 people marching through central London last Saturday demanding a people's vote on any agreement reached in Brussels adds one more element which Theresa May has to keep in mind while firming up a Brexit deal with Brussels. The London mayor, Sadiq Khan, has joined the chorus for a second referendum. The Prime Minister is clearly embarked on a high-wire act. From that elevation she is not speaking "to be or not to be" in soliloquy, but singing it in high-pitch soprano.
The British, compulsive grumblers, are on sixes and sevens over Brexit. They would be relieved if they craned their necks and looked across the channel at the spectre of fascism, populism, left-radicalism in a toxic mix spreading across Europe and beyond. The latest vote in Bavaria has weakened the centre in Germany but the relative spread of green is heartening. The rise of the fascist right everywhere is the real danger.
Just consider the Far Right leader of Italy's ruling coalition, Matteo Salvini of the Northern League for instance: His earliest act as deputy prime minister was to order a boat full of North African migrants to be allowed to drift towards Spain. Whether they drown or touch shore was not his concern. For this he is rising on the popularity charts. He is much the most popular leader in Italy with his anti-immigrant rantings. To firm up ideological bonds, Marine Le Pen of France's National Rally, visited Mr Salvini recently. If this was not a sufficient shot in the arm for Italian fascists, white supremacist, once President Trump's soulmate, Steve Bannon, arrived to give a fillip to his plot — Brothers of Italy, they are called. Mr Bannon calls it "the movement". "Bannon is here frequently to confer with Salvini and meet some of us" says Francesco Galieti, journalist who also advises investors.
Mr Bannon is the spider in the web wherever ultra-nationalism, illiberal economics, leavened with dollops of racism rears its head. On Brexit too, he is putting in his mite to accelerate the break with EU. Just as committed on the other side of the debate is the even more powerful, anti-Brexit billionaire, George Soros. They are both in convulsions to save the world from the curse of anti-capitalist headwinds.
There is a common anxiety but with distinct prescriptions. The desperation of this lot is manifest even as far as Brazil. Jair Bolsonaro, who romanticises the likes of Pinochet, has support from the same interests who are stitching together fascism in Europe. Mr Bannon has been advising Bolsonaro's media team. His appearance on a Nigel Farage radio show created a minor storm. Mr Farage, of the former Independence Party, leads the anti-Brexit movement with a self-explanatory title — Leave Means Leave.
Removed from anti-Brexit extremism are countries like Austria, Poland, Hungary and the Nordic north, which are anti-migrant, on occasion anti-Semitic but not anti-EU. Mr Bannon has no interests here; Mr Soros has.
Against this broad canvas of despairing gloom, I would like to state, on the pain of being repetitive, that Britain provides relief. For many in Britain, this relief is mingled with fear because the right wing media has painted Jeremy Corbyn in lurid colours. The Conservative Party is in desperate straits over both Brexit and Mr Corbyn. Prime Minister Theresa May is looking at the "Exit" door in a sort of daze. She does not quite know how to handle the several balls up in the air. A break with EU will prompt Scotland to sew up its own deal with Brussels. Also, since this will entail the border between Belfast and Dublin demanding visa clearances, the Democratic Unionist leader, Arlene Foster will break with Ms May, bringing down her government. The whole point about Unionism in Ulster is to be "exactly" like the rest of Britain, says Ms Foster. Any arrangement exclusive to Northern Ireland will not be acceptable to the Unionists.
Meanwhile, the right wing of the conservatives, say, former foreign secretary, Boris Johnson and his cohorts are threatening to throw a ginger fit if Brexit is "softened" — a means of placating the urge to "remain", which is noticeable on both sides of the aisle.
By consistently painting him as an ogre, the British right has conferred a sort of charisma on Mr Corbyn who has emerged even more firmly in control after the annual Party conference in Liverpool in September.
During his speech, Mr Corbyn made an offer to Ms May. "Labour MPs would vote for a soft Brexit deal which keeps Britain in the Customs Union with the EU".
What would be the Labour Party's position on a growing demand for a fresh referendum on Brexit? I had put this question to Mr Corbyn two months ago. His response was very political. "The people have voted for Brexit in a referendum. Let the government negotiate a deal with Brussels which is acceptable to the British public." Clearly, this position is negotiable. Witness Labour's Mr Khan demanding another referendum during the peoples' march.
With Mr Corbyn as Prime Minister looming large on the horizon, the media, which has placed him consistently in a negative searchlight, has a huge challenge on its hands: How to begin to adjust to the reality of Mr Corbyn?
He continues to say things, which make those elements of the Conservative Party who are wrapped in an Anglaise-Britishness, very uncomfortable. For instance, he would like schools to have in the text books those aspects of British history which also illuminate negative parts of colonialism. This when the centenary of the Jallianwala Bagh massacre in April 2019 may well be a high profile event during the Indian election season.
Little wonder a magazine like the Economist still makes Mr Corbyn look like Che Guevara, a beret and the revolutionary leader's trademark beard et al.
H11
...