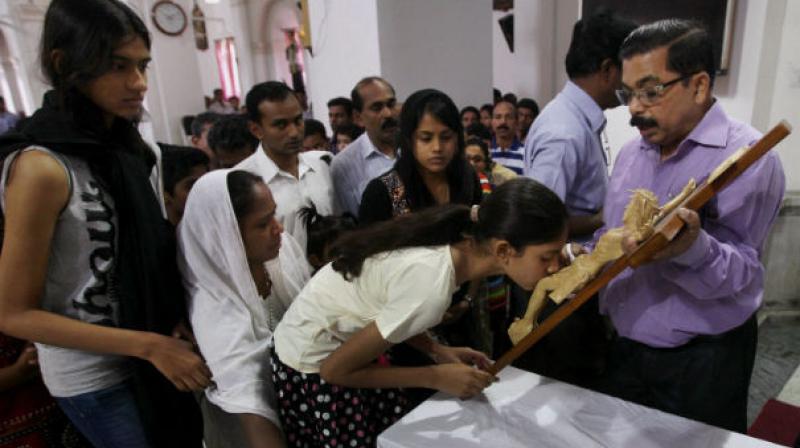 My relationship with the crucified Jesus is ever stronger and beautiful," said a friend, Kathy, days before she succumbed to cancer, leaving behind her husband and two little kids. Likewise, Father Christudas, who was thrashed and paraded naked on false charges in Dumka in September 1997, said, "I couldn't bear the humiliation and pain until I suddenly felt one with the crucified Jesus." Why did Kathy and Christudas "feel one" and "strongly related" to the crucified Christ?
The crucified Christ is central symbol of Christianity. Good Friday, Christians worldwide pray the "way of the Cross" and commemorate the "passion of Christ". Crucifixion probably originated with the Persians. It was later appropriated by Alexander the Great, adopted by the Romans and abolished by Emperor Constantine. Crucifixion was the vilest and cruellest of deaths imaginable. It included scourging, with the victim stripped and mocked. After death, bodies were abandoned on crosses and became food for scavengers. Could this be the state of one whom Christians, till date, consider God?
"If any want to become my followers, let them deny themselves and take up their cross daily and follow me," said Jesus. He did not intend the cross to be some once-in-a-lifetime or yearly event, but a daily option whereby one sheds one's ego, evil, sin, selfishness so as to love, live for, and, if need be, die for others. This courageous path of love, service and sacrifice does cause inconvenience and suffering to oneself, but simultaneously promotes the love and life of others.
Good Friday is central to the entire mystery of this "Holy Week" beginning with Maundy Thursday — literally, "Mandate Thursday" — when Jesus exhorts his disciples to "love one another as I have loved you" as he bends down to wash their feet. His gruesome Friday death is followed by the silence of "Holy Saturday" when his fearful and confused disciples seek the meaning of his life and death. However, the coming resurrection Sunday throws light upon darkness and transforms death into life.
Is Christianity a religion of sadness, since its focus seems to be the cross? Certainly not! The cross (suffering/death) is inseparably connected to Christ's empty tomb (joy/life/resurrection). This is the mystery of love, life, liberation. One who loves deeply joyfully gives one's whole life to and for the beloved. Love never dies. It promotes new life.
Mothers birthing babes, teachers enlightening students, farmers reaping harvests, youth critiquing injustices, soldiers facing gunfire, artists creating masterpieces and social activists protesting evils — as well as Kathy and Christudas — prove that those who walk upon the "crossroad" of life pay a price. Christ's Friday death is "good" because it was for a cause. Such dying climaxes in Easter Sunday glory.
...