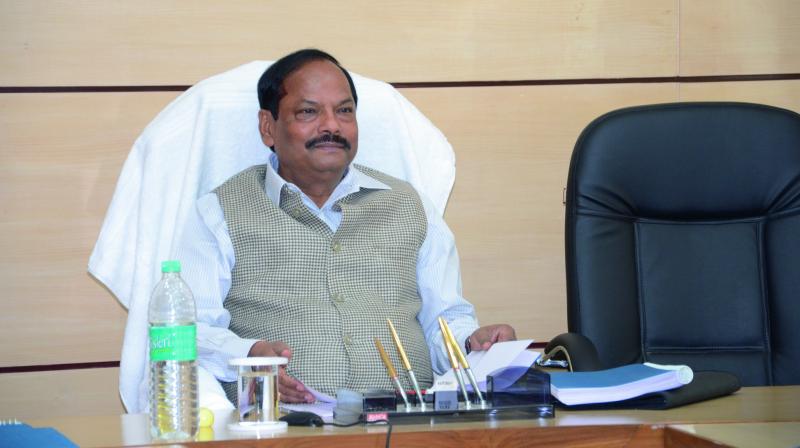 Jharkhand chief minister Raghubar Das has warned all those involved in the religious conversion of tribals that the state will take strong action against such activities and, if need be, a strong law will be put in place. While 22 out of 24 districts in Jharkhand are declared affected by Left-wing extremism, Mr Das, in an interview to Manish Anand, claimed that Maoists have mostly been tamed and only goons are now engaged in extortion.
Jharkhand has been known for political instability and corruption epitomised by former CM Madhu Koda. How challenging is it for you to change this negative perception?
It was precisely for such a reason that Prime Minister Narendra Modi called upon people in the run-up to the Assembly elections for "poorn bahumat, sampurn vikas (full mandate, all round development)". Jharkhand as a state was created along with Chhattisgarh and Uttarakhand, but political instability in the state allowed middlemen to indulge in loot of the state exchequer. He (Mr Koda) was a tribal person, but was exploited by the Congress and Rashtriya Janata Dal. In the process, the state got a bad name. But in the last 17 months, the perception has changed for the better and middlemen have been eliminated. The state government has established a strong rapport with the people.
Jharkhand presents a paradox that the state is rich in minerals and mines, yet people are poor. What is being done so that these benefits reach the people?
The neglect of people of state in the last 68 years is the reason behind the paradox. Jharkhand has coal mines, but the state faced darkness. There was a lack of thought in proper utilisation of resources. We should exploit natural resources only to the extent we need. Jharkhand is a single-crop state. But there is a potential to grow three crops. And the potential could be realised if we could hold rainwater for which we are building dhoaba, check dams, ponds and micro-irrigation facilities. We have built one lakh dhoaba on farmland with machines and will build five lakh under MGNREGA. We are reviving 75,000 ponds. We are also giving two cows each to women in the state to help them improve their incomes.
Labour reforms and improving the ease of doing business are identified steps to attract investments. How is Jharkhand placed on such measures?
The World Bank has recognised Jharkhand as the top state in India for labour reforms. The Central government has also ranked us third on reforms for improving the ease of doing business. We have set up a single-window interface for industry. We have a policy of no inspection of factories for five years. We have put in place time-bound approval of industrial proposals for which we have designated key officials.
Religious conversions of tribals has been a contentious issue and much debated in Parliament. There have been allegations that the tribals are lured by benefits, like free education and healthcare for conversions in Jharkhand.
Seva Bharat ka sanskar hai (service is in the nature of India). But in lieu of service no one has the right to convert anyone. Even the Constitution does not allow conversions by allurement. I want to caution those who are still engaging in such activities to stop doing so, else the administration will take strict action against them. If there is a need, the state government may pass a strong anti-conversion law too.
Jharkhand has 22 out of its 24 districts affected by LWE? How is the state geared to deal with the Maoist violence?
Why did the issue of Maoist violence crop up in Jharkhand earlier? It was because the administration was not solving the problems faced by the people and the vacuum was filled by those who believed in violence. I am happy to share that of late no major Maoist violence has been reported from the state. We brought in a surrender policy and misguided youths responded very positively. Development should benefit people and we are working on this philosophy, which is paying good results. Now they have almost been eliminated. The administration has reached the villages and begun solving the problems faced by people. Now we see goons and criminals who claim to be Maoists indulging in extortions in a few pockets of the state. We are determined to finish them off soon.
What mechanism do you have to take the administration to the villages, and eliminate middlemen, for which Jharkhand had been infamous?
We have a programme called "Yojna Banao Abhiyan (campaign to make schemes)". The people in gram panchayats meet and decide what schemes they want for development of their villages. The funds allocated to gram panchayat are displayed prominently, and people know how much money (Rs 80 lakhs to Rs 1 crore) they have at their disposal. We are imparting managerial skills to gram sabhas with about 35 volunteers at their disposal.
The idea is that people in the villages need not go to officials for their work, but get services at their doorstep. The surveys are conducted to identify beneficiaries and their names displayed to institutionalise transparency in the functioning of local bodies. We also have a helpline number, 181, which solves the grievances of people on a real-time basis and is much applauded by all.
Ranchi is in the list of "Smart Cities". How geared is the state for such an ambitious scheme?
We are ready for the Smart City programme and have already allocated 600 hectares of land for the purpose in Dhurwa, Ranchi. We have also earmarked 200 acres of land in Patratu for the film city, where the likes of Mahesh Bhatt and Anupam Kher have already shot their films. We are also going to host a global investor meet early next year, for which we will host roadshows abroad. We have also approved a metro project for Ranchi. We have a land bank at disposal, besides earmarking 200 acres for the IT sector. We can allocate land to a potential investor in one week's time.
Jharkhand also has primitive tribes. What is being done for their welfare?
We are soon going to reserve two per cent of government jobs for the primitive tribes who mostly reside on hilltops in the Santhal region of the state. We have constituted a primitive tribal development authority. We are providing free rice and pensions to the three-lakh primitive tribe population. They are extremely poor. We are going to raise two battalions which will be drawn from the primitive tribes.
...