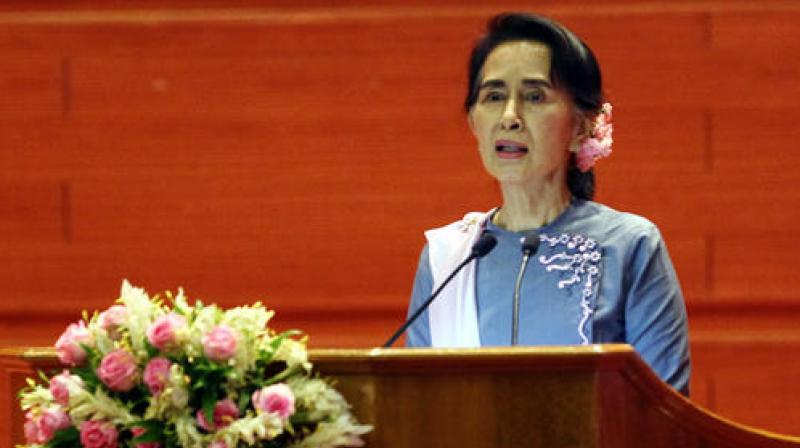 Last month, Myanmar's new Aung San Suu Kyi-inspired government gave out clear signals that Naypyidaw was engaged in a delicate balancing act with not just India and China, two of its large neighbours, but with other nations or blocs like the United States, Japan and Asean as well. True, President U Htin Kyaw chose India for his first state visit (August 27-30) after the National League for Democracy assumed office in March, but one can't miss the fact that Myanmar's all-powerful leader, Ms Suu Kyi, made China her first port of call as state counsellor and foreign minister. Ms Suu Kyi paid a five-day visit to China (August 17-21) and received a red carpet welcome that Beijing usually reserves for heads of state. Next, Ms Suu Kyi is expected to head for the US at the invitation of President Barack Obama, and only in October is she due to visit India for the Brics and Bay of Bengal Initiative for Multi-Sectoral Technical and Economic Cooperation (Binstec) outreach summit.
Myanmar could well be trying to get out of China's shadow, but the new leadership appears to be interested at the same time to recalibrate its ties with its big, influential and affluent neighbour. Ms Suu Kyi, for instance, hinted that Naypyidaw was interested in re-examining the $3.6 billion Myitsone Dam project on the Irrawaddy river, suspended by the junta after public protests in 2011. This change of stand is significant as Ms Suu Kyi, as the pro-democracy protagonist in Myanmar, had earlier opposed large-scale Chinese investments, perhaps for fear that her country would fail to emerge from Beijing's stranglehold. If construction of the joint China-Myanmar funded Myitsone Dam project resumes, Myanmar could soon have the means to sell power and boost its economy. China, of course, would regain lost ground and leverage this into other areas where Chinese investors could play a role.
It might be prudent to analyse the recent visit of President Kyaw to India in this backdrop. For the record, four memorandums of understanding were signed between the two nations; two concerning the India-Myanmar-Thailand Trilateral Highway, one on renewable energy and the other on traditional medicine. But the fact remains that the highway project has been dragging along for a long time and the final push towards actually getting it done and over with is expected only now. India is constructing as many as 69 bridges on this highway, starting from Tamu, just across Moreh, in Manipur, up to Kalewa. Of course, the two sides expressed satisfaction at the progress made in the implementation of Kaladan Multi-Modal Transit Transport Project. The landlocked northeastern state of Mizoram is set to be connected to Myanmar's Sittwe Port, Rakhine State by December this year.
After Ms Suu Kyi's NLD assumed office in March, there have been several high-level engagements between India and Myanmar. National security adviser Ajit Doval, minister of state for commerce Nirmala Sitharaman, MoS external affairs V.K. Singh had met Ms Suu Kyi in Laos, and lately external affairs minister Sushma Swaraj held talks with leaders in Myanmar. These contacts have, however, not succeeded in fast-tracking the level of trade ties if the figures are any indication. Somewhere, the push seems to be lacking, or the tempo towards cementing ties has failed to remain consistent. For example, India's total investment in Myanmar was a little over $224 million in 2015-2016 — much lower than investments by others in the neighbourhood like China. Significantly, no new Indian investments were made in the first four months of 2016-2017. According to Myanmar's commerce ministry, the total trade volume between the two nations has reached $1.17 billion, while Myanmar-China trade stands at $10.9 billion. Indian investors are keen to have a share in Myanmar's energy, health, automobile and agriculture sectors. This could well be possible if New Delhi is able to maintain the momentum in engagements with Naypyidaw.
The big takeaway for President Kyaw, of course, was the firm commitment by Prime Minister Narendra Modi, who said after the formal bilaterals at Hyderabad House that: "At every step of the way, 1.25 billion people of India will stand by you — as both partners and friends." Myanmar's new rulers may be eyeing other key global powers like the US or trying to boost ties with their neighbourhood, but Naypyidaw certainly knows India is the only nation that can be of use as a real counter-balance vis-à-vis China. Therefore, although Ms Suu Kyi herself visited China before India, the fact that her staunch loyalist, President Kyaw, made India his first port of call as the nation's head of state indicates the importance Myanmar attaches to the relationship bound, among others, by cultural, religious and historical ties.
Yet again, during President Kyaw's visit, the two nations reiterated their commitment to jointly fight terror and trans-border insurgency. This is important as insurgents from Northeast India are known to have several major bases in Myanmar, making the 1,640-km India-Myanmar border region an insurgency hotspot. One has also seen the two sides announcing opening of immigration posts along the border in Manipur and Mizoram to facilitate easy movement of people in a bid to improve people-to-people contacts. What would be critical, however, is the ease of doing business with each other in the days ahead: this entails cutting down bureaucratic red-tape and easing governmental mechanisms, besides, of course, improving the infrastructure along the border and an improved security situation.
New Delhi can't afford to continue with a blow-hot-blow-cold relationship with Myanmar as that nation is not only the bridgehead to Southeast Asia but also holds the key to peace and security in the Northeast. India's offer to build institutions of democracy in Myanmar and to support the ethnic reconciliation process are meaningful gestures. But one expects New Delhi to act swiftly in implementing whatever is envisaged. After all, New Delhi has already been slow in establishing contact with the Suu Kyi-led government. Chinese foreign minister Wang Yi visited Myanmar within a week of the new government's taking charge, but India's external affairs minister did so only on August 22!
...