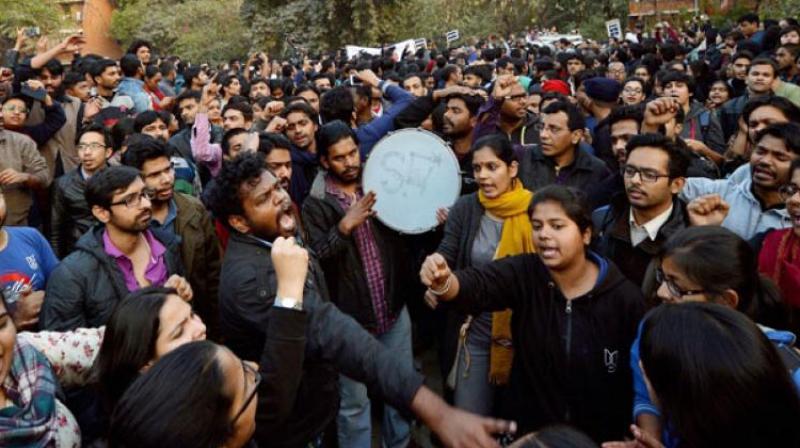 Contrary to a stereotypical view that some people have of me, I entertain a sneaking admiration of Jawaharlal Nehru University. Billed by Indira Gandhi as a "centre of excellence" when it was established in the early-1970s, around the time I was an undergraduate at St. Stephen's College, situated at the other end of Delhi, JNU epitomised the exact opposite of our undergrad experience.
For a start, it was socially varied. Yes, St. Stephen's had a fairly representative student body in terms of geographical spread. The college "residence" (as the hostel was called) had a generous sprinkling of students from Patna, Hazaribagh, Jaipur, Calcutta, Lucknow and the north-eastern states. Southern and western India was, by contrast, under-represented. However, the overwhelming majority were from similar English-medium schools and, consequently, shared not only a common language but broadly similar social assumptions. There was a seamless and untroubled transition from the public schools and Christian-run schools to Stephen's.
By contrast, JNU was far more socially diverse. Its admissions policy was structured to ensure that people with access to less privileged undergraduate education were accommodated. The ridiculously cheap (often verging on near-zero cost) fees also made it possible for students with modest parental income to receive quality education. A consequence of this social levelling was that the student body had a far richer and varied social connect.
Second, unlike Delhi University where the engagement between students and teachers was nominal at the post-graduate level, except at the Delhi School of Economics, JNU's healthy student-teacher ration made it possible for teachers to engage more closely with their students. This, quite naturally, facilitated a better quality of education. Whereas the Stephanians compensated this shortcoming with a vibrant culture of peer group support, it discriminated against those who needed constant encouragement and even some spoon-feeding.
Finally, the collegiate atmosphere of the two institutions was markedly different. Some of this may be explained by the fact that Stephen's was essentially for undergraduates while JNU catered to post-graduate and research students. Stephanians were usually disdainful of activism. This is not to imply that they were apolitical. I can recall the unending early-evening adda sessions at the University Coffee House that used to be located at the rear corner of the vice-chancellor's office. It was here that some of us got to be friends with the likes of Arun Jaitley, an ABVP activist and an office bearer of the Delhi University Student's Union.
And it was at the Coffee House that we met the hostel girls from Miranda House and Indraprastha College and other students from Hindu College. Many of these Coffee House friendships have endured over the years. I am not in a position to accurately reflect the quality of social life in JNU. From what my contemporaries tell me, their late-night sessions at the various dhabas and hostel rooms were equally enthralling — with the presence of women students adding to the attraction.
However, there was one major difference. At Stephen's the overwhelming majority shunned political activism. This was partly due to a sharp abhorrence of the senselessness of a preceding generation that had chosen to abandon their studies and go "underground" to join the Naxalite movement in some corner of Bihar. Their traumatic experiences — usually marked by an overwhelming sense of futility — narrated to us by those who had returned to complete their education, proved a major deterrent.
Thus, even the handful of us who were excited and inspired by Jayaprakash Narayan's "total revolution" call, were not enthralled by the idea of abandoning studies for a year. In the three years I spent at St. Stephen's, the high points of political excitement were a boisterous meeting of Tariq Ali (organised on a Sunday evening by Stephanians who were now in JNU) and convivial discussions with the likes of the amiable Piloo Mody of the Swatantra Party.
The political fare offered at JNU was both more varied and limited. All the 57 varieties of Marxist thought may have been rigorously dissected but it was all Left politics and more Left politics. In an article celebrating the JNU ambience, Professor Peter DeSouza — a truly wonderful individual whose political orientation is far removed from mine — has argued that in JNU "the liberal persuasion was not allowed the space it should have been given by the Stalinist Left. The political spectrum was wide but could have been wider. Analytical thinking was feeble and ideological camps gave protection to the less capable."
DeSouza was, predictably, rationing his criticism in view of the present controversy over the explosion of "azadi" sloganeering in JNU, but the thrust of his observations are apparent. Despite the apparent civility and the openness, JNU of the late-1970s was also defeating the very purpose of a university and becoming an ideological centre. The ideological cronyism that often marked its academic appointments ensured that belief systems were reproduced and perpetuated over generations. With activism being marked by astonishing sets of certitudes, it was only natural — and, indeed, inevitable — that the ambience would turn roguish once there was a challenge to the existing ideological ecosystem.
I sensed some of this in early-2014 when I was invited to deliver a post-dinner talk on the Narendra Modi phenomenon. There was a large audience who heard me and then posed both friendly and hostile questions. That, after all, is the hallmark of student meetings. However, what was disconcerting was that it ended with a bout of voluble and excitable war of slogans between supporters and opponents of our present Prime Minister.
Today, after Mr Modi's victory in 2014, and the growing marginalisation of the Left, it is this sloganeering that has become the norm with absolutely absurd fringe groups using the campus as a safe house. Whether its Student's Union President is guilty of sedition or was a mere "useful idiot" in a more sinister game that he had failed to grasp is for the courts to decide.
But what seems apparent is the fact that blind hatred towards a regime, the growing obsolescence of a belief system and the rise of alternative challenges has propelled a move towards unacceptable extremism. What has stunned me is not a possible police flat-footedness but the inability of the larger JNU community (and its fellow travellers) to acknowledge that even intellectual permissiveness has its limits. And that wider society also matters.
...