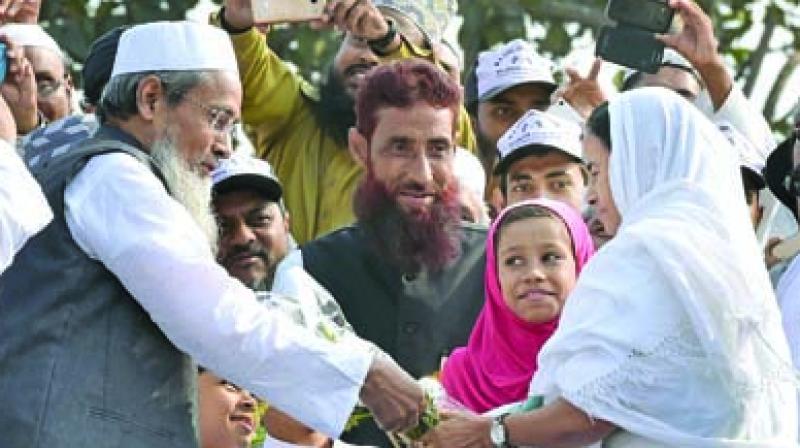 Kolkata: Jamiat Ulema-e-Hind leader Siddiqullah Chowdhury, who is contesting from Mangalkot Assembly seat on Trinamool ticket, has declared himself to be a crorepati in his poll affidavit.
According to the nomination papers filed by him before the Election Commission, the 67-year-old minority leader owns property totalling Rs 1.26 crore.
He owns a two-storeyed building near Kolkata airport valued over Rs 80 lakh. He also owns agricultural land in Burdwan whose present market value is estimated to be more than Rs 18 lakh while two other non-agriculture land is valued at above Rs 27 lakh.
His total movable assets is around Rs 9,80,000 which includes cash in hand of about Rs 30,000 and an SUV. According to his income tax return for the financial year 2014-15, Chowdhury's annual income was Rs 3,81,000.
The Jamiat Ulema-e-Hind leader has also admitted that a case is pending against him in which cognisance was taken in 2012 by the Metropolitan Magistrate court in Kolkata under section 143 and 141 of the IPC. His wife owns gold jewellery valued above Rs 1,60,000 and one of his dependents has jewellery of more than Rs 1,20,000.
On education count, Chowdhury completed his Fazil course in 1971 from Islamic school Darul Uloom Deoband in Uttar Pradesh. Mangalkot in Burdwan district will vote on April 21 in the third phase of the six-phase-long Assembly polls in West Bengal.
...