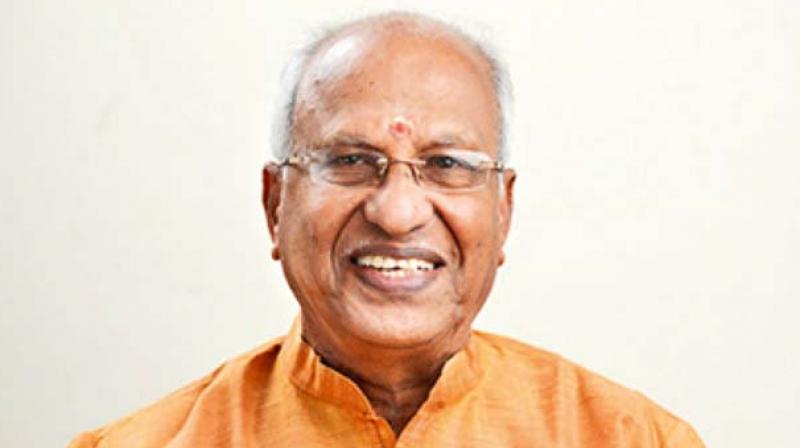 Thiruvananthapuram: O. Rajagopal, the BJP member who's debuting as an MLA, is busy as a bee, even after four days since his election, giving interviews and meeting hordes of visitors. The 86-year-old, the second seniormost member after V.S. Achuthanandan, has lost track on the number of times he had contested.
But he is not the first person to taste defeat 15 times from 1965 and he recalls that former American President Abraham Lincoln too had faced as many losses in a row before a win.
Did you face the wrath of the BJP leaders when you called on chief minister-designate Pinarayi Vijayan at AKG Centre when a 38-year-old BJP worker, Pramod, was killed at Thrissur?
In the longer run, we have to ensure peace and lives of our brothers protected. This cult of violence should stop forever. It is the CPM which resorts to violence. I told Mr Vijayan directly that development and peace should be combined to ensure good governance. Peace is the sine qua non. We should take forward this rational thinking as a vision.
Are you happy with the performance of BJP?
I would have been happier if we had got more seats instead of the Nemom constituency, where I could win. We should have won seven more where we came second. It was unfortunate K. Surendran lost by a whisker in Manjeswaram.
If not for the votes polled by the namesake candidate there, it would have been different. Had NDA been formed in advance and worked in a systematic manner, the result would have been entirely different. All core committee leaders should have contested.
Whenever you tasted defeat, there have been numerous trolls on social media against you. Did you feel upset about it?
Honestly, I have lost track on the number of times I have contested the elections since 1965. But I am not the first to face severe drubbing. Former American President Abraham Lincoln tasted defeat consecutively for 15 times before emerging victorious. I don't check social media, but people keep me abreast of them. My victory in Nemom was achieved after long years of hard work.
What are your promises for your voters when you swear in as MLA?
Experience in Rajya Sabha and working in Assembly are entirely different. I have certain ideas in my mind. If there is a genuine grievance, I would put it before the Centre and have it addressed.
...