Nation
Karnataka: Political gridlock at new underpass
Deccan Chronicle | DC Correspondent
Published on: July 22, 2017 | Updated on: July 22, 2017
During inauguration leaders of Congress and BJP fight over allotted seats on the stage.
Magadi Road underpass after being inaugurated on Saturday (Photo:DC)
Bengaluru: A programme organised to inaugurate an underpass on Magadi Road near KHB led to a fight between Congress and BJP workers.
The fight broke out when Govindraj Nagar BJP Corporator Umesh Shetty stepped on the dais even before the official start of the stage function.
Angry Congress workers insisted the police to get Umesh down from the stage and this led to fight between Congress and BJP workers.
It got further escalated after Congress workers raised slogans in favour of Housing Minister Krishnappa and his MLA son Priya Krishna, while the BJP workers raised slogans favouring Umesh. Police personnel had tough time pacifying the situation.
When Chief Minister Siddaramaiah began his address, Congress workers again raised slogans in favour of Mr Priya Krishna. In order to pacify the crowd Siddaramaiah himself said that he was happy to have his residence in Priya Krishna's assembly constituency Govindraj Nagar.
However, even that failed to pacify Congress workers, who kept raising slogans. Then Siddaramaiah said that he may have to request police to take action to calm them.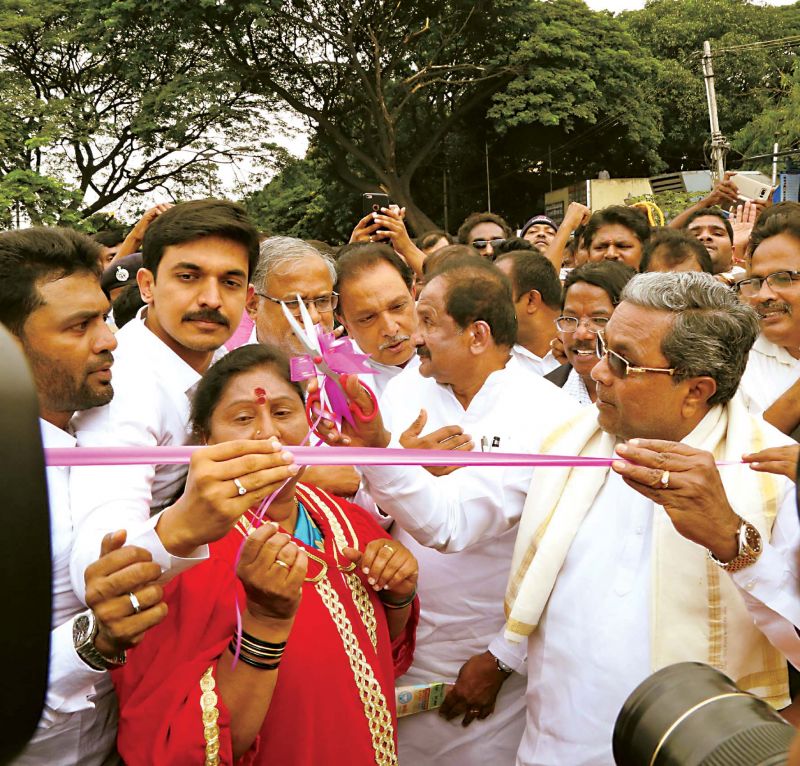 CM Siddaramaiah and Mayor G. Padmavathi inaugurate the Magadi Road underpass on Saturday.
Will file suit against BJP leader: CM
On the sideline of the event, Siddaramaiah told reporters that he would lodge a defamation case against BJP city president Mr N R Ramesh, for his allegations regarding irregularities of Rs 65 crore for Indira Canteen project.
Representatives of Youth Congress too protested at BBMP Head office with placards that read "Indira Canteen was for poor and BJP party was for corrupt."
In his reply to Siddaramaiah's statement regarding defamation case, Ramesh said that he too will lodge a defamation case against the chief minister.
Latest News
Most Popular
Columns