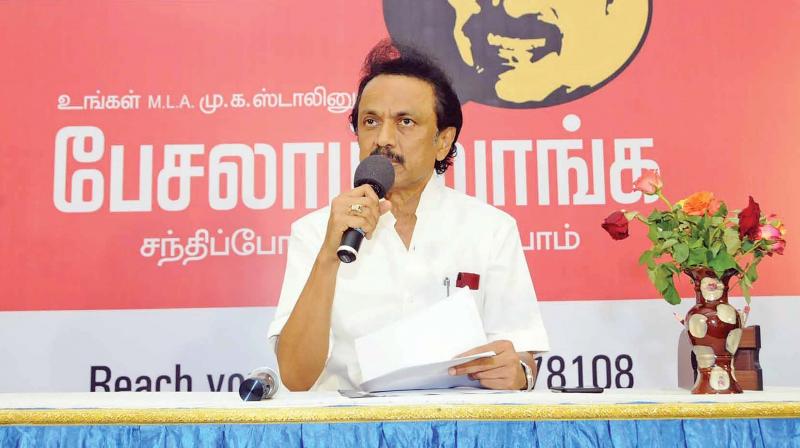 Chennai: The DMK treasurer M.K. Stalin on Monday demanded the convening of a special session of the Assembly to discuss the situation arising out of scanty rainfall during the North East monsoon season and the suicides of farmers.
Stalin said the South West monsoon had brought only 40 per cent rains this year and the North East monsoon had not given the expected rainfall, leading to drought in several districts.
People are undergoing hardships without water for drinking and irrigation. The income of people had decreased and they are struggling to get money for daily expenses, he said.
About 20 of the 89 major dams had turned bone dry and they include Mettur, Bhavani Sagar, Vaigai, Papanasam, Manimutharu and Amaravathy. Most of the 14,000 lakes including major ones like Veeranam had also become dry. Due
to lack of water in dams, lakes and water bodies, the ground water level has also gone down.
The reservoirs around Chennai, Sholavaram, Puzhal, Chembarambakkam and Poondi do not have even 1 tmc feet of water. In the Cauvery delta districts, kuruvai and samba cultivation had been hit and suicides of farmers are on the rise. Cooperative societies are unable to give crop loans for farmers due to the centre's demonetisation move and the AIADMK government is not taking steps to alleviate people's sufferings, he said.
A special session of the Assembly should be convened and a resolution should be passed declaring the state as drought hit, Stalin demanded.
...