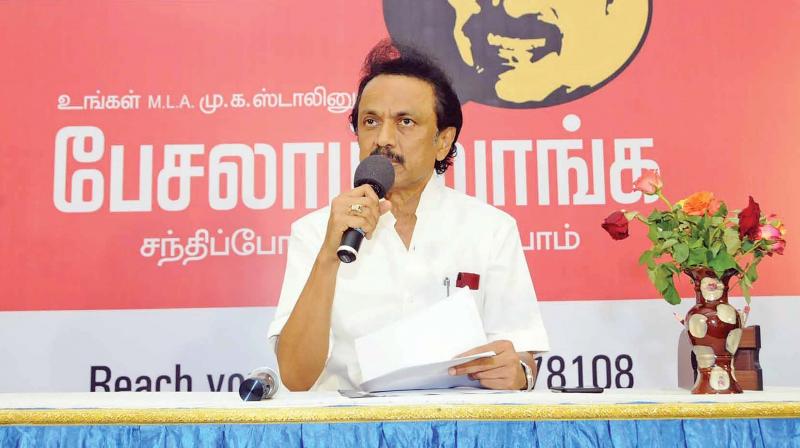 Vellore: Leader of Opposition M.K. Stalin on Tuesday said the state government moved the Supreme Court on the construction of Pullur check dam across Palar by Andhra Pradesh only after the DMK announced an agitation. He also asked why the state government did not get an order for status quo or a stay on the check dam construction works.
Stalin said "when a suit against the construction of check dam at Kuppam by Andhra Pradesh is pending in the Supreme Court, construction of a new dam is a contempt of court. Raising the height of a check dam from five feet to 20 feet is illegal".
Addressing a protest demonstration at Vellore condemning the Andhra Pradesh government, Stalin said the construction works were against the 1892 agreement between Madras presidency and Mysore government. As per the agreement, no dams could be built across the Palar without Tamil Nadu's consent.
Stalin said Palar flows in Tamil Nadu for a distance of 222 kilometre and it is the water source for Vellore, Kanchipuram and Tiruvannamalai districts. Besides, the Kalpakkam nuclear power plant depended on Palar for water supply.
Kananachiamman temple near Palar is built by devotees in Tamil Nadu and maintained by Tamil Nadu HR and CE department. But, Andhra Prad-esh government officials had chased away the Archaga Seenivasan. The Andhra Pradesh government disconnected the power supply from Tamil Nadu and power is now given by Andhra Pradesh.
He wanted the government to pass a resolution in the Assembly against the construction of check dams by Andhra Pradesh government. The DMK treasurer also alleged that the Tamil Nadu government had not taken action to prevent the construction. He said the DMK would raise its voice for the people whether it is in power or not.
...