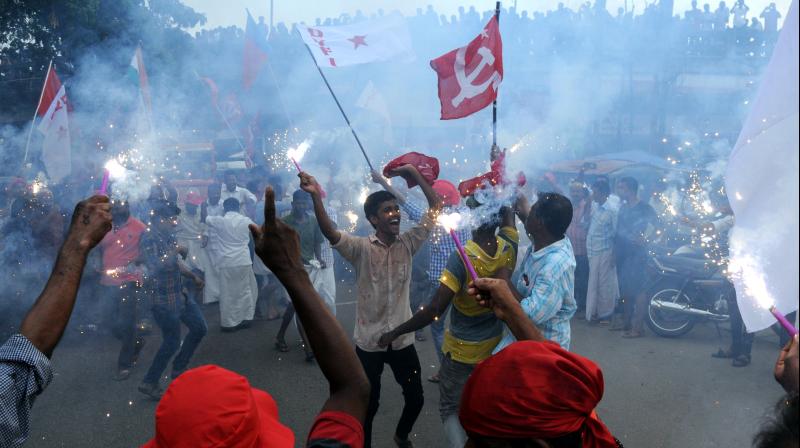 Thiruvananthapuram: The LDF has won 91 seats, the UDF 47, the BJP 1 and Others 1. BJP's dream of opening its account in the Assembly has come true, with party nominee O Rajagopal, 84, getting a comfortable lead of 8,954 vote lead over nearest rival and sitting MLA V Sivankutty (CPM).
CPM politburo member Pinarayi Vijayan said the UDF "trampled on values and its decadence had led to the rout". Opposition leader V S Achuthanandan said the "failure of the Government to ensure the safety of women" was the major factor for the UDF defeat.
Mr Chandy said the defeat was never expected "but we accept the people's verdict and resolve to go into reasons for the reversal". His big ticket projects, campaign of "development with care" and the policy of phased prohibition, have not helped him fight anti-incumbency factors.
Some of the controversial last-minute Cabinet decisions to "palm off land", though revoked subsequently, and the police failure to nab the killer/s of Dalit woman Jisha in Permbavur, near Kochi, accentuated the slide.
Read: Oommen Chandy goes down battling graft charges against his government
The LDF established its ascendancy in the polls right from the beginning of counting, and the trends were quite clear by as early as 9 am, indicating a defeat for the Congress-backed UDF. For the BJP however, the elections bring cheer even in Kerala with the saffron party opening its account for the first time ever.
2:45 pm: Kerala Chief Minister Oommen Chandy has been declared elected from Puthuppally in Kottayam district defeating nearest rival Jaick C Thomas of CPI(M) by 27,092 votes.
2:15 pm: Pinarayi Vijayan, favoured with the CPM for the post of CM, has been elected from Dharamadom in Kannur district, defeating nearest rival Mambaram Divakaran of Congress by 36,905 votes.
1:00 pm: Outgoing Kerala CM Oommen Chandy has called the results unexpected and a setback for the Congress party.
12:30 pm: Pinarayi Vijayan has said that the corruption of the UDF has led to their defeat. However, he refused to answer whether he would be the next CM, saying it was up to the party to decide. Vijayan also did not make any specific comment on the issue of prohibition, saying 'we will decide'.
The LDF is ahead in 90 seats, and the UDF in 47. BJP is leading in 1 seat. The Election Commission website shows that the CPI has won in 8 seats and the CPM in 18. Kerala Health Minister VS Sivakumar (Congress) has won by 10,905 votes from Thiruvananthapuram central constituency defeating nearest rival Antony Raju (LDF).
Food Minister Anoop Jacob (Kerala Congress(J)-UDF) has won by a margin of 6195 votes against M J Jacob (CPI-M-LDF) in Piravom constituency. Culture and NORKA Minister K C Joseph (CONG-UDF) has defeated KT Jose (CPI-LDF) in Irikkur constituency by a margin of 9647 votes.
11:30 am: 92-year-old Kerala opposition leader and former CM VS Achuthanandan has said that the party leadership will decide who becomes the new Chief Minister. Meanwhile, the results for 8 constituencies are now in. The CPI(M) has won 6 seats and the CPI 2 seats. The LDF is ahead in 90 seats.
BJP candidate O Rajagopal has won Nemom, marking the first time ever a BJP candidate has won an assembly seat in Kerala. PM Narendra Modi's Twitter handle congratulated the BJP on winning a seat in Kerala for the first time. "In Kerala, the persistence of the Party has paid off today & we will become an even stronger voice of the people. I salute all those who built the BJP in Kerala, brick by brick, decade after decade. It is due to them that we are seeing this day," he said.
Read: Corruption, need for change defeated Congress in Kerala
10:55 am: The Left Front are the clear winners of the 2016 Kerala Legislative Assembly elections. They are ahead in 88 seats, with the UDF ahead in 50 and the BJP only in 1. The LDF has maintained its vote share from 2011 at 44%, while the BJP has gained significantly. However, there is no clarity on how will become the next CM of Kerala, even as Pinarayi Vijayan seems to be the leading candidate.
LDF on its own is heading in 82 seats, while LDF-supported independents are ahead in six constituencies. Chief Minister Oommen Chandy and his cabinet colleagues Thiruvanchoor Radhakrishnan, PK Kunhalikutty, Manjalamkuzhi Ali and MK Muneer have established clear leads. CPI(M) politburo member Vijayan is leading by over 24,000 votes in Dharmadam, while Marxist veteran VS Achutanandan has established a lead of over 10,000 votes over his nearest rival over C Krishnakumar of NDA in Malampuzha.
10:20 am: BJP has achieved a 9% vote swing in their favour so far, winning a scarcely-believable 15% of the vote. The LDF has gained 1% of the vote to reach 45%. The UDF has lost 5% to fall to 37%. Other parties hold 3% of the vote share, which is a decline of 5% from 2011. The BJP has thus gained from the UDF and others' votes, while the LDF has retained its share.
Congress leader PC Chacko has conceded that the UDF has lost the election. "Responsibility will be fixed" he says.
10:00 am: CPM's CM-hopefuls Pinarayi Vijayan, member of politburo, and Opposition leader VS Achuthanandan have established 5,000-plus leads in Dharmadom and Malampuzha respectively. Former Finance Minister KM Mani is facing a tough challenge in Pala. Rajagopal has an 8,000-plus majority in Nemom.
9:40 am: The Left Front is storming back to power in Kerala with leads in 87 seats. Leads for all 140 seats are in, with UDF ahead in 50. BJP has held on to its 2 leads. The mandate now seems clear - the LDF under Pinayari Vijayan is set to make a comeback. Former Minister of State for Railways, Mr O Rajagopal (BJP) is in a steady lead in Nemom in Thiruvananthapuram. The BJP has eaten into the vote share of the Congress.
9:10 am: The LDF has crossed the majority mark of 70 in Kerala, with leads in 74 seats, already 6 more than their final tally in 2011. The UDF has leads in 54 seats, and BJP in 2 seats. Kerala CM Oommen Chandy leading from Puthupally constituency by 2019 votes. Meanwhile, Sreesanth, who had predicted that the BJP would win 30-35 seats in Kerala, is trailing in his own constituency to a Congress candidate.
8:50 am: The LDF is now substantially ahead with leads in 43 seats as against UDF in 28. BJP has opened its account in 4 seats, which is a gain of 4 seats from the 2011 elections. Others have leads in 3 seats.
Kerala Minister AP Anil Kumar (Cong) is leading by 2325 votes in Wandoor constituency and minister KC Joseph (Cong) leading by 635 votes at Irrikur in Kannur district. Former Finance minister, KM Mani, is leading by 155 votes in Pala. LDF candidates leading include Ramachandran Kadanapally in Kannur, AM Shamseer (Thalassery), James Mathew (Thalaiparambu) and Mathew T Thomas of JDS in Pathnamthitta)
8:30 am: LDF is now leading in 9 seats excluding postal ballots, while UDF is ahead in 6 seats. BJP is yet to open their account. LDF has gained in one seat from the 2011 polls, while UDF has lost one.
8:15 am: LDF has taken the early lead in 3 seats, while UDF and BJP are yet to open their account. Two out of the three are gains for the LDF. The UDF has lost one seat from its 2011 tally.
Counting of votes polled in the May 16 Assembly elections, which will decide the fate of 1203 contestants, including 109 women, in Kerala, began this morning amid tight security.
Chief Minister Oommen Chandy, Home Minister Ramesh Chennithala, IUML leader and Industries minister, P K Kunhalikutty, Kerala Congress (Mani) supremo and former Finance minister, K M Mani, 93-year-old V S Achuthanandan, CPI(M), party Polit Bureau member Pinarayi Vijayan, BJP state president, Kummanam Rajasekharan and cricketer-turned politician Sreesanth are among those who contested the polls.
The exit polls have predicted a loss for the Congress-led UDF government headed by Oommen Chandy. The LDF, which lost power in 2011, looks set to regain it. The BJP looks ready to open its account for the first time in Kerala. A UDF loss would further dent the national position of the Congress party, which is also projected to lose power in Assam.
The LDF will pin its hope on the fact that no party or alliance has been returned to power in 36 years and also that it dominated the last panchayat elections held six months ago. The panchayat elections have usually been a good indicator of the results of subsequent Assembly polls in Kerala.
The UDF won the 140-seat Kerala Assembly in 2011, 72 to the LDF's 68 in a very close contest. This time, all pre-poll surveys had predicted a Left victory. Most opinion polls have also predicted that the BJP might win a few, the first time in the history of Kerala.
...
Tags:
assembly polls
,
exit polls
,
elections
,
elections 2016
,
kerala polls
,
assembly election 2016
,
oommen chandy
,
kerala assembly polls
,
achuthanandan
,
ldf
,
udf
,
bjp