Nation
Karnataka Polls: EC postpones Rajrajeshwari poll to May 28
Deccan Chronicle | DC Correspondent
Published on: May 11, 2018 | Updated on: May 11, 2018
Counting on May 31; discovery of voter ID cards definite interference' in process.
No party in Karnataka has won a second successive term in office since 1985 when the Janata Dal under Ramakrishna Hegde had retained power.
New Delhi: On the eve of the all important Karnataka Assembly polls, the Election Commission on Friday ordered postponement of elections to the Rajrajeshwari (RR) Nagar Assembly seat to May 28, following the seizure of around 10,000 voter identity cards from a flat in the constituency a couple of days back.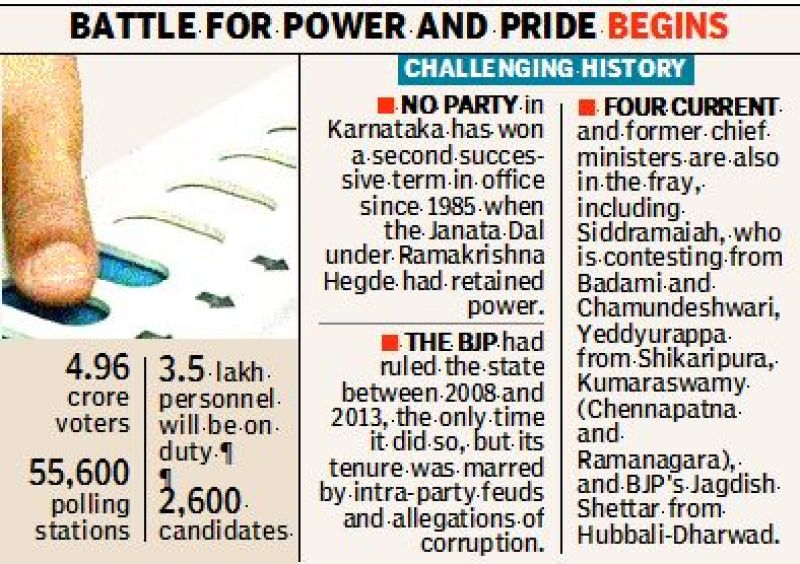 Voting in the rest of Karnataka seats will be held as per schedule on Saturday.
The EC in its order said there is "definite inference" to suggest that efforts were made to induce voters in RR Nagar. After the polling in the seat on May 28, results will be declared on May 31— 16 days after the outcome of other constituencies will be known on May 15.
"The Commission is satisfied that the current electoral process (in the constituency) has been vitiated on account of unlawful activities of candidates and political parties," the EC said.
It said the cards belonged to "voters in the vulnerable community" and added that random checks found that the cards were genuine. Further investigation was required to ascertain who broke the door of the flat before three cops reached the scene after receiving a phone call.
Latest News
Most Popular
Columns