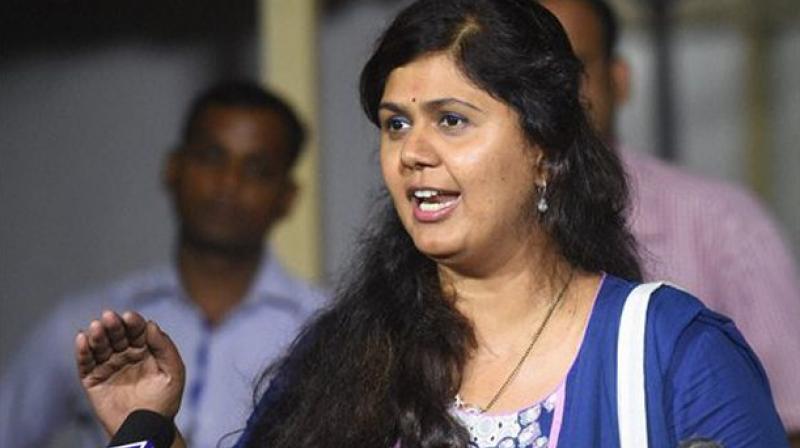 Ahmednagar: Maharashtra minister Pankaja Munde today alleged her detractors were trying to embroil her in corruption cases and "entangle me like Abhimanyu".
Addressing her supporters at the annual Dussehra rally at the foothills of Bhagwangad shrine in the district, she said, "Efforts are being made to frame me in false cases, entangle me like Abhimanyu."
The rally was held amid the war of words between Pankaja and the head of the shrine, Namdevshastri Sanap.
"I am sure the next head of the shrine will invite me for next year's rally at Bhagwangad as his daughter," Pankaja, said, after landing at the shrine by a helicopter.
Shortly before Pankaja addressed the rally, some people from the crowd pelted the police with stones.
Maharashtra ministers Ram Shinde, Mahadev Jankar and Sadabhau Khot also addressed the rally. Jankar termed Pankaja's estranged cousin Dhananjay Munde, leader of Opposition in Legislative Council, as a "stooge" of NCP chief Sharad Pawar.
Asked to comment on Jankar's criticism, Dhananjay Munde said he will comment later as today is an auspicious day.
Namdevshastri Sanap had warned Pankaja against making a political speech at Bhagwangad. The rally was seen as a struggle of supremacy over the 'Vanjari' caste, to which both Pankaja and Sanap belong.
Bhagwangad is a pilgrim centre revered by the Vanjari community, which is a politically-dominant community in Maharashtra along with Marathas, Mali and Dhangar.
The tradition of holding Dussehra rally at the Bhagwangad shrine was started by Pankaja's father and late BJP leader Gopinath Munde in 1993. Ever since, lakhs from the community gather at the pilgrim centre on Dussehra.
However, this year, the Bhagwangad temple trust has resolved it won't allow Pankaja to deliver a political address.
Namdevshastri had written to the Maharashtra government, warning of a law and order situation if Pankaja insisted on speaking.
Purported audio clips of Pankaja and Namdevshastri threatening each other had gone viral.
...