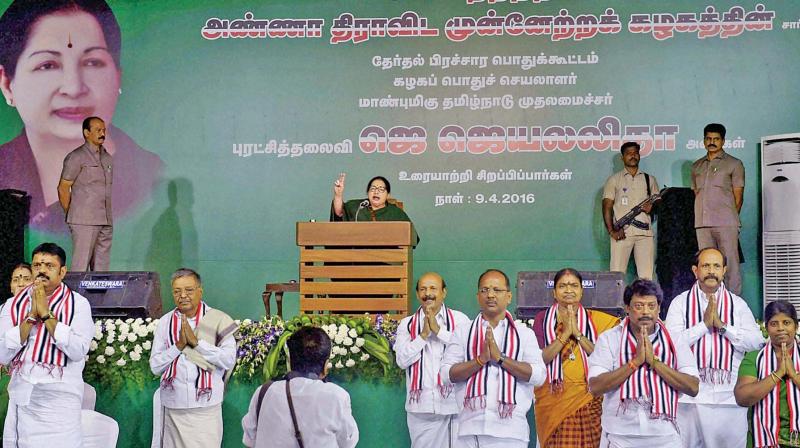 Chennai: Chief Minister J Jayalalithaa on Saturday promised to implement prohibition "in phases" in Tamil Nadu, while pointing out it would be impossible and impractical to ban liquor "in one signature".
Recognising that prohibition has emerged as the 'hero' of all poll manifestos of her rivals, the AIADMK supremo told a huge rally to formally launch her campaign here for the May 16 state polls that she would phase out liquor if voted to power again. Achieving total prohibition was her goal and long-held policy, she stressed.
"My aim is to bring prohibition. When I first took over as Chief Minister in 1991, I banned sale of country-made liquor despite incurring a loss of Rs 400 crore…prohibition cannot be implemented in one signature. It has to be implemented in phases. When the AIADMK comes back to power, prohibition will be implemented in phases", she said claiming that the people were well she would not take any decision without due analysis and understanding.
Elaborating on her plan, Jayalalithaa said first the timings of the retail liquor shops would be changed, and then the number of shops would be reduced in phases after which bars would be closed. "This is how total prohibition can be implemented in the state and this will be possible by the Jayalalithaa government which is by the people and for the people", she said to the wild applause from the audience that had a large presence of women.
...