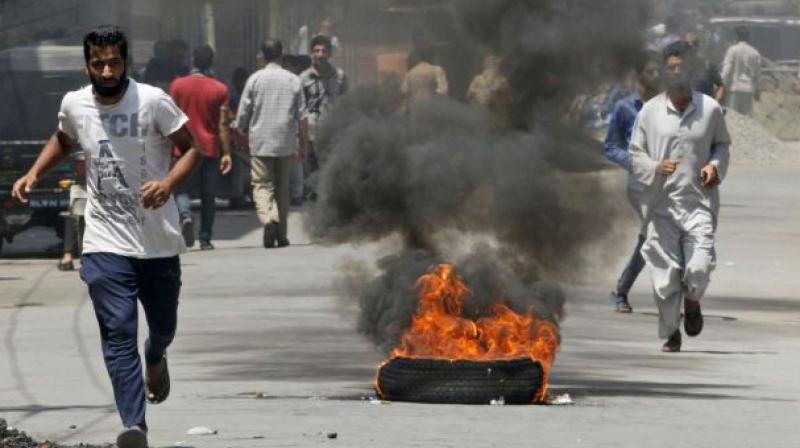 Srinagar: A day before Ghulam Rasool Bhat, a calligrapher with a vernacular newspaper, breathed his last at his modest house in Srinagar's Aalamgir Bazaar, he told his son Bashir Ahmed, 'Please, do visit my grave to announce it the day Kashmir becomes part of Pakistan.'
Zahoor Ahmed Salati's death by a police bullet came in August 1988 when he was in his early twenties participating in a violent protest held following the death of Muhammad Zia-ul-Haq, Pakistan's longest-serving military ruler in a place crash. Respecting his last will, Pakistan's flag was engraved on his tombstone turning it into much more than just a memorial and, in fact, an intense political statement.
There are numerous such instances when people in Kashmir expressed their love for and leaning to neighbouring Pakistan in extreme fashion.
They strongly believed that they were denied something which was due to them or should have happened keeping in view the scenic region's physical and cultural proximity with Pakistan and, more importantly, it being a Muslim-majority state.
The contenders questioned their wisdom then, and they do it now, in the belief that the composite culture and inclusiveness are intrinsic and built-in features of Jammu and Kashmir's ethos; hence acceding to 'secular' India than going with a country carved out on the basis of 'Two-Nation Theory' was 'ideal' option.
Post-1989, pro-Pakistan sentiment in Kashmir began dwindling for varied reasons. Particularly the youth began thinking in terms of 'if we want to get rid of India for bitter experiences we have had with it why to allow ourselves to become slaves of another country.'
This thought gave strength to Jammu Kashmir Liberation Front (JKLF) which stands for reunification of the State as it existed prior to August 1947 to make it a sovereign country and independent of both India and Pakistan.
The ideology thrived despite the fact that JKLF which introduced gun to the Kashmiri youth leading to a long-drawn insurgency was soon overshadowed by mushrooming growth of small and big pro-Pakistan militant outfits.
The transformation was blamed by many on Islamabad's political and physical support and, at least, encouragement received by susceptible youth from across the de facto border. Islamabad has always denied it and claimed that Kashmiri Muslims leaning towards it is but innate.
Most of these groups cease to exist or have been reduced into one-man entities now. However, Hizb-ul-Mujahedin, necessarily a frontline pro-Pakistan indigenous militant organization, is still calling the shots and group like Lashkar-e-Taiba and Jaish-e-Muhammad which have their bases in Pakistan are recording astonishing rise in the Valley.
However, their growth on ground is not as much worrying for the authorities here as the rapidly spreading pro-Pakistan sentiment among the Kashmiri population is.
The security forces officials believe that with the manpower and weaponry at their command they can take on any number of militants but it is not their mandate to tackle the growing pro-Pakistan sentiment in the population and even if it is a alarming situation for them as well merely worrying does not bring it to closer to solving the problem.
"We'll tackle the militants and terrorists and, in fact, are best trained and equipped to do it by a long shot but to address the growing pro-Pakistan sentiment is something which the political leadership of the country has to give a serious thought to," said a senior official of a security force who spoke on the condition of anonymity.
In recent past not only have the people in the Valley particularly youth routinely turned up in huge numbers at pro-Pakistan shows including funerals of local or Pakistani militants slain in fire fights with security forces, they have even risked their own lives by relocating to encounter sites to make conscious attempts to help the militants to break the security forces' dragnets.
Educational institutions campuses frequently witness pro-Pakistan rallies and though siding with the neighbouring country's teams in cricket matches and other sports events particularly when playing with arch-rival India is an old tradition such expressions have become more vociferous in recent times.
So much so that many Kashmiris, unmindful of potential consequences, relocated to far-off places such as Eden Gardens in Kolkata and Mohali to cheer for the Pakistani team in the recently held ICC World Cup Twenty-20.
Back home, Pakistan flag is frequently waved at rallies and was even put up at the ancestral home of then Chief Minister, Mufti Muhammad Sayeed, in the highway town of Bijbehara in November last year. 'Pakistan zindabad' (Long live Pakistan), 'Jivey, jivey Pakistan (May Pakistan flourish)', and 'Pakistan se rishta kiya, La Ilaha IllAllah' (It is the belief that there is no deity but God that provides basis for the bond with Pakistan) are yelled by youth at slightest or no provocation.
Political analyst and professor at Central University, Kashmir Noor Ahmed Baba, sees more than one factors behind the drift.
"In fact, a number of forces have joined together. The Indian state has failed to win over the people and address the issue of alienation. The peace process initiated a few years ago has failed to pick up resulting in the loss of hope among people," he said.
He added, "In the backdrop of this hopeless situation, many people in Kashmir see the change of character of Indian politics particularly the rise of Hindutva as an endorsement of the Two-Nation Theory".
...