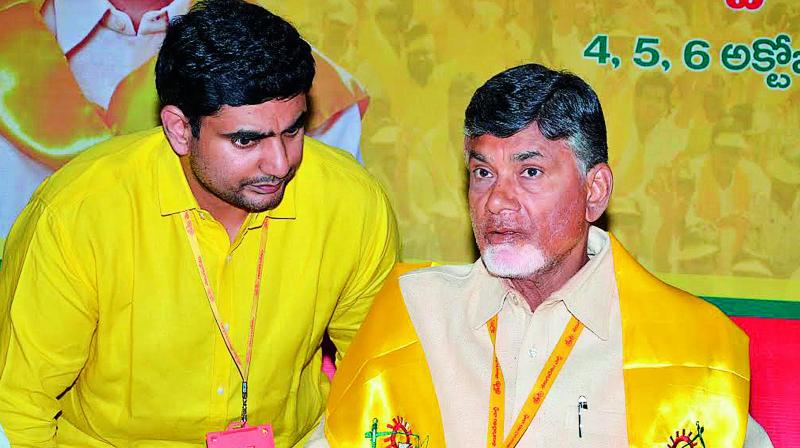 Vijayawada: Chief Minister N. Chandrababu Naidu has given rankings to MLAs based on intelligence survey reports on their performance. However, he warned the ministers and MLAs to not reveal the rankings to the media, failing which show cause notice will be issued to the erring leader.
He told them to improve their performance by the next survey, which he would conduct every three months.
At the third-day closing ceremony of training classes of TD leaders, the party supremo said it was the need of the hour to settle disputes among the leaders immediately or else he would have to step in to settle the issues, which might spread like cancer, if not treated, and defame the party. He said interference of family members of the leaders would not be entertained in official affairs.
The CM pointed out the importance of developing the party's presence in Prakasam, Nellore, Chittoor, Kadapa and Kurnool.
Mr Naidu said: "People have high expectations from the ruling party. So we have to work hard collectively by coordinating with each other by making use of technology, or else people would not support them in the future."
He said that was the reason why he initiated these training sessions and introduced the Chief Minister's dashboard to constituency levels to make their work effective and efficient, which lead to good governance.
Mr Naidu said the three-day training programme took place for 28 hours, covering nine major issues with 40 presentations. The suggestions and feedback received from the discussions will be implemented within three months in the party.
He said the leaders have to educate the people about the government's initiatives through Jana chaitanya Yatra, which will commence soon.
The issue of ranks in sealed covers has created a lot of tension for the ministers and MLAs as they are worried about its impact on the speculated Cabinet expansion.
...