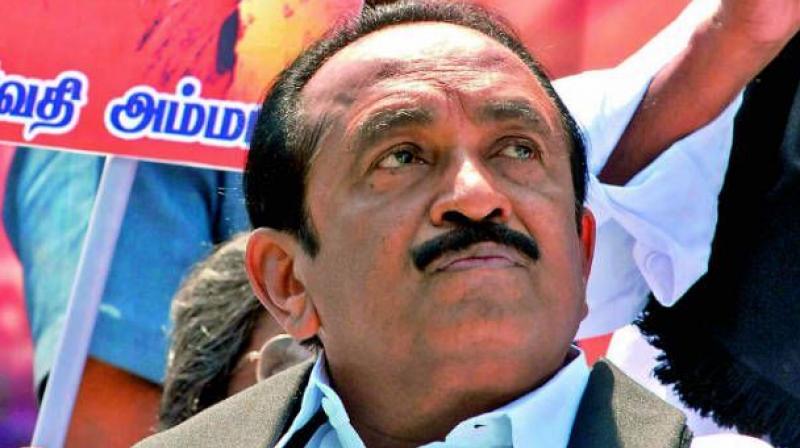 Chennai: Irrespective of his clarification, it is clear that when MDMK leader Vaiko recommended the 'oldest profession' to Karunanidhi, he was not referring to weavers, farmers, traders or anything else. "I am talking about another profession, the most famous that is practised across the world even from the days of the earliest man. Many are even demanding that it could be legalised; they could practise that. Kalaignar can do it, they could also do it", Vaiko had said at his explosive press conference.
Vaiko's pathetic attempt to bury such slander under a poorly drafted apology, claiming that he had spoken about shifting loyalties for money, would not hold water since there has been no demand from any quarter to make this - changing political colours for money - legal! The 'oldest profession' prescription and the apology for an apology have caused a furore in the political corridors while also setting the social media afire.
"Vaiko's statement crosses the limits of all decency. All social activists must come together and condemn him, even create a Facebook page for this. It is total lack of culture on the part of a man who claims to stand for Tamil nationalism and culture", political commentator T. N. Gopalan told Deccan Chronicle.
DMK spokesman TKS Elangovan called Vaiko "a mentally disturbed person" who betrayed "Kalaignar (Karunanidhi) who created him (politically) and made him MP for 18 years". "Are his alliance partners accepting this statement of Vaiko?" he asked, speaking to DC.
Vaiko's allies appear to be squirming. Some, like the Marxists said his statement targeting Karunanidhi on the basis of his caste (Nadaswaram players) was condemnable, thereby conveniently pushing under the carpet the 'oldest profession' slander. Some others said Vaiko apologised and things could rest there.
Actually, in his 'apology' statement, Vaiko said his Nadaswaram allurement had come to be misinterpreted and that was a big mistake for which he was expressing regret. "I made a life-time mistake saying something like this and I apologise. I plead with Annan (elder brother) Kalaignar with a mother's heart to accept my apology ….I am beyond caste feelings and Annan Kalaignar knows this", he said.
...