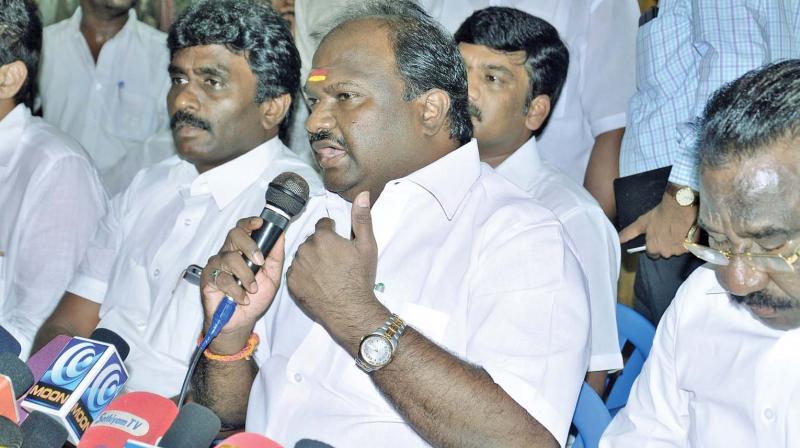 Chennai: Alleging that DMDK was not under the control of its founder Vijayakanth and was controlled by his wife Premalatha, sacked district secretaries and MLAs led by V.C. Chandrakumar on Wednesday claimed that their expulsion from the party was invalid as no formal explanation was sought nor any showcause notice issued to them.
Mr Chandrakumar along with MLAs C.H. Sekar and Parthipan reiterated their demand that Vijayakanth should save the party by aligning with the DMK.
Claiming that they could be expelled only by the party's disciplinary committee which comprises members from apex administrative and high-level committees, he said besides him, five other members of the panels were with the rebel group.
Hours after 10 senior DMDK functionaries led by Chandrakumar rebelled against Captain's decision to align with PWA on Tuesday, Vijayakanth expelled all of them from the party. "I have been getting calls from districts to area level office bearers who are supporting our demand. We will gather them here and hold a consultation in one or two days to chalk out our future course of action," Chandrakumar, who was the party's propaganda secretary before being expelled, told reporters here.
Holding Premalatha responsible for the alliance with People's Welfare Alliance, Mr Chandrakumar said that if the party was under the control of Captain, they would not have come to the press. "Now the party is completely under the control of Anniyar (Premalatha). She only met Vaiko and forged an alliance with PWA that was not liked by Captain. I openly accuse her of forming an alliance not liked by Captain, headquarters officebearers and cadres as well. Now her decision is leading to the party's downfall," he said.
Mr Chandrakumar maintained that their stance that party's rank and file was against the decision to align PWA was the reality. He claimed several district secretaries, MLAs and other district level functionaries had expressed their unwillingness to contest election as the party had aligned with PWA.
Several of them had also got refund of ticket fee fearing that they would lose in the polls, he said.
When asked whether they would be holding a general council meeting to take control of the party, he reiterated his demand for reconsidering the alliance with PWA and joining hands with DMK to save the party. "We have been removed from the party. We are not worried about it. But we want Captain to correct his mistake and join alliance with DMK to save the party. For the state's welfare, if he wants to save the party, he should align with DMK only," he said.
To a query on the charge of DMDK-PWA alliance acting as B-team of AIADMK, he said that he was not making a direct charge against the alliance but he believes that the way Captain is acting and alliance with Vaiko's shows Captain is supporting AIADMK chief Jayalalithaa to become a Chief Minister again.
...