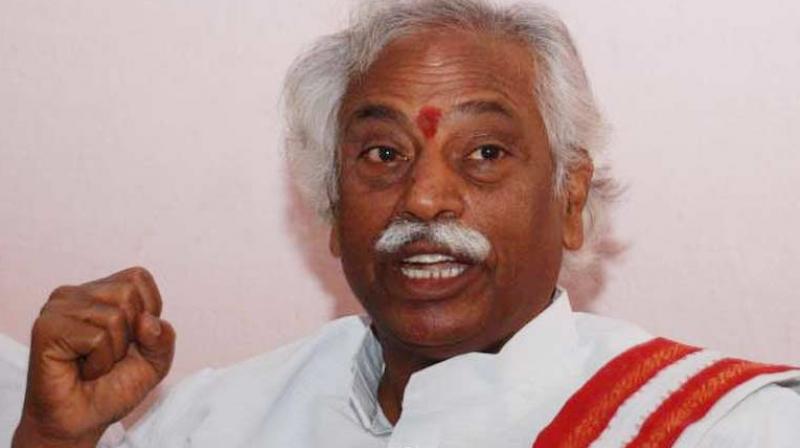 Hyderabad: Against the backdrop of arrest of five youths by NIA for their alleged involvement in a suspected ISIS module, Union minister Bandaru Dattatreya today said terrorism has no "relation" with religion and the two should not be linked at all.
He deplored the "politics" of AIMIM chief Asaduddin Owaisi who had said his party would provide legal help to the arrested men.
"Terrorism has no relation with religion and it should not be linked to religion at all. Terrorism is aimed only at ending humanity and all human beings should cooperate with each other in ending Terrorism itself," he said.
The Secunderabad MP said those who desire development of the country should condemn terrorism strongly and state governments should cooperate with Centre in curbing it.
Earlier, he held a review meeting with Telangana Principal Secretary (Home) Rajiv Trivedi, In-charge DGP Anjani Kumar, Hyderabad police commissioner Mahender Reddy and his Cyberabad counterparts Naveen Chand and Mahesh Bhagwat.
The senior BJP leader appreciated the coordination between Telangana State Police and NIA in busting the suspected terror module.
NIA had on June 29 arrested five youths following searches at 10 locations in Old City area with the assistance from Hyderabad Police. The agency had detained six others, including a techie, during the operation.
The Minister called for more efficient systems of police information and intelligence, including counter intelligence, at Central and state levels, in the view of widespread usage of internet and social media.
He also condemned the terror strike in Dhaka and expressed his grief over the killing of foreign nationals, which included an Indian.
...