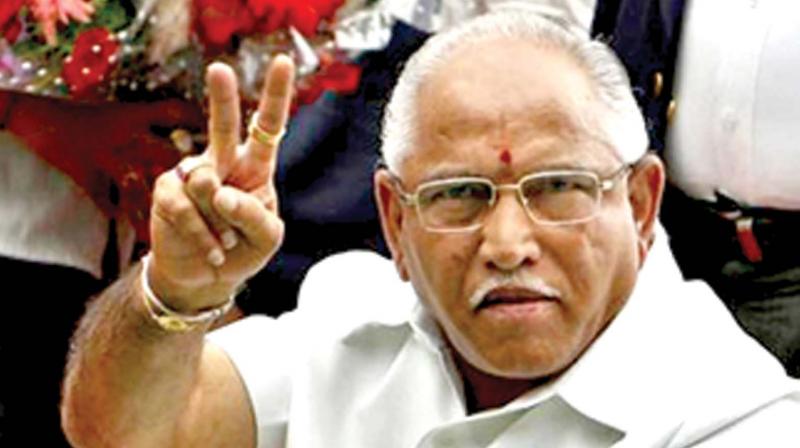 Bengaluru: Leaders of JD(S) seem to be on a sticky wicket in the wake of uncertainty over withdrawal of BJP's second candidate, Lehar Singh, from the contest in elections to the Legislative Council as part of the deal to ensure JD (S) candidate B.M. Farookh's entry into Rajya Sabha.
Sources close to state BJP president B.S.Yeddyurappa confirmed to Deccan Chronicle that the Lingayat strongman was in no mood to pull out Mr Lehar Singh or hand out an assurance of support to Mr Farookh.
Instead, the leaders were making all efforts to ensure the victory of Mr. Singh with the help of independent MLAs and those of BSR Congress and KJP. Besides, JD(S) leaders were not serious about their second candidate Venkatapathi for Council polls, but working overtime for the victory of Mr. Farookh because of the shortfall of six votes.
State JD (S) president, H. D. Kumaraswamy reportedly assured BJP leader R. Ashok that if his party could pass on excess votes to Farookh, he would ask Mr Venkatapathi to withdraw and support Singh.
Sources said BJP leaders were not sure about whether they would be able to pass on excess votes to Mr Farookh as the party was in a tight position to ensure the victory of Union minister Nirmala Sitharaman. With help of independent MLAs and BSR Congress MLAs, BJP could increase its strength from 44 to 48.
Though each candidate would require only 45 votes to get elected, for smooth sailing of Mrs Nirmala Sitharaman, the BJP would earmark 46 to 47 votes to her. Only if the party manages to muster two or three excess votes, it would decide whether to pass them on to JD (S) or not.
Meanwhile, political circles are abuzz with speculation that energy minister D.K. Shivakumar and Mr Yeddyurappa, who are in good terms, are likely to joins hands to spoil Mr Kumaraswamy's party.
With the JD (S) leader perceived as common enemy of both politicians, the Congress entrusted the responsibility to Mr Shivakumar to ensure the victory of its third candidate K.C. Ramamurthy in Rajya Sabha elections.
Sources close to Mr Yeddyurappa said Mr. Shivakumar has requested him not to support JD (S) in Rajya Sabha elections, and assured that he would work for the victory of Mr. Lehar Singh.
...