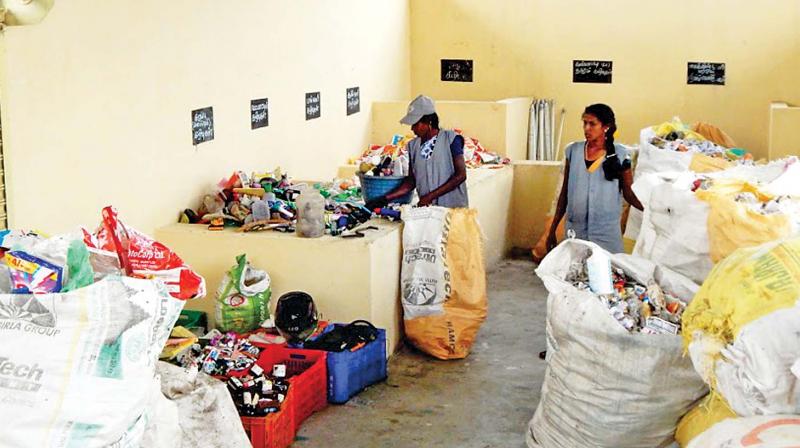 Chennai: Sixty kilometres from the happening city of Chennai, the picturesque and fishing town of Mamallapuram, in 2010, got an impressive system of waste management that reduced the volume of waste generated from 800 households.
Six years back, the town got its first bio-methanation plant capable of handling about 1200 kilograms of food per day, which would convert food waste to methane. This methane produced electricity, which was then used for streetlights in the historic town.
From 2014, in a pilot project, the NGO started distributing two dustbins – green (organic waste) and grey (for inert waste) — and a blue bag (for recyclable items) to every household in the panchayat. Also, the volunteers started educating the town women to get their support for segregation of waste at source.
Depending on the type of waste, sanitary workers collect the waste daily or weekly. "The organic and food waste is routed to the bio-methanation plant, while the recyclable items are sold off to people like kabadiwalas/kayalankadai," said V. Parisutham, DGM, Solid Waste Management, Hand in Hand, India.
The project received about 90 per cent of public participation, which resulted the recovery rate of waste generated to increase to 82 per cent. The NGO at the helm of this change, Hand in Hand, is now working with 13 panchayat bodies in Chennai to implement a sustainable waste management system. It is also working with local bodies in Guduvanchery, Perungalathur, Chithalapakam, Kundrathur, Sriperumbudur areas. Though the NGO started working in Mamallapuram in 2008, Parisutham told Deccan Chronicle about how difficult it was to garner support from local people initially, even through five years of work. The work was not as easy as it looked.
Near Tambaram, in Mudichur, a vermicomposting and bio-composting system was started in 2007 with money collected from the public, as the panchayat didn't receive government funds for the waste management system. "As we fell short of `80,000 to a lakh per month, we started a Reverse Osmosis water purification plant in Mudichur to sustain the waste management system," he continued. "With the profit we make from the RO plant, we fund the waste management system."
"The profit of the RO plant is two-fold as water is available to panchayat locals for Rs 11 per 20 litres, and they sell it to others for Rs 15 per 20 litres. Mudhichur has achieved a waste recovery rate of 60 per cent," Parisutham added. The 'tragic' question is, if the people of Mamallapuram and Mudichur can, why can't the others in the state?
...