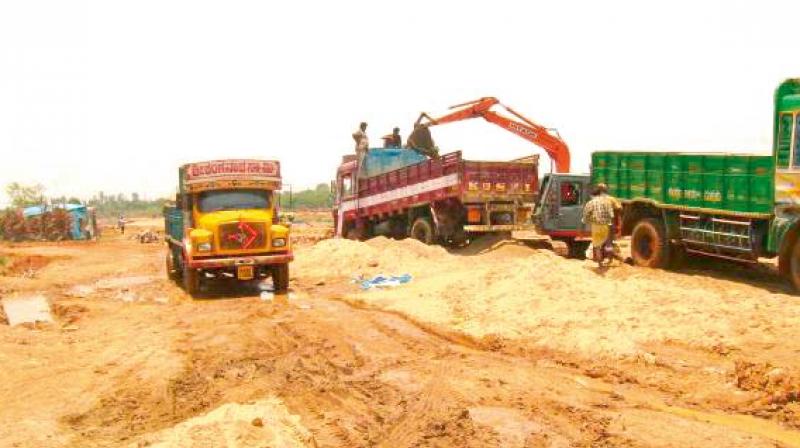 Tirunelveli: Beach sand mining does not cause sea erosion if it is done scientifically and after obtaining proper Coastal Regulatory Zone (CRZ) clearances, says President Pauldurai Perumal of the Beach Mineral Producers' Association here.
Reacting to the statement from a team of experts from the Geological Survey of India (GSI) warning that exploitation sans replenishment of heavy minerals like limonite, zircon and garnet would affect the "balance of coastal ecosystem" and that Tamil Nadu would lost its coastline over the next few decades if this situation is allowed to continue, Mr Perumal said in a statement that the danger to the coastline arose only from indiscriminate mining of beach minerals by certain unscrupulous groups, who operated without CRZ clearances.
"Beach mineral sand, if mined with proper CRZ clearance, will not affect seashore or the coastal area. For example, during the tsunami, all the Tamil Nadu coastal districts were affected, whereas, there was no damage either to the seashore or to the people, where beach mineral mining leases were granted to VV Mineral company, which operated under CRZ clearance.
"The main reason was that the mining operations were done by VV under the direct supervision of the mining geologists and other statutorily appointed qualified persons", Mr Perumal said.
Referring to an article published in DC (June 18) relating to coastal stretch being affected by sand mining operations, he said the area shown "are under the mining lease of the Indian Rare Earths Limited (IRE), a Government of India company". He also sent copies of RTI replies and the related notice to the IRE from the Tamil Nadu Coastal Zone Management Authority in 2007 asking the GoI company why penal action should not be taken against it for continuing beach sand mining without CRZ clearances in Manavalakurichi village of Kanyakumari district. More than 400 lives were lost in this area during the tsunami as the IRE mining operations were "without proper CRZ clearance under CRZ notification", Mr Perumal explained.
...