Nation
Telangana farmers stuck between wild boar, wildlife activists
Deccan Chronicle| Anusha Puppala
Published on: April 20, 2017 | Updated on: April 21, 2017
Farmers set traps, get in trouble when other animals are killed.
Officials inspect a damaged farm
HYDERABAD: Farmers in Telangana state are having problems growing cash crops such as corn and maize because the harvest is being consumed and damaged by a population of wild boars. The animals recently destroyed the crops of a farmer from Hyderabad. The worst part of these marauders is that they destroy more than they consume and what is not eaten is trampled upon. Farmers are now laying traps and live wires to kill these destructive animals, creating the latest in a series of human-animal conflicts. Such traps are killing off or injuring non-target species like deer, and also sometimes even tigers and leopards.
Farmers suffer extensively as they cannot grow cash crops and they have to spend long hours, especially at night, repelling wild boars and other animals from their fields. If all those man hours are added up, the cost of grain would go up many times over. Wild boar do not eat paddy, but use it to wallow and thus large portions of the field are destroyed. Crops like corn and maize are eaten just a few days before harvest. Much of it is chewed and left behind by wild boar. They also attack people working in fields. Cash crops like groundnut, sunflower and sugarcane are destroyed, so in many areas farmers are unable to grow high-value crops that would otherwise bring them added income.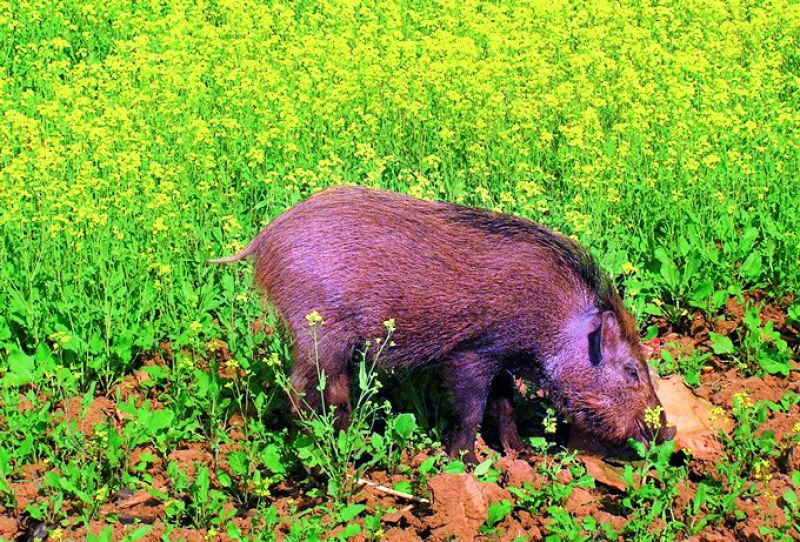 A boar feeds in another farm.
Mr Pervar Santhaji, 42, a farmer near Kollur in Sangareddy district, said, "We have been actively farming for 15 years and the number of wild boar have increased in the past three or four years. We mainly face these problems with maize and corn crops as the wild boars destroy around 3 acres of maize in my field. Very often I would be standing the whole night in my farms, guarding my crops, but still the wild boars came from the other side to destroy the crops". He said. "I have resgistered an FIR with the district forest officer in March and also filed a panchanama over my crop damage and claimed compensation but till now I have not received anything. This problem is not only faced by me, but by every farmer. Many of my farmer friends are suffering huge losses due to rampaging wild boars and they are also standing the whole night in their farms guarding their crops''.
Mr Rajeev Mathew, member, Telangana state Biodiversity Board, said, "We are losing large numbers of these 'charismatic' species to snares; the very species that everyone is trying to save. Bears also fall victim to these traps that are essentially kept for wild boar. Farmers are subjected to great hardships, and when an animal is killed, especially leopards, they are greatly harassed by the local forest and police authorities who are doing their job". "The farmers' only crime is that they are trying to protect their crops from marauding wild boar. The farmers are not compensated for their loss, or when compensation is paid it is very minimal. Countrymade firearms are also being used clandestinely, which could become a law and order problem later. These activists are not sensitive to the problems that the farmers undergo. They consume the crops grown by them, but are inimical to them."
In 2016, the forest department of the state government passed an order to permit hunting of problematic wild boars, which were damaging agricultural crops. Orders were issued after constituting a panel of eight members who were expert shooters and who own valid licenses, permitting them to possess rifles to hunt wild boars which were damaging crops. The district forest officers were advised to use their services whenever required. They were also asked to select at least two villages most severely affected by the wild boar menace in each division and to take nessesary action. A senior forest officer from Telangana forest department said, "It's been more than a year that the order was passed and the order is yet to be renewed. Till then the wild boars can't be killed.'' Meanwhile, the helpless farmers continue to guard their crops in unexpressed rage as the menace goes on.
Latest News
Most Popular
Columns