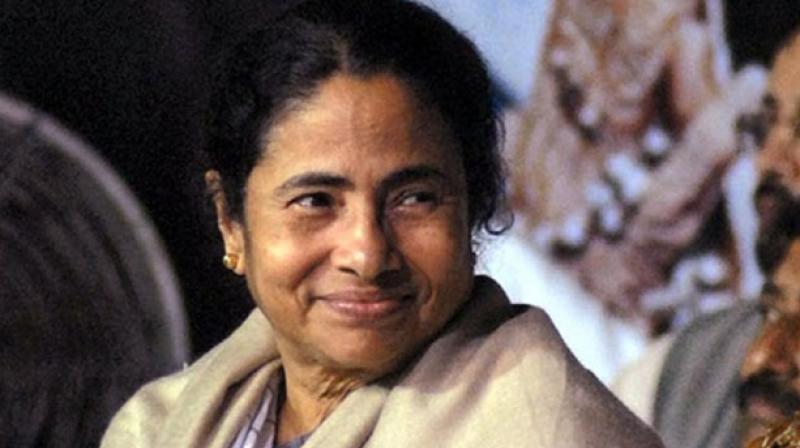 Kolkata: West Bengal Chief Minister Mamata Banerjee has composed the theme song for a popular city Durga puja this year. Banerjee said on Monday at a function with organisers of Durga puja committees that the lyrics aimed to bring back the spirit of 'agomoni' (traditional Bengali songs invoking the goddess) songs in theme music once again. 
"I had been asked by Arup (Banerjee's cabinet minister Arup Biswas) to compose the theme song for his Durga puja (Suruchi Sangha) and I decided to retain the spirit of Agomoni songs like 'Ja Devi Sarbabhuteshu' in my lyrics. Hope it will be liked by everyone," she said. 
Popular singer and West Bengal Minister of State for Culture Indranil Sen has lent voice to the lyrics. Sen, who regaled the audience at Netaji Indoor Stadium with the song during the function said, "There is a devotional side in the lines Jai Maa Jai Durga..." 
"The lyrics have been penned by Didi (Mamata) and it is the theme song of a prominent puja committee. I am happy to be associated with it," the minister said at the function. 
Last year also the CM had composed the theme song of Suruchi Sangha puja -"Boichitrer muktoy gantha ekotar monihar" (the jewel of unity is stitched with a string of pearls of diversity). Last year singer Shreya Ghosal had lent her voice to the theme song. Patronised by Arup Biswas, Suruchi Sangha is one of the most popular Durga pujas of the city. 
Also read: Ahead of Durga Puja, Mamata announces Rs 28 crore grant for organisers
...