Nation
Seetha braves odds to drive She-auto' in Thiruvananthapuram
Deccan Chronicle| Leena Abraham
Published on: June 8, 2019 | Updated on: June 8, 2019
Seetha has been driving the auto for the last five years with which she makes both ends meet.
Seetha in front of her She- auto'
Thiruvananthapuram: Seetha is the symbol of a bold woman who has braved many odds and wants others like her never to give up the several battles in life. She is the only woman driver of the 120 'She-autos' launched by the city police here while the rest are driven by men. She has been harassed by passengers, has to take care of her cancer-stricken husband and faced the tragedy of her younger daughter's untimely death. The bank from which she took a loan for her husband's treatment threatened to attach her house for non-payment of the amount, but God appeared before her in the form of M.A. Yousuff Ali of Lulu Group and saved her.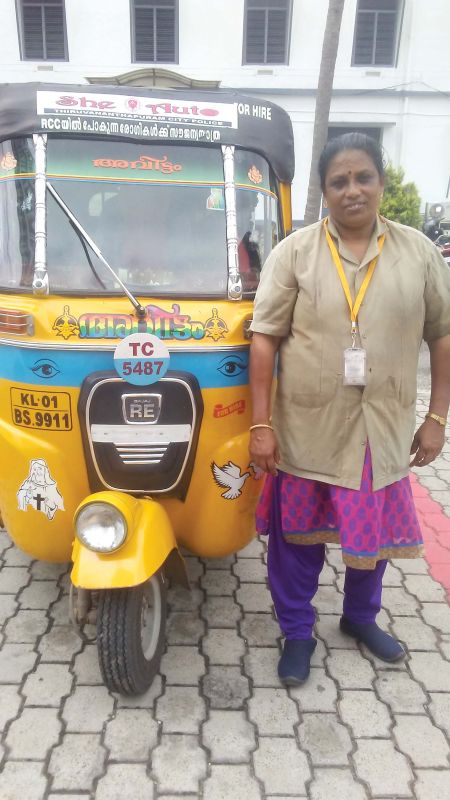 Seetha has been driving the auto for the last five years with which she makes both ends meet. The She-autos have tablets and free Wi-Fi services to attract passengers. "Sometimes male passengers touch my shoulder which makes me very uncomfortable. As a solution, I raised the height and breadth of my seat and fitted a rear view mirror," Seetha says.
Her husband was stricken with cancer and doctors at RCC said he would not survive for more than six months. Therefore, she took him to Amritha Hospital, where three surgeries were done at a cost of around `9.5 lakh. She took a bank loan, but since she defaulted the bank started attachment proceedings. "We decided to commit suicide, but we were saved by M.A. Yusuff Ali, owner of Lulu Group, who appeared as a God in front of me. He paid `5 lakh and gave me back my shelter," she said.
She married off her elder daughter but the younger one met with an untimely death due to her family's struggles. That was the biggest blow Seetha suffered in her life. She reminds girls that no mother would be able to bear the sorrow of her daughter's sudden end, for whatever reason.
To help those in dire need, she gives free rides to RCC hospital in case of emergency. She does not go to Pattom auto stand as she has to wait in a queue and looks for passengers at other places
.She earns `1,000-`2,000 daily that is just enough for her family's survival, including meeting the medical expenses of her husband.
To earn extra income for other needs like maintenance of the vehicle, she picks up students from school. She goes home by 6.30 pm and then prepares food for her husband.
"Sometimes three-four persons get into my auto to go to different places and shout at me if I ask for extra payment. Shouldn't I be paid for the work I do?" asks Seetha.
"I have been through a lot of hardships in my life and am still struggling, but I strongly believe that God will lead me through the end. I hope for a better future for me and my family," she says.
Latest News
Most Popular
Columns