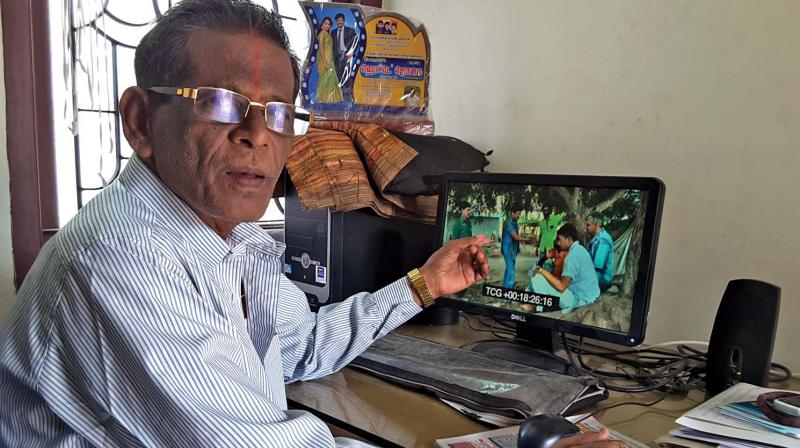 Madurai: Three members of the Saurashtra community are fighting battles in different ways to conserve their language which is on the verge of extinction.
The language of the silk weavers of Madurai, who migrated from their home in Saurashtra in Gujarat more than 660 years ago, borrowed heavily from the vocabularies of Marathi, Telugu and Tamil on the route of their migration as the 'Patnool' people came to settle and establish their base in Tamil Nadu. The weavers and their descendants have, however, lost the original script of their language from the west coast of the country.
"Saurashtrians who are scattered across the state now are all bilingual, but their command over their mother tongue is limited to day-to-day conversations," says 71-year-old independent filmmaker VK Neelarao, who has dedicated his life to safeguard his mother tongue. Neelarao, developed a love for his mother tongue at the age of nine when his late father V V Kuppasamy Bhagavathar taught him to sing and recite in the temple festivals of Saurashtra.
As his attempt to promote the language through a community magazine did not yield positive responses, Neelarao used celluloid to reach his community people. "His film Hedde Jomai, which was screened in selected theatres in Madurai and neighbouring districts for a week evoked a positive response in our community," he said. Neelarao is giving the final touches to his latest film Johaab Ghale Dev Pani Sodai, which will hit the screen next month.
All his films are homemade and are funded by his three sons. And one among them - V K N Venkateshan - has been acting as the protagonist in his movies. Though Neelarao sustained a loss of nearly Rs 3 lakhs in producing the movies, he is determined to save his language till his last breath. "I took efforts to learn to write in my mother tongue, but now I can put only my signature because the language has been in disuse. I don't want the same thing to happen to my grandchildren," he said.
The language of Saurashtrians is called 'Saurastra' which is a branch of the Indo-European family. "It is an Indo-Aryan Language, offshoot of Sauraseni Prakrit, according to renowned Saurashtra language scholar T M Rama Rai, who reformed the script and cast types for the language for the first time in 1887," said Obulan S Subramanian, a linguist from Madurai who co-authored the 'A Sauarshtra- English Dictionary' with Japan philologist Muddan Nagabhushana in 1990.
Though one section of the community is repeatedly attempting to abandon the Saurashtra script in favour of Devanagarai, the linguist Subramanian said they have discarded Devanagarai for it has no commonality with their language. Rather Saurashtra script has more Dravidian features because it has been in close contact with Dravidian language for several centuries, he observed. The Japan philologist who have done intensive research on Saurashtra community also arrives at the same findings in his book.
Subramanian also claimed that it was the same group which favours Devanagari, raised objection when the community members submitted teaching materials for class I in Saurastra language to the then DMK government in 1969 to introduce in schools.
"Moreover as the government which introduced two-language formula asks us to sacrifice either Tamil or English to include our language in the syllabus, we dropped our proposal because it will deprive our community from employment opporunities," he observed.
However in an attempt to safeguard the language, Subramanian is teaching the language to the younger generation through social media. "Each day, I will post a material in Saurashtra language and its correspond Tamil meaning in my Facebook account. And also regularly upload articles on our language on subramanian-obula.blogspot.in," he said adding that many youth are following it closely and also clarifies doubts.
And the younger generation in Madurai also started printing their invitation completely in Saurashtra language. "We also making representation to the Central government to includes our language in the list of languages of eighth scheduled of Constitution of India so that we would official fonts for our language," he added.
Historian CS Krishnamoorthy who penned the book 'The Migrant Silk Weavers of Tamil Nadu- A Study, observed that the Indian Prime Minister Narendra Modi paid a special visit to Madurai in 2013 mainly to know about the Saurashtra culture because it was only here the culture was preserved intact. Krishnamoorthy is spending his retired life guiding young generation to do research on their community.
Saurashtra literary tradition
The renowned Saurashtra language scholar late T. M. Rama Rai founded the prose style the language during the late 19th century. A disciple of Sanskrit professor Lakshmanan of Madras Christian college, Rama Rai refined the Saurashtra script and standardized it, said Obulan S Subramanian, the linguist.
He also published grammar, dictionaries and teaching materials with types that he himself designed. He also wrote Vacana Ramayana (Ramayana in prose), which is very popular in those days, he said.
The oldest literary works in the language is Sangita Ramayana published in 1903 by Kavi Venkata Suri and devotional songs by Karukku Subbarya Swami in 1965, he said.
Many Saurashtra scholars inlcuding T S Venkatachala Sharma, MV Ramachandran Sharma and OK Ramantham from Madurai have contributed for safeguarding the language. "In early 50's, Ramantham had taught the language after class hours in the Sourashtra High school in Madurai, recalls Subramanian.
...