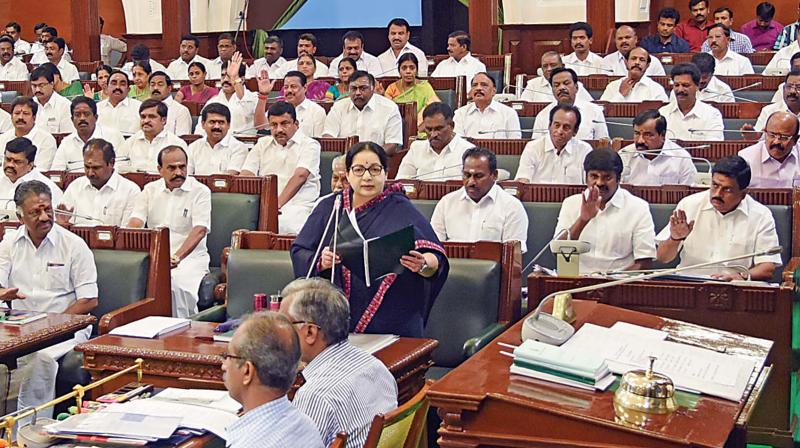 Chennai: Food minister R. Kamaraj on Monday said price of tur dal sold by Amudham fair price shops through price stabilisation fund is less compared to what is sold by Kamadhenu cooperative supermarket.
The minister was replying to DMK's Salem North MLA R. Rajendran who raised the issue of the price difference in commodities sold by two different cooperative societies in the Assembly.
Rajendran said a kilogram of tur dal is being sold for Rs 140 in Kamadhenu shop while the same is available for Rs 110 in Amudham fair price shop. "There is a difference of Rs 32 between two government-run cooperative societies," he said, adding that similar is the case of urad dal and gingerly oil.
Intervening, Kamaraj said tur dal sold by Amudham was cheaper because it was subsidised through price stabilisation fund. "Due to increase in prices of tur dal, the Centre procured 5,000 tonnes and allotted 700 tonnes to Tamil Nadu. The government, in turn, sold the dal through Amudham fair price shop," he said.
Further, cooperatives minister Sellur K. Raju noted that Amudham was run by Tamil Nadu Civil Supplies Corporation while Kamadhenu was a cooperative society. He said price of commodities sold by cooperative stores was much less than open market price. "Shops run by cooperative societies were opened to stop profiting by private shops at the cost of consumers," he said.
Allow members to complete a sentence before intervening: Duraimurugan:
The frequent intervention by ministers to the speech of DMK legislator Rajendran led to a strong protest by their party MLAs. Speaker P. Dhanapal urged the DMK member to sit and not to disrupt the proceedings. He said he would not be able to stop the ministers from replying as it is their right. He asked DMK  member to speak in such a way that does not warrant minister's intervention.
DMK's deputy leader Duraimurugan asked the minister to reply after his party members complete the sentence. "The minister is rising to reply as soon as the member utters a word. Let them complete the sentence," he said. Sarcastically, he added, "I am not underestimating you (ministers). I know you all come here well equipped."
As the House split into a laugher, the Speaker, in a lighter tone, asked Duraimurugan to keep this in his mind while addressing the media outside the Assembly. Immediately, Duraimurugan asked the Speaker not to complain about him and his leader M.K. Stalin when they walk out. However, Speaker said he would not say anything unwanted.
'DMK rule failed to rein in rice smugglers'
The previous DMK regime's action on PDS rice smugglers had merely been an eye-wash and none of those arrested was actually involved in the nefarious activity, food and civil supplies minister R. Kamaraj alleged in the Assembly.
"The smuggling of rice meant for distribution to the poor under the Public Distribution System (PDS) continued unabated during the previous DMK rule and some even resorted to smuggle it through ship," he claimed while winding up the debate on the demand for grants for his department in the Assembly on Monday.
This however evoked spontaneous protests from Opposition DMK, which disrupted the Assembly House for over 10 minutes.
As the DMK members insisted upon replying to the minister's accusation, Deputy Speaker Pollachi V. Jayaraman assured to give them opportunity to respond after the minister completed his reply. "Rules do not permit a member to intervene the minister's reply to the House. I shall give you a chance to respond. Return to your seats," he pleaded. As they remained adamant, Speaker P. Dhanapal, endorsing Mr Jayaraman's ruling assured to give them a chance to reply to the minister's remark.
Later, after Kamaraj completed his reply, DMK whip R. Sakkarapani raised the issue. When Sakkarapani demanded to know if the minister was prepared to accept there had been no smuggling activity during the AIADMK rule, Mr Dhanapal intervened and said the member cannot engage in a debate with the minister whose reply was final in the House.
...