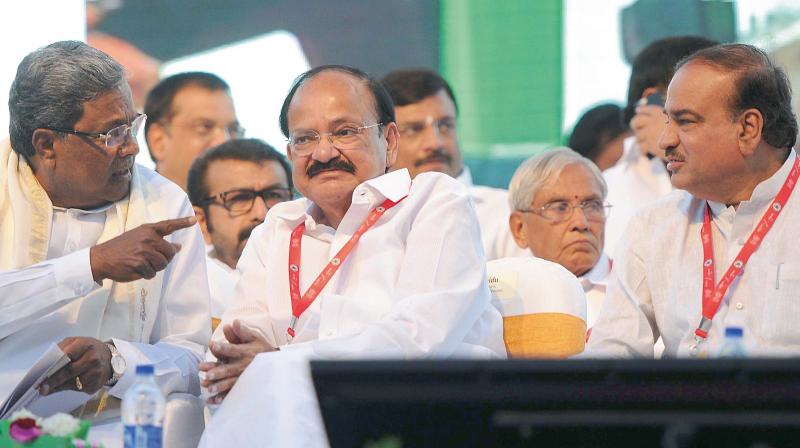 Bengaluru: Union Minister of Chemicals and Fertilizers, Ananth Kumar rooted for multi modal transport for the city on the occasion. "Along with BMTC and Namma Metro, we need local rail connectivity like a suburban rail. We need connectivity from Bengaluru city railway station to Yelahanka, Kengeri, Krishnarajapura, Bangarapete and other areas. All these radials have broad gauge and need to be converted to double line ,electrified and provided automatic signalling. Also the city needs railways stations every 5 kms similar to Mumbai. A study has already been done on the feasibility of this project," he noted.
Referring to a study by the Indian Institute of Science (IISc), the minister said if Bengaluru had multi modal transportation, it would be able to cut down the 56 lakh vehicles on its roads by 50 percent. "And this will result in a 4 degree Celsius dip in temperature. My colleagues and I always commute on the Metro from Delhi airport to Shivaji Stadium to go to parliament. The journey takes us just 18 minutes, whereas by road it takes about one and a half hours. We want such Metro connectivity here and this marks the beginning." he said.
With the opening of the new line, people will be able to travel from Baiyappanahalli station to Mysuru road station , a distance of 18.2 kms, in 35 minutes. The 8.4 km underground section from M G Road to the city railway station is the first UG line of the Metro to open for commercial operations in South India. With this, 33 kms of the city's Metro line has been commissioned. Phase 1 covers 42.3 kms and has 40 stations in two corridors , East-West and North-South .While the East-West corridor with 17 stations is now ready, the North-South corridor covering 24.2 kms and with 24 stations will take a few months to complete.
The new line is expected to benefit two lakh passengers every day. Two tunnel boring machine were operated for three years to build the underground stretch of the Metro and encountered several problems, delaying it.
...