Bengaluru: It took 10 years, but the wait finally paid off as the Metro Rail's underground stretch between MG Road and Magadi station was opened for commercial operations by Union Minister of parliamentary affairs, Venkaiah Naidu in the city on Friday.
There were whistles, smiles and many curious faces as passengers boarded the Metro Rail for their first ride on its underground line in the city Friday evening. And of course, it was the perfect time for selfies.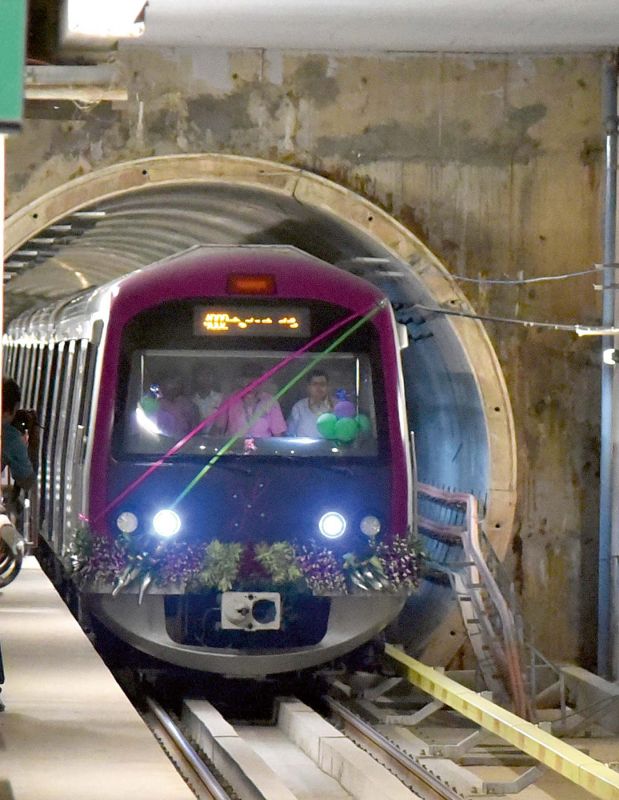 Although the Metro underground ride from Vidhana Soudha station, now named Ambedkar station, to Mysore Road and back was exclusively for VIPs and the media, many relatives of the Metro staff and employees of Vidhana Soudha hopped on. Flagged off by Union minister of parliamentary affairs, Venkaiah Naidu in the presence of Chief Minister Siddaramaiah, the train left Mysore Road at 8.06 pm and was at Ambedkar station at 8.26 pm without making any stops enroute.
Said Raghu R, a commuter, "I have many memories in Delhi and its metro. This exactly feels like the Delhi metro now." "This is my first underground metro ride and I love it. Although I wish the tunnel was longer," said a Metro commuter.
The occasion also saw the Vidhana Soudha Metro station renamed as Ambedkar station. With this Bengaluru becomes the first city in south India to have an underground Metro.
Speaking on the occasion, an elated Bengaluru Development minister, K J George, said the city was looking forward to using Phase 1 of the Metro Rail by Karnataka Rajyotsava day. "Work on Phase 2 has been already been started and BMRCL has assured it will be completed by 2020," he added.
Mr Venkaiah Naidu, for his part, complimented the state government, BMRCL, technicians, workers and the international agencies involved in the project and specially thanked the Japanese Prime Minister for supporting India in its major infrastructure projects. "We should not forget Metro man ,Sreedharan on this occasion as he set the tone with the Delhi metro. This new line will cater to two lakh people every day. Now citizens will be able to travel from Mysore Road to Byappanahalli in 35 minutes and at the same fare as that of a bus," he noted.
Pointing out that Rs 2000 crore was spent on the underground stretch of east-west corridor, the minster said phase I will cost Rs 13, 845 crore "Around 9 kms is left of the 42 kms of phase 1. In the next two months tunnelling for the north-south too will be completed," he added.
Recalling that the Centre had released, Rs 773,7 crore for phase 2 of the project, he said it planned to give the state another Rs 4500 crore towards it. "The Chief Minister of Karnataka has informed me that a feasibility study is getting ready and the Centre will support this project as well," he stressed.
Urging the people of Bengaluru to take to public transport as much as possible, he said it was their responsibility also to make sure they had an environment friendly city to live in. "It is quite alarming that we have 23 million motor vehicles, the sixth largest number in the world. That means every second person has a vehicle. We need to take up habits like cycling, carpooling and bring equity in urban modes of transport. We need strategic transport planning and effective parking policy with charges and if necessary congestion charges as well. Again we need to look at solar energy. In Faridabad one of the Metro stations has gone completely solar. I suggest the Bengaluru Metro take some lessons from it."
Chief Minister Siddaramaiah too congratulated everyone ,who was part of the project and predicted that the travel pattern of the city was going to change for better as a result of it.
"Once Phases 1 and 2 are completed, the Metro will run over112 kms and once Phase 3 is ready it will cover 151 kms and will cater to over 20 lakh passengers. A feasibility study for Phase 3 is already in progress and we will soon start implementing that as well," he assured.
...