Nation
T'puram beats Delhi, Mumbai, ranks No 1 in urban governance: survey
Deccan Chronicle | DC Correspondent
Published on: February 28, 2017 | Updated on: February 28, 2017
'Bengaluru dropped four places to rank 16 due to better performance by some of the smaller cities.'
Sree Padmanabhaswamy temple in Thiruvananthapuram. (Photo: Wikimedia Commons)
Mumbai: Thiruvananthapuram, Kerala, has again topped the list of top Indian cities equipped to manage urbanisation, according to an evaluation of 21 major cities across 18 states by Janaagraha Centre for Citizenship and Democracy.
Thiruvananthapuram, which had ranked number 1 in 2015 as well, has maintained its position, while ranks of a few other cities saw a decline, suggests Janaagraha's Annual Survey of India's City-Systems (ASICS) 2016.
The 2015 rank of Delhi was 7 but in 2016, the national capital dropped two places to rank 9. Similarly, Mumbai's rank slipped from 4 to 2 and Bengaluru's came down to 16 from 12.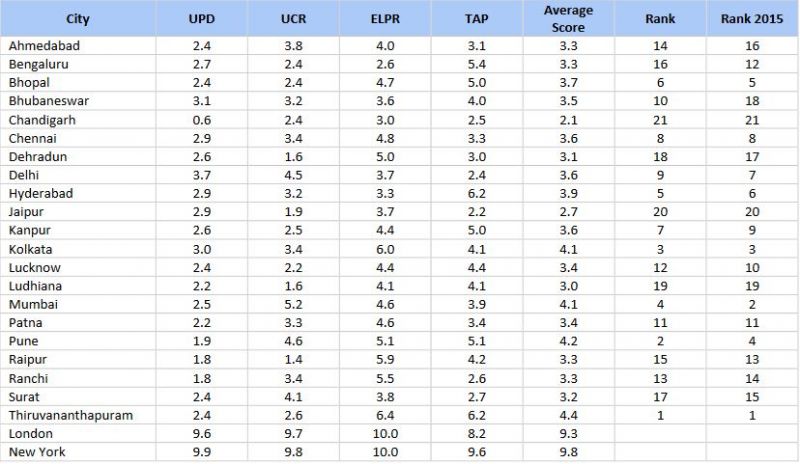 Photo: Janaagraha Centre for Citizenship and Democracy
"This was on the back of a slew of reforms such as instituting Municipal cadres, tiered spatial planning including ward level plans and instituting a single window clearance process for development projects that are in conformity with plans," the survey said.
"Bengaluru dropped four places to rank 16 due to better performance by some of the smaller cities," it added.
Irrespective of 2016 ranking, the cities in India have continued to score low over the last four editions of ASICS. This indicates that progress on fixing City-Systems has been slow.
Janaagraha recommends changes in planning laws to address the issues challenging the efficient planning of the cities. The Indian cities quality of laws, policies and institutions significantly to improve service delivery and thereby, deliver a high quality of life to citizens.
Latest News
Most Popular
Columns