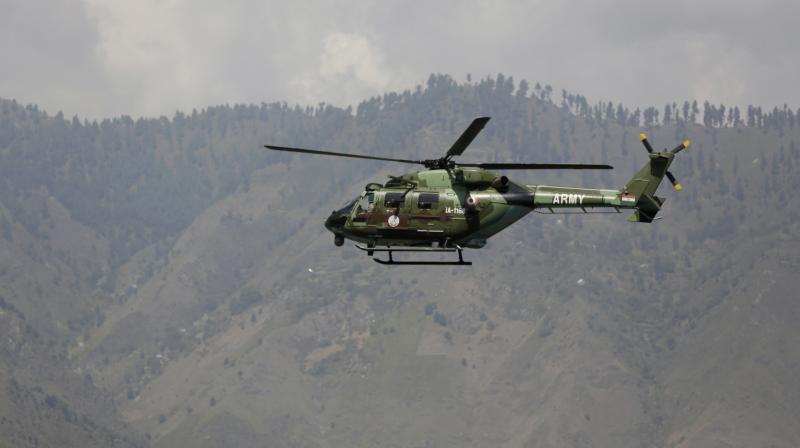 New Delhi: For the second time in less than ten days, Foreign Secretary S Jaishankar on Tuesday issued a demarche to Pakistan High Commissioner Abdul Basit over Uri attack and confronted him with proofs of cross-border origin of the terror strike.
Tension heightened between the two nuclear-armed neighbours after Pakistan backed terrorists, armed with AK-47s and grenades, killed 18 Indian soldiers at Army base in Jammu and Kashmir's Uri.
The Foreign Secretary called in Basit and told him that the preliminary interrogation reveals identity of one of the slain Uri attackers as Hafiz Ahmed, son of Feroz and resident of Dharbang, Muzaffarabad and also gives details of Pakistan-based handlers, MEA Spokesperson Vikas Swarup said.
"Local villagers in the Uri sector apprehended on 21 September and handed over to Indian security forces two individuals from Pakistan-occupied Kashmir who have acted as guides for terrorists and helped them infiltrate across the LOC."
"Their personal particulars are -Faizal Hussain Awan, 20 years, S/o Gul Akbar Resident of Potha Jahangir, Muzaffarabad and Yasin Khursheed, 19 years, S/o Mohammed Khurshid Resident of Khiliana Kalan, Muzaffarabad," Basit was told.
During his interrogation, Awan has deposed to the NIA that they had "guided and facilitated" the border crossing of the group that perpetrated the September 18 Uri massacre, the Foreign Secretary told him.
In another incident on September 23, 2016, one Pakistani national, Abdul Qayoom, R/o Sialkot was apprehended in Molu sector opposite Pakistan's Sialkot sector and has confessed to undergoing three weeks of training with the terrorist group LeT and donating substantial funds to Falah-e-Insaniat Foundation, their front organization, Basit was conveyed.
"We are willing to provide the Pakistan High Commission consular access to these three individuals apprehended in connection with terrorist attacks in India," the Foreign Secretary told the Pakistani envoy.
Basit was also told that these apprehensions and subsequent interrogation underline the cross-border infiltration that had been the subject of their previous discussion.
"We would once again strongly urge the Government of Pakistan to take seriously its commitment not to allow terrorist attacks against India from its soil and territory under its control. Continuing cross-border terrorist attacks from Pakistan against India are unacceptable," Jaishankar asserted.
This is the second time since the attack on September 18 that the Pakistani envoy has been summoned over the terror strike which India maintains was carried out by Pakistan-based terror groups.
New Delhi has already offered to provide Pakistan with fingerprints and DNA samples of terrorists killed in Uri and Poonch, if that country wished to investigate these cross-border attacks.
During the earlier summoning on September 21, Jaishankar had also shown Basit the content of GPS recovered from the bodies of terrorists with coordinates that indicate the point and time of infiltration across the LoC and the subsequent route to the terror attack site and grenades with Pakistani markings as evidence of Pakistan's role.
"Following the terrorist attack on the Uri garrison of the Indian Army on 18 September 2016, India had taken up with Pakistan the issue of honouring its January 2004 commitment not to allow its soil or territory under its control to be used for terrorism against India," Swarup added.
Today's summoning comes amidst India weighing the options to hit back at Pakistan in the aftermath of the Uri attack.
After a review of Indus Water Treaty (IWT), the government is also planning to review the MFN status granted by it, unilaterally, to Pakistan.
During the review of IWT, the government decided to take a number of steps including to "exploit to the maximum" the water of Pakistan-controlled rivers, including Jhelum, as per the water sharing pact and suspension of IWT Commission meeting till the atmosphere was "free of terror".
Pakistan has so far rejected allegations of its involvement, and has accused India of prematurely blaming it for the terror attack.
Lashing out at Pakistan at the UN General Assembly in New York on Monday over its support to terrorism, external affairs minister Sushma Swaraj said nations that aid, finance, arm, shelter and openly flaunt terrorists have no place in the comity of nations and should be isolated, even as she attacked Islamabad for "the worst form of State oppression" in Balochistan.
The minister also declared that Jammu and Kashmir would remain an integral part of India, asking Islamabad to "forget its dream" of attaining Kashmir.
Swaraj also raised the Uri and Pathankot cross-border terror attacks, saying India and Prime Minister Narendra Modi had taken steps for friendship with Pakistan but had got the Pathankot and Uri terror attacks in return. She also criticised Pakistan PM Nawaz Sharif for making baseless allegations of human rights violations against India, adding that those living in glass houses should not throw stones at others.
Swaraj also named and shamed Pakistan and referred to captured Pakistani LeT terrorist Bahadur Ali, saying: "Bahadur Ali is a terrorist in our custody, whose confession is a living proof of Pakistan's complicity in cross-border terror".
...