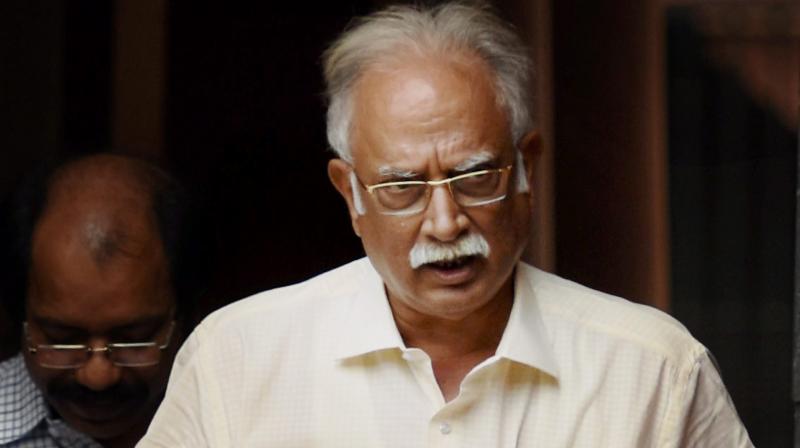 Mumbai: Slamming Shiv Sena MP Ravindra Gaikwad for assaulting an Air India officer, Union Aviation Minister Ashok Gajapathi Raju said that violence of any kind can be a 'disaster' for airlines.
"Never in my wildest dreams did I think that an MP would get caught in such an incident," Raju said referring to Gaikwad.
Gaikwad, an MP from Osmanabad, had on Saturday attacked an Air India manager with a sandal for not providing him a business class seat in a flight to Delhi.
Gaikwad was subsequently blacklisted and barred by Air India, and 6 private carriers, from boarding their flights. He left for Pune on a train, but never got back home to Osmanabad.
Gaikwad is said to be staying at a relative's house in Pune currently. The Sena leader is expected to go back to Delhi, and hence is not travelling to Osamanabad, and will take a train again. While the contact numbers of Gaikwad and his wife are not available, a certain Mr Joshi, who claims to be Gaikwad's personal assistant, answered a call made to his house in Osmanabad.
Asked about the whereabouts of Gaikwad, he said, "Gaikwad is not in Osmanabad. He has not come here and there is no confirmation on when he will reach Osmanabad. He has to go back to Delhi and will go back via Pune or Mumbai."
Shiv Sena, in the Lok Sabha today, raised the issue of comedian Kapil Sharma being allowed drunk on a flight, to question why Gaikwad had been banned.
"Kapil Sharma misbehaved on a flight after getting drunk but no ban was imposed on him. Corrupt people are allowed to fly. How can an MP be banned," Sena MP Anandrao Adsul questioned in the Lok Sabha.
On Sunday, Gaikwad, unapologetic from the beginning, threatened legal action against Air India and IndiGo for banning him. He claimed he had not gone into hiding and would be present in the Lok Sabha on Wednesday. He said a 'top Sena leader' had asked him not to speak to the media.
The Sena MP had earlier insisted that he had done nothing wrong, bragged about his attack on the Air India officer and said that the 60-year-old officer should apologise to him.
...