Nation
Losing the race: Kambala on verge of oblivion
Deccan Chronicle| Gururaj A Paniyadi
Published on: November 25, 2016 | Updated on: November 26, 2016
Kambala organisers and participants allege that the beef mafia' is bent on banning Kambala.
The man who rides the buffalos during Kambala gets paid well, sometimes in lakhs.
No more of the pulsating Kambala race which sets the slushy fields in the coastal districts on fire and makes the blood beat as hard in your head as the buffalo's hooves pounding the earth? That could really happen with Karnataka high court imposing a ban on the rural sport until the disposal of a PIL filed by People for the Ethnical Treatment of Animals (PETA).Kambala lovers contend that the sport, which resonates the heartbeats of Kannadigas, should be allowed to go on with restrictions which animal lovers consider necessary. Will that happen or will Kambala disappear into oblivion and remain only a fading memory for those who have witnessed this earthy race? Gururaj A. Paniyadi explores Kambala and finds out why it is so closely intertwined with the native traditions of Karnataka's coast.
Devendra Kotian, the Kambala hero of the coastal districts is in a quandary. How will he explain the presence of the prestigious Kreeda Ratna award which adorns his house, to future generations when the famous buffalo race has been banned?
Forty-five-year-old Kotian has won a record number of medals in Kambala- the buffalo race on slush. He is the first Kambala sportsman to be conferred the Kreeda Ratna award. He has started wondering if anyone will ever realise the hard work which went into winning the medals when the game itself is set to be become extinct!
Like Kotian, Kambala organizers and regular race participants are worried over the future of the sport after the ban though there are plans to approach the Supreme Court. "Whatever I am today is because of Kambala. The recognition, fame and awards I received was because of this game. I was just a common man earning my livelihood from agriculture. Kambala has been my passion for the last 20 years and every year, I have won medals. In one particular year, I won medals in all 15 Kambala events which is a record. People recognise me wherever I go. I am unable to imagine what will happen after the ban," Kotian says.
Controlling the buffalos and getting them into shape is nothing short of what a horse trainer does, confesses the Kambala expert. His fitness is as important as that of the buffalos he races. "I eat healthy food and have no bad habits. Regular massage and exercise are a must. Sukumar Shetty, whose buffalos I race, helps me a lot," Kotian reveals.
Kambala, the rural rage in the coastal districts, is traditionally held before the second crop is sown. It is held between Vrishika and Dhanu Sankranthi (usually between November 15 and December 15). Pairs of buffalos are made to run on the slush and the pair which completes the race first is the winner. Traditionally, Kambala was held in villages as a religious event. However things started changing in 1969-70 when modern 'Jodu Kare Kambala' began with the aim of entertaining and attracting the masses. The Kambala at Bajagoli village was the first modern Kambala. It had several innovations with the race now between pairs of buffalos. Tracks were drawn, floodlights were installed and attractive prizes too were conferred. Earlier, the winner was given two lemons and betel leaf with arecanut. Now, they get gold sovereigns too!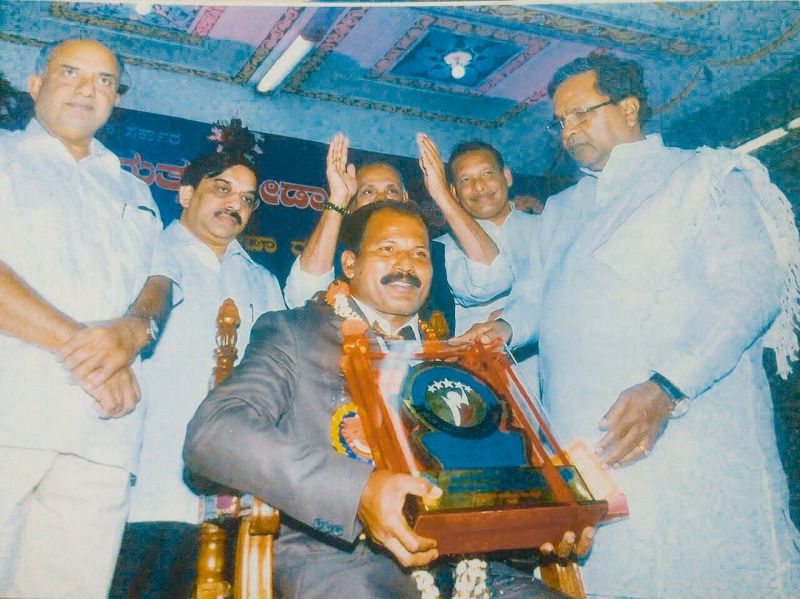 Devendra Kotian receiving an award from Chief Minister Siddaramaiah.
"The traditional Kambala has a history of over 600 years. There are many inscriptions in Udupi and Dakshina Kannada districts giving details about Kambala. Modern Kambala or the buffalo race has a history of about 60 years," Kambala Academy founder Gunapal Kadamba says. The academy provides training on every detail of Kambala to those keen on mastering the sport.
"People have great belief in traditional Kambala. Even today, nobody gets into the Kambala field with footwear. If there is any death or birth in a family, they do not participate in the event. Organisers consume only vegetarian food till the event is over. Those with health problems carry leaves on their head and spread it in the racing field believing that it will solve their problems," he says.
"Kambala is held in some places as a temple festival and is associated with 'Kola' (spirit worship). The belief is that buffalos have to run on slush in these villages failing which the village will invite the wrath of God," explains Rajashekhar Jain, who has been serving as a Kambala referee.
On the accusations of cruelty which is one of the reasons which led to the ban, he says, "There is no cruelty in Kambala, in recent years we have completely stopped hitting buffalos during the race. If Kambala is considered cruel and banned, what about the cruelty inflicted on horses during races?"
"Every buffalo that is used for Kambala is given royal treatment. They are given good and healthy food, regular oil massage daily and also taken for a walk. Some buffaloes are provided swimming pools or given bath in lakes, ponds or rivers. Rearing these buffalos is not an easy task. They are taken care of with great love and affection," Ashok Rai, organiser of Uppinangady Kambala says. "Let the court allow the sport with restrictions, we will follow them. But the rural sport of farmers should not be banned," he contends.
There are buffalo owners who take note of every detail of the animal. If the urine turns yellow, they are treated immediately. The stomach is hit gently every day to check and and ensure the buffalo's health is fine.
Kambala lovers feel a permanent ban may lead to a decline in the number of buffaloes in the region. "Buffaloes are hardly used for farming activity here. People rear them for Kambala and if it is banned, these animals which have brought us fame, will surely disappear over a period of time," says Devendra Kotian, adding that there are about 5,000 people who depend on Kambala, and the ban will affect them all.
So while those for and against Kambala battle it out in courts, Karnataka's rural heart will be hoping that amid the droughts and fluctuating monsoons and away from the loan sharks and preying babus, this race will keep their minds racing as they hope for a better morrow.
The word Kambala is said to be derived from 'Gampa Kala' meaning a huge paddy field filled with slush. Kambala faced the anger of animal lovers after the ban on Jallikattu (the rural sport of TN) by the Apex Court. Interestingly, a ban on Kambala was proposed by the NDA government in 2003 when Maneka Gandhi was Union minister.
In the past few years, checks have been introduced on beating the buffalos with whips during Kambala which was considered cruel. The organisers and Kambala Samithi have clearly instructed Kambala sportsmen not to hit the buffalos. Modern techniques like videos to identify the winner at the finishing point, laser beam and electronic timers have been incorporated into the sport to make sure there is no room for error.
About 24 Kambala events are organised by Kambala Samiti in the twin districts of Dakshina Kannada and Udupi usually between November and March. This is in addition to the 100 small Kambalas held in these two districts.
Latest News
Most Popular
Columns