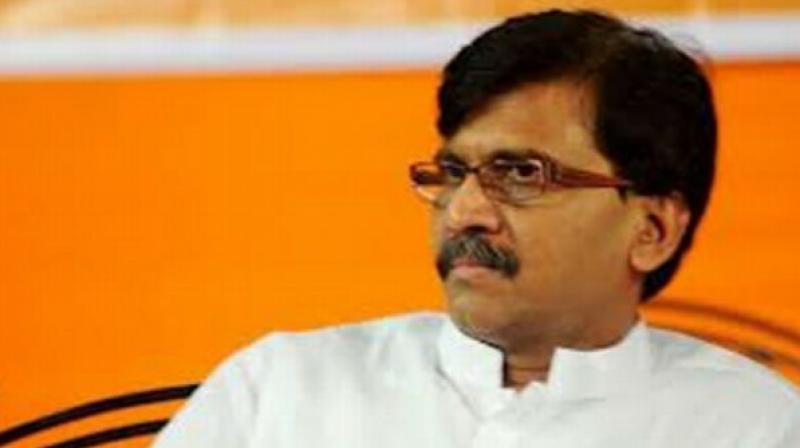 Mumbai: The Shiv Sena does not support Ravindra Gaikwad's behaviour but party leaders would "raise their hand" wherever needed, its Rajya Sabha MP Sanjay Raut said here on Friday.
He was responding to a question at a press conference here about the party's stand on Gaikwad hitting an Air India employee with a slipper on Thursday.
"The Shiv Sena can never support Ravindra Gaikwad's behaviour. But there should be an inquiry to find out why our MP was forced to behave this way," Raut said.
"Hitting anybody can never be the culture of the Sena, but we will surely raise our hand wherever required," Raut said.
It is not about a single MP but thousands of passengers who have to face numerous troubles due to Air India's poor service, he said.
"It would have been better had Air India been as quick in improving its service as it was in banning our MP from flying on its aircraft. Passengers are fleeced at airports like Mumbai and Delhi. What happens to their (AI's) quick decision-making then?" he asked.
Before the party take any action against Gaikwad, the MP will have to face action as per the law, Raut said.
All the airlines have banned the Shiv Sena MP from boarding their flights a day after he beat an Air India staff with his slipper. IndiGo cancelled Gaikwad's ticket for the Delhi-Pune flight, which he had booked for Friday. Later, another airline Vistara too banned the 56-year-old MP from boarding its flight.
Earlier in the day, the MP from Osmanabad in Maharashtra downplayed reports suggesting that Air India is considering banning him from boarding its flights. "I have the tickets, they can't blacklist me. I will board the Delhi-Pune Air India flight this evening. How can they not allow me?" he said.
"I will not apologise. It was not my fault, it was his fault. He should apologise. First ask him to apologise then we will see," Gaikwad told the media.
Shiv Sena chief Uddhav Thackeray has sought a report to determine the facts before he decides on what happens next for Gaikwad.
Air India Duty Manager Sukumar, who was assaulted by Gaikwad, today asserted that the elected representatives need to behave in a decent manner. "I am not scared at all, either with Gaikwad or with the Shiv Sena. I have been serving public and have also faced many who get irritated on such issues. It's a common thing for me," he added.
Sukumar further said that he had requested Gaikwad to deboard the aircraft as cleaning staff had to complete their work following which he got angry. "I had requested him (Gaikwad) to de-board the aircraft as the cleaning staff had to complete their work. On which he got furious and raised his hands," said Sukumar.
Earlier, the Centre also took cognizance of the incident and assured a thorough probe into the matter.
...