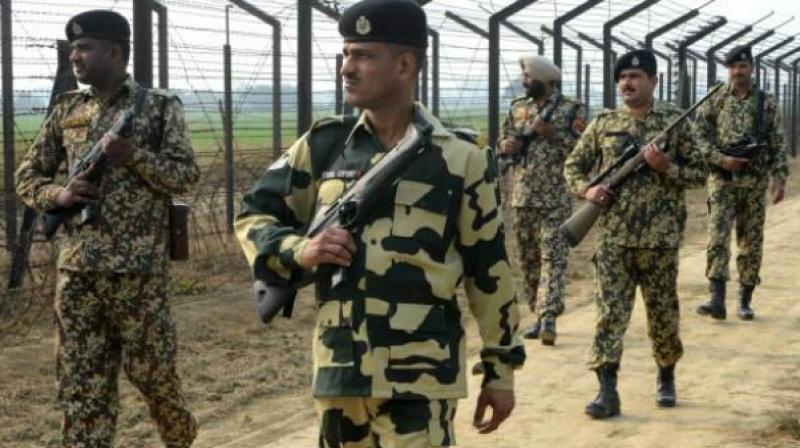 Jammu: In a major catch, BSF troops arrested near the International Border in Jammu a Pakistani national and said he was an activist of Pakistan-based Lashker-e-Taiba (LeT) terror outfit.
"In the wee hours on Friday, alert bordermen in Pragwal Sector of Akhnoor area of Jammu district apprehended a young Pakistani national who crossed over the International Border (IB) and was trying to negotiate border fence to infiltrate into Indian Territory," DIG BSF Jammu Frontier Dharminder Pareek said.
The DIG said the nabbed person gave his identity as 32- year-old Abdul Qayum, son of Bhag Ali, a resident of Pul Bajuan village in Sialkot district of Pakistan.
Qayum was in possession of one dual SIM Nokia mobile phone, the BSF officer said. "On further questioning by BSF sleuths, Qayum revealed that in 2004, he underwent 'Daura-e-Aam' militant training with LeT outfit at Mansera training camp in Muzaffarabad in PoK," Pareek said. T
Thereafter he has actively worked for LeT and remained associated with distribution of Jihadi literature and magazines like 'Gajwa' and 'Jarar' as well as collection of funds for LeT, the BSF DIG said.
Qayum has collected Rs 50 lakh of Pakistan currency and handed it over to LeT 'amir' namely Mujahid Bhatt of Sialkot area, DIG said.
"Qayum was found to be well aware of all various terrorist organization based in Pakistan and their leaders including Hafiz Sayeed, (Hizbul Mujahideen chief) Syed Sallauddin and also separatist leaders of Kashmir, Syed A S Geelani, Asiya Andrabi, Yasin Malik etc," he said.
...