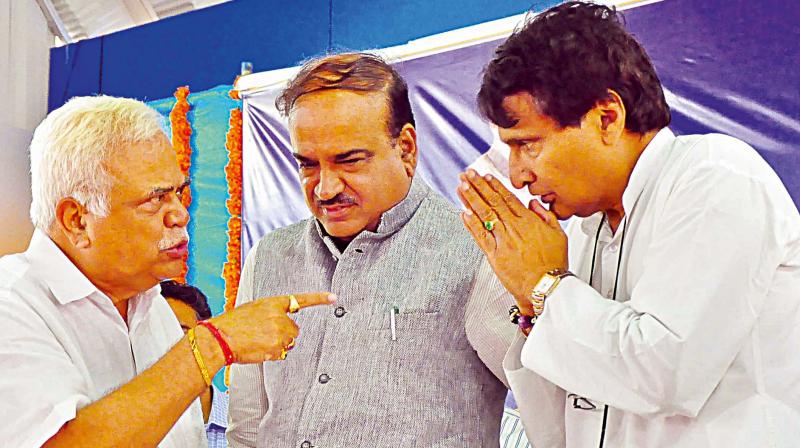 Bengaluru: Union Railway Minister Suresh Prabhu, who was here to inaugurate the new entry gate and escalators at the Yeshwantpur Junction on Saturday, announced a slew of goodies for the city.
Union Railway Minister Suresh Prabhu, on Saturday said the Centre is willing to start the suburban rail project in Bengaluru in partnership with the state government.
"I know people living in Whitefield are finding it difficult without a suburban rail. We have announced suburban rail in the budget. I had a discussion with the state government even today (Saturday). We are open and most willing to start this project as a partner with the state government. We have decided to take this up with equity participation and I have invited the minister of Large and Medium Scale Industries from Commerce and Industries and Infrastructure Development, R.V. Deshpande to come to Delhi to discuss about this project," Mr Prabhu said.
He was presiding the inaugural function of a new entry gate and escalators at the Yeshwantpura Junction on Saturday afternoon attended by the Union Minister of Statistics and Programme Implementation, D.V. Sadananda Gowda and Union Minister for Chemicals and Fertilizers and Parliamentary Affairs Ananth Kumar, minister R.V. Deshpande among other local MLAs.
It was also announced that the Yeswanthpur-Yelahanka track along with Channasandra-Yelahanka tracks were upgraded with doubling and electrification at the cost of Rs 94.93 crore and Rs 107.67 crore respectively. The Yelahanka-Dharmavaram track was electrified at the cost of Rs 160.9 crore.
Connectivity, electrification a priority
"To the credit of the two MPs from Bengaluru, the railway budget share for Karnataka increased from Rs 909 crore in 2014 to Rs 1,300 crore in 2015 and again increased to Rs 2,779 crores in 2016, which is an increase of 300 per cent, and next year this will be even more," Prabhu said. "The ministry is working at a bullet train's pace, but the railway officials seem to be lagging behind with a passenger rail's pace," Mr. Prabhu remarked.
He said the focus of the ministry at present was on increasing investments in improving connectivity by doubling and tripling of rail lines so that the delays can be reduced and electrification of lines to reduce diesel usage cutting down pollution and leaving no carbon footprints."
Extra train to Mangaluru soon
Speaking about the extra train between Bangalore-Mangalore that was announced in the previous rail budget, but yet not implemented - the union minister said the route had safety concerns in the way of land slides and possibilities of derailment as it passes through the Western Ghats.
The minister then urged the railway officials to get their technical team to work on the safety issues and resolve them with the Commission of Railway Safety (CRS) after which the train between Mangalore and Bengaluru can be commissioned, Prabhu said after the insistence of DV Sadananda Gowda who pointed out that around 400-500 buses ply between Mangaluru and Bengaluru on a daily basis.
Facelift for stations
"We are looking for development of existing railway stations/junctions with newer ones designed by way of Public-Private-Partnership (PPP) model which will replicate airport or metro stations," Mr Prabhu said. Agreement for the first PPP model in Habibganj in New Bhopal is already signed and the station is getting a facelift and this can happen to every other stations and junctions, he added.
Spanish trains
"We are also looking at introducing high-speed trains without altering rail tracks. The Spanish Talgo train that is continuing with its trail runs at the Mathura-Palwal route is doing great. The train travels at the max speed of 180 kilometre per hour. Trial runs are being conducted with sand bags to see if the Spanish-made light-weight coaches can take the weight of passengers and manoeuvre turns and curves at high speeds," Mr Prabhu said.
Once trial runs are successful there, we can look at starting trail runs not only for the Bangalore-Mysore corridor, but also consider Bangalore-Hubbali corridor, said Mr Prabhu when MP Ananth Kumar insisted. "If Talgo runs on the corridor, the journey time between Mysore and Bengaluru could be reduced to 1 hour and 40 minutes," he added.
...