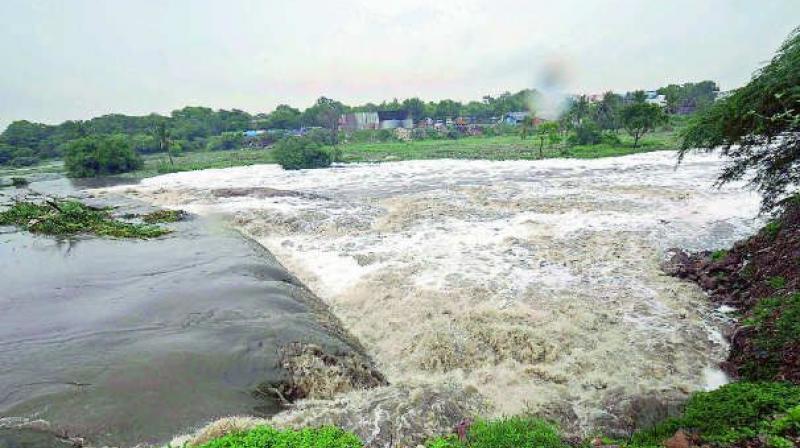 Vijayawada: The state government has requested the Krishna River Management Board (KRMB) to release 4 TMC feet water for Krishna Pushkaralu, but the official sources say it is not sufficient to meet the needs of Pushkaralu. As per present needs, Godavari water would be the only main source for the auspicious occasion. The state government has submitted its demand to KRMB for releasing 15 TMC feet water for delta needs, including drinking and for Krishna Pushkaralu. But the irrigation officials dropped its plan after facing opposition from the Telangana government.
Now the AP demands to release only 8 TMC feet water under emergency out of which 4 TMC feet would be for Krishna Pushkaralu and remaining is for drinking water needs of Krishna delta. As per officials, generally 1 to 2 TMC feet water goes as evaporation losses in the middle of journey, which is released from Nagarjunasagar to reach the distribution point at Prakasam Barrage. Generally, evaporation losses are common in the beginning of water release though it is canal or river, but losses will be nil in the continuous water flow later, says one official, on condition of anonymity.
However, there would no water shortage in the upstream of Prakasam Barrage. But the government may face some difficulty to release sufficient water to downstream areas of the barrage. Nearly half of the Pushkaranagars and ghats are in the downstream of the barrage. The official said that the government might release water to downstream areas by dividing two small channels in the Krishna River on both sides to avoid water scarcity.
He said that 2 TMC feet is available in Pulichintala Project. AP irrigation minister Devineni Umamaheswara Rao said that there is no need to worry about water and that the state government would take all precautions to make the Pushkaralu a grand success.
...