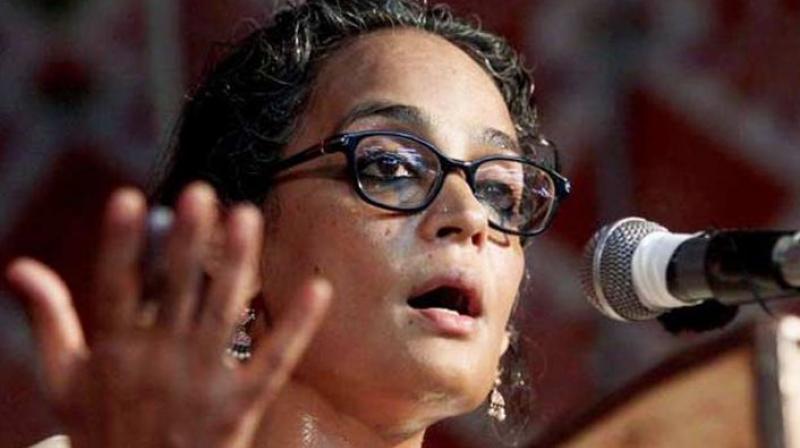 Delhi: Renowned author Arundhati Roy, on Tuesday declined from commenting on veteran actor Paresh Rawal's (also a Bharatiya Janata Party MP) controversial remark on her in specific, brushing off the comment as general criticism against her views.
Commenting on the criticism she receives, she said, "I'm arguing something and there are people who have positions on it. You can't expect everyone to stand up and applaud," according to a report in Mumbai Mirror.
Social media went berserk on Monday over Rawal's tweet suggesting Roy should be used as a 'human shield' by the Indian Army in Kashmir.
Instead of tying stone pelter on the army jeep tie Arundhati Roy !

— Paresh Rawal (@SirPareshRawal) May 21, 2017
Instead of giving in to Rawal's negative comment, Roy dismissively said, "I would be mortified if those people liked me".
Roy has been widely known for her anti-establishment perceptions and her sharp censure of the Indian government in its handling of areas of political turmoil like Kashmir and Bastar.
The author wrote in her 2010 essay, after having visited Bastar in Chhattisgarh, that the legacy of insurgence has left behind an enraged lot who have been intentionally estranged and marginalised by the government.
Rawal's tweet left many in shock while few others condemned his comment on social media. The actor has offered no explanation about his tweet until now, according to reports.
The controversy surfaces in the light of an Army Major tying a Kashmiri man, Farooq Ahmed Dar, to a jeep bonnet in Budgam district to defend self from stone pelting, earlier in April 2017.
Rawal had claimed that Roy should be awarded with similar treatment and used as 'human shield' allegedly for her views on Kashmiri separatism.
...