Hyderabad: Once the police brass returns from their US and UK study tours this month-end, the Telangana government will announce the setting up of 50 highway police stations.
Top officials like DGP Anurag Sharma, principal secretary, home, Rajiv Trivedie, Hyderabad police commissioner Mahender Reddy, traffic additional police commissioner Jitender and others are on a tour studying the installation of CCTV cameras. Once the team returns, the government will announce highway police stations on June 2, to mark the second formation day of the state. The aim is to respond quickly to accidents.
Recent statistics say the state stood ninth with 7,110 deaths. Most deaths occurred due to delay in taking victims to hospitals. A committee constituted for road safety last year visited TN and Haryana to study methods to ensure safety on highways.
The team noted that in TN around 2,000 cops were deputed along highways. The committee asked the government to set up highway police stations instead of patrolling and the government decided to set up 100 highway police stations (PSs). A model PS was opened at Chevella in 2015.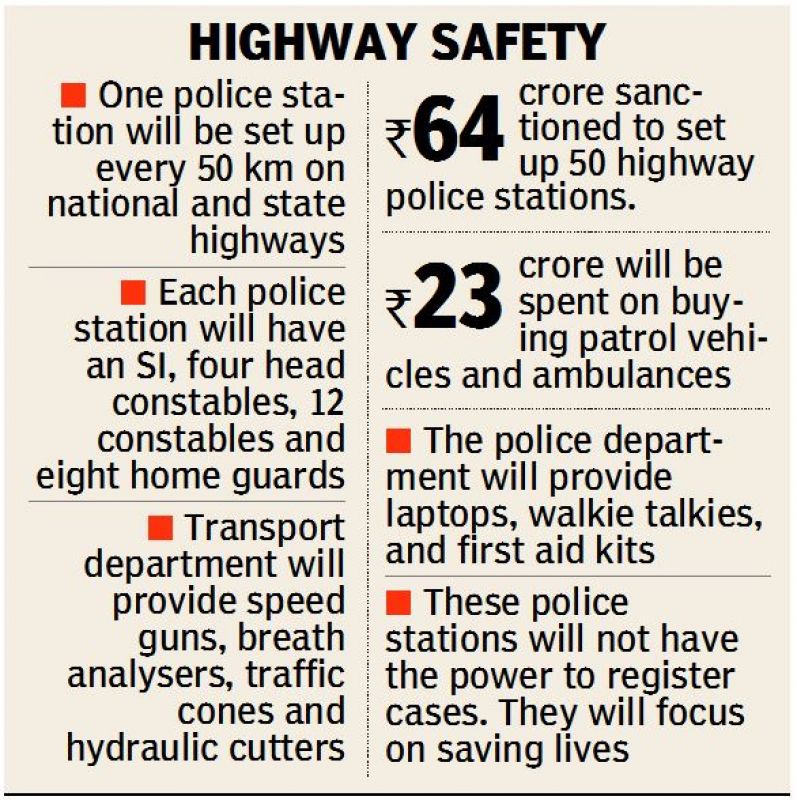 Infographics
The government has now decided to install CCTV cameras along highways as the community policing system is yielding results in Hyderabad. Additional DG of the Road Safety Authority and Railways T. Krishna Prasad told DC that they have sent proposals to the government for setting up 50 police stations in the first phase.
Two model police stations had already been constructed at Manneguda in RR district and Kodangal in Mahbubnagar district. Mr Krishna Prasad added, "Rs 23 crore was sanctioned for purchasing vehicles and Rs 19 crore for other equipment. Staff of these police stations will concentrate on preventing accidents by alerting road users on 360 black spots."
He said that the staff from these police stations would work under SPs. "The main aim of these police stations is to save lives. These teams will clear vehicles from the road immediate after an accident. These teams will also check for drunk driving and speed violations apart from recommending suspension of licences of erring drivers," he said.
10 police stations on Hyderabad outskirts
The city's outskirts will get 10 highway police stations along the NHs and state highways connecting Hyderabad and Ranga Reddy districts. The number of deaths due to accidents has increased by 132 in 2015, with 1,165 deaths in Cyberabad against 1,033 in 2014. Police has increased surveillance along highways and is strictly implementing the ORR patrolling system.
The Cyberabad commissionerate and Ranga Reddy district are connected with Rajiv Rahadari, Nagpur, Bengaluru, Mumbai, Vijayawada, Warangal, Vijayapuri and Narsapur highways.
...