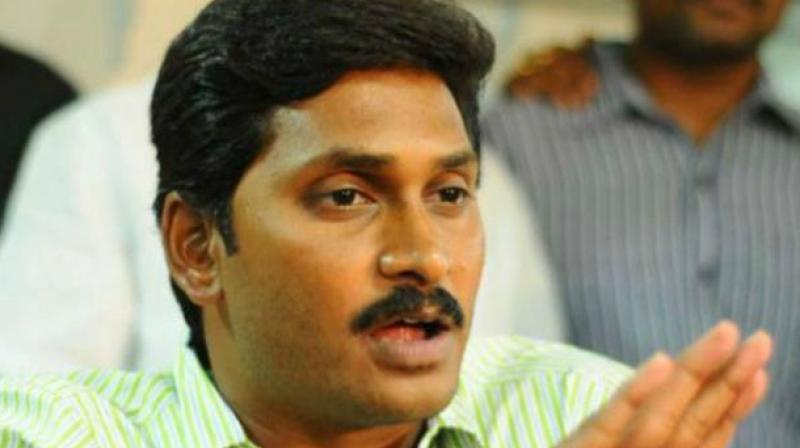 Hyderabad: YSR Congress President Y S Jaganmohan Reddy Saturday told Governor E S L Narasimhan the ruling TDP in Andhra Pradesh was indulging in misuse of power and "luring" his party MLAs into the ruling TDP.
The Leader of Opposition also sought action against Chief Minister Chandrababu Naidu for the latter's alleged involvement in various "scams".
"We have urged the Governor to intervene and see that action is initiated against the Chief Minister, who is facing serious corruption charges and is involved in various scams. He has been using the ill-gotten wealth to lure MLAs from other parties in an undemocratic method," Reddy told reporters here after submitting a memorandum to the Governor.
"I challenge Chandrababu Naidu to disqualify the MLAs (of YSRC who have joined TDP) and go to the people seeking a fresh mandate which will stand as a referendum on his governance and undemocratic methods being employed ever since the party came to power," he said.
The YSR Congress President's attack on the TDP came in the wake of 13 Congress MLAs switching over to the ruling party.
The YSRC observed 'Save Democracy Day' today by holding candle light protests at district headquarters.
The party leaders would go to New Delhi on April 25 "to apprise the President, Prime Minister and leaders of all political parties about the rampant corruption and blatant violation of democratic norms by Chandrababu Naidu and his government," he said.
The YSRC leader demanded that the MLAs who switched loyalties should be disqualified and by-elections held immediately in their constituencies.
Reddy said the party has complained to the Legislative Assembly Speaker about the legislators who have switched side but no action had been taken against them.
"The party would seek legal recourse if the same continued," he added.
...