Nation
Hubballi: Mobile torchlight helped couple survive 70 hours under debris
Deccan Chronicle.| vittal shastri
Published on: March 22, 2019 | Updated on: March 22, 2019
The couple, Dileep and Sangeetha, were working as daily wage labourers at the building when it came crashing down.
Rescue operations are still on for the fourth day with three teams of the National Disaster Response Force on the ground along with state emergency response personnel. (Left and bottom left) NDRF teams rescue two victims. Rescue teams suspect that five more people may be trapped under the debris (Photo: KPN)
Hubballi: Miracles do happen. Nearly four days after a five-storey building crashed in Dharwad, four people were pulled out alive on Friday. There were joyous scenes as a couple came out after nearly 70 hours under the debris. It was a pleasant surprise, as the NDRF and emergency services had given up all hopes of finding anymore survivors in the heap of the under-construction building, which collapsed on Tuesday.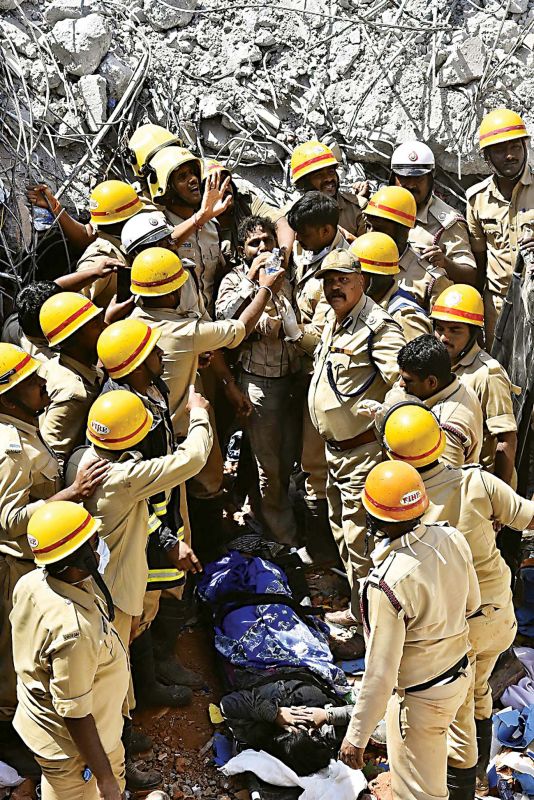 The couple, Dileep and Sangeetha, were working as daily wage labourers at the building when it came crashing down. Sangeetha has suffered a fracture in the leg after a pillar fell on it. Under the rubble, the couple could see each other with the help of their mobile phone torch. On the fourth day, Dileep managed to remove the pillar and started shouting for help when the rescue teams heard him. Even when the rescuers reached him, he refused to come out till the NDRF team broke the heavy pillars with the help of gas cutters and rescued his wife. Finally, the couple, who hail from Holtikote in Dharwad, were rescued and admitted to the district hospital. They have four children.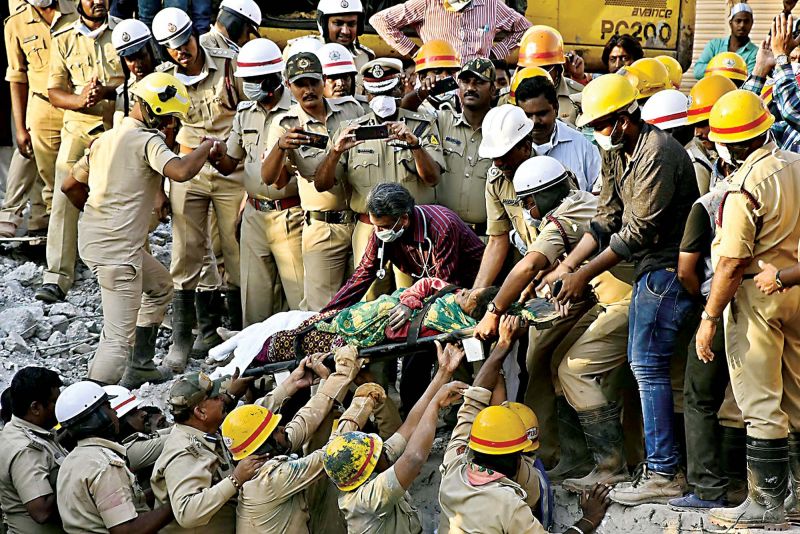 A little earlier, 25-year-old Sangangouda Ramangouda, who was working at the office of a corporator of Hubballi-Dharwad Municial Corporation at the building, was rescued after 56 hours. Scangangouda, who hails from Chikka Ulligeri village of Savadatti taluk, helped the NDRF team reach the couple.
"I have been working at the corporator's office over the last few years. The building came down crashing when I was coming out after lunch. I spent almost three days in the dark without water and food. I had lost all hopes of survival as I was totally isolated from the outside world," said Sanganagouda, who has suffered minor injuries. The people in his village celebrated by bursting crackers after he came out alive. The NDRF team also rescued 55-year-old Honnamma.
The death toll in the tragedy increased to 14 as the rescue team removed another body on Friday.
Latest News
Most Popular
Columns