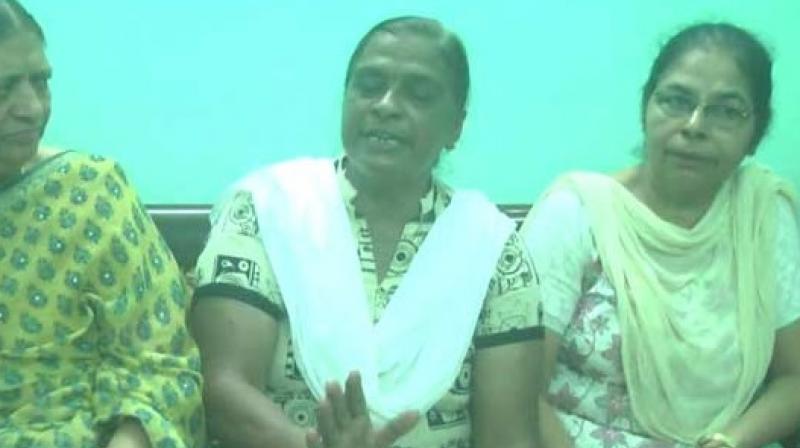 Ambala: In controversial remarks, Haryana BJP women's cell chief Nirmal Bairagi on Friday said incidents of rape have been there since the creation of earth.
She was replying to reporters who pointed out that such incidents have gone up in the state over the last two years.
"Incidents of rape were there ever since the creation of earth," she said on being asked about the progress in police investigation into a recent Rohtak incident where a Dalit woman was allegedly gangraped by five persons in a repeat offence.
The BJP leader was referring to the reports of Dalit girl from Rohtak who survived a gangrape only to be raped again, allegedly by men awaiting trial for the first attack.
Police say the 20-year-old student was abducted from outside her college on July 13, drugged and raped before being dumped on a highway.
Three men have been arrested in connection with the attack, two of whom had been charged with raping her in 2013, and only released on bail a few months ago.
Relatives say they believe the latest attack was revenge for her refusal to drop her complaint against the men, who they say were able to evade justice because they belonged to higher castes and had political connections.
"I will have to spend my entire life in constant fear of being raped again or killed," said the woman, who AFP is not naming for legal reasons.
"My life will never be the same. I am worried about my family's safety. They can harm us any time," she told AFP by telephone from her hospital bed.
Relatives of the victim said the alleged perpetrators of the 2013 rape had offered them money to withdraw the case, and threatened to attack her again if they did not.
"We were offered fifty lakh rupees to withdraw the case. They are rich people and have strong political links," her cousin said.
"We didn't give in to their demands and pursued the case, but we were let down by the court, which gave them bail in May," he added.
"This country is only for rich and for upper castes, only they get justice," said the cousin, adding that the entire family had now converted to Buddhism to escape discrimination under the Hindu caste system.
Bairagi claimed the state government took such incidents seriously and all necessary steps have been taken to curb them, adding that "most of the accused" in the Rohtak incident have been nabbed.
Replying to another query, she said the executive body of the state women's cell of the BJP would be constituted soon for which she was touring various districts to collect the feedback of active workers.
...