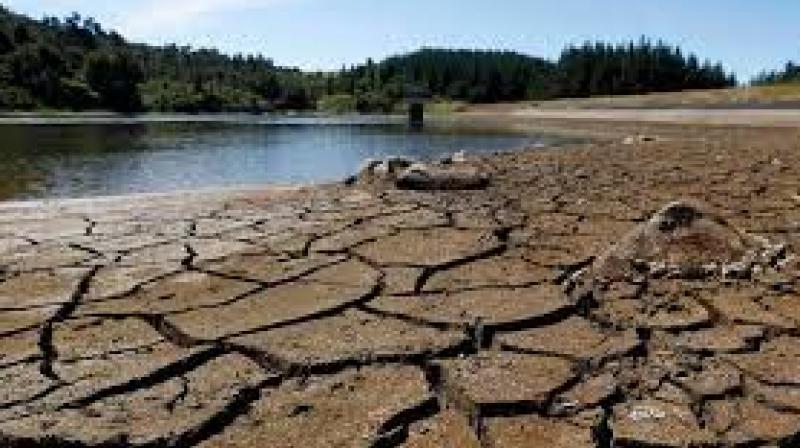 Hyderabad: Summer this year will be worse than in recent years as many existing water sources have run dry.
The Water Board is drawing 270 MGD from the Krishna and 86 MGD from the Godavari. The water will last till June 16.
The monsoons are supposed to hit Rayalaseema and then Telangana by the second week of June. If it gets delayed, Hyderabad is likely to face a severe water crisis.
Not once in the last two decades did the major water sources — Himayatsagar, Osman-sagar, Singur and Manjeera — reach dead storage levels. In early December 2015, withdrawal of water from these sources was stopped.
The Osmansagar has 0.023 tmc ft against its full capacity of 3.900 tmc ft. Himayatsagar has 0.173 tmc ft of water left against its full capacity of 2.967 tmc ft. Singur and Manjeera, are dry.
Water Board officials are under tremendous pressure not to disturb the existing supplies to consumers. But they cannot overdraw water from the Godavari as it will have to see them through till the end of summer, and beyond if the rains fail.
Officials are conducting a ground check on the possibility of increasing the frequency of water supply based on demand this summer. Currently the Board is able to supply about 356 million gallons of water a day against the total demand for 650 MGD.
Water Board managing director Dr B. Janardhan Reddy said, "The Board is examining ways to conserve water by involving citizens. We will carry out exhaustive awareness campaigns to conserve water and involve civil society in a big way to minimise water consumption in view of the precarious situation."
"The most worrying factor for us is the rapid evaporation from the Godavari and the Krishna because of the unusual rise in day temperatures in the past 30 days. If every consumer starts to conserve 30 per cent of water right away, only then can the Board supply water through the summer. The conservation should start now."
The groundwater levels have dipped in several areas, making them completely dependent on the Water Board's supply.
According to the state groundwater department's records, while water was available at an average depth of 6.9 metre in December 2013 in Hyderabad district limits, it had plummeted to 9.46 metre in January last year.
The Water Board has 8,000 borewells across the city to augment supply. An RTI query has revealed that no government department, including the collector's office, has a record of the total number of borewells in the city.
Tips to conserve water:
A few simple steps can help residents, apartments and establishments save thousands of gallons of water ahead of what promises to be a severe summer. For starters, installing individual water meters on multi-family apartments and billing based on consumption results in savings of up to 8,000 gallons per year.
The water Board has asked Resident Welfare Associations, NGOs and interested parties to maintain rainwater harvesting pits. The Board will build the pits, which have to be maintained privately. Building rainwater Harvesting structures ahead will at least get you ready for the next the summer.
Water is wasted while bathing and for other activities; All new buildings should implement systems to collect and recycle used water for toilets and gardens.
Check water usage by domestic helps, since it is they who are the main users of water in apartments, villas, offices etc.
Teach family members to turn off faucets tightly after each use, to avoid dropping of water.
Install dual piping – one pipe for drinking, bathing and cleaning utensils, and the other to bring in rainwater and treated water for toilets, gardens etc.
The toilet is one of the sources where water is wasted unnecessarily. Upgrade your toilet with new water-efficient models.
Use a broom instead of a hose to clean your balconies, corridors, driveways and sidewalks and save water every time.
Monitor your water bill for unusually high use. Your bill and water meter are tools that can help you discover leaks.
The water Board has asked Resident Welfare Associations, NGOs and interested parties to maintain rainwater harvesting pits. The Board will build the pits, which have to be maintained privately. Building rainwater Harvesting structures ahead will at least get you ready for the next the summer.
Minimise use of water for all household work. gallons can be saved this way.
Housing societies or apartment owners associations must adopt rainwater harvesting.
REDUCE use of water while flushing toilets. Put a one-litre bottle filled with water inside the tank. This saves 1 litre every time you use the flush. Opt for tanks with an option to use less water to flush liquid wastes.
A water leak detector or water leak detection system to alert you to plumbing malfunctions. Even a small leakage can cause huge water loss.
Turn the tap off while you brush or shave. Use a mug of water to brush teeth instead of running the tap.
Install covers on swimming pools and check for leaks around your pumps.
Shorten your shower by a minute or two and you'll save up to 150 gallons per month.
Run your washing machine and dishwasher only when they are full. You can save up to 1,000 gallons a month.
When washing dishes or clothes by hand, don't let the water run.
Do not hose down your car. Use water from a bucket and wipe the vehicles clean. This step saves several gallons.
The city Water Board is educating consumers through the media regarding water conservation.
Direct water to borewells
Groundwater can only be recharged through harvesting pits and by direct channelling of rainwater into borewells. The city is ignoring both methods, to its own peril.
Hyderabad's annual rainfall is between 600 and 800 mm. A 100 sq. metre pit can harvest 51,000 litre of rain water. This is the quantity of water that goes waste as apartment after apartment ignores rainwater harvesting. February and March are considered to be the ideal time to build rainwater harvesting pits.
Mr Subash Reddy, director, Smaran, an organisation working for soil and water conservation, said, "Hyderabad used to have groundwater at 90-100 feet. The depth has gradually increased and water is not available at 600-800 feet. The average depth is 1,500 feet. Even if borewells are dug, there is no guarantee how long they will yield water."
"In urban areas, there is a daily increase in the concrete surface: In houses, apartments and communities, almost all the surfaces are titled. There is no chance of water percolating into the ground due to the cement structures. It is extremely important to channelise rainwater, either into pits or into borewells."
The city has a rocky granite sub-surface and water does not penetrate easily. Experts say rainwater harvesting pits should be specific to the soil at the site. For granite soil, a technique called injection wells is used.
Architect and water harvesting expert Sai Prasad Renugunta said, "In most houses, people collect water through primary filtration (through filters available in the market). In most urban areas, rainwater harvesting pits are not practical because there is no space."
He said that for an individual house of 200 square yards, a 5 feet x 5 feet x 6 feet pit, as per the soil condition, should be dug. In most cases this space is not available. The alternative is to store rainwater and reuse water. This way residents spend less on electricity and the quality of water is better. The level of total dissolved salts is also less than borewell water, he said.
...