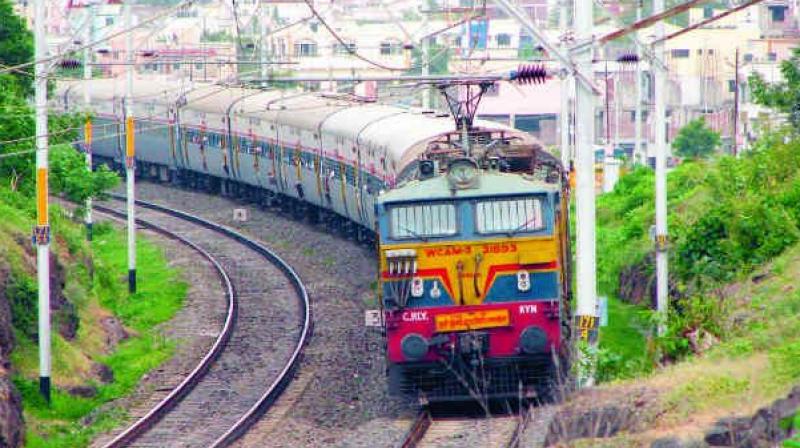 Hyderabad: About 821.46 of the 4.78 lakh hectares of land belonging to the Indian Railways countrywide has been encroached upon by various parties. The encroached land is 0.17 per cent of the total land owned by the Indian Railways. 
The biggest amount of railway land encroached upon is in the Northern Railways - 183.10 hectares. This is followed by the South Eastern Railways with 141.75 hectares of encroached land and then East Central Railways with 1.71 hectares of encroached land.In the last three years, from 2016 to 2018, Railway officials have been able to retrieve about 58.01 hectares of Railway land. The ownership of all Railway land vests with the central government.
Railway officials say there are regular surveys, monitoring and maintenance of land records to avoid encroachments.
"With a view to avoid any litigation, accurate and certified land plans of all Railway land are maintained and boundaries are adequately demarcated and verified  at regular intervals," an official said.
There are rules about how to deal with encroachment of Railway land. The rules say that for prevention/removal of encroachments, the Railways must carry out regular surveys of encroachments and take action for their removal. If the encroachments are of temporary nature, which are called 'soft' encroachments in the shape of jhuggis, jhopris and squatters, the same are removed after consultation with and assistance of the Railway Protection Force and local civil authorities.
When it comes to old encroachments, where the encroaching party is not amenable to persuasion, action is taken under PPE Act, 1971.
When necessary, eviction is ordered and carried out with the help of state governments and police personnel.
If there are allegations that the encroachment is taking place in collusion with a railway official, then the matter will be investigated.
...