Nation
Neither left nor right: Kamal Haasan launches party 'Makkal Needhi Maiam'
Deccan Chronicle | DC Correspondent
Published on: February 21, 2018 | Updated on: February 21, 2018
The Tamil actor spoke about ending caste politics and told people to not accept money for votes.
Delhi Chief Minister Arvind Kejriwal, AAP Tamil Nadu in-charge Somnath Bharti werealso present along with Haasan among others. (Photo: PTI/File)
Madurai: Leading actor-turned politician Kamal Haasan on Wednesday launched his political party, named it as 'Makkal Needhi Maiam' (People's Justice Party) and unveiled its flag that symbolises the strength of unity in Tamil Nadu's Madurai.
"This is a party for the people. I am not a leader. The name of the party is Makkal Needhi Maiam," Haasan said.
"This is a party for the people. We have a responsibility. This isn't a one day show, This is a long term goal," Kamal Haasan said while addressing the gathering.
Continuing with his speech, Haasan said, "You must be an example to the present day political system and I will be seeking your suggestion rather than giving you speeches."
"I have shown you a morsel of the government I can cook for people here. The people who have gathered here are people who have enraged by the corruption prevalent in the state," Kamal Haasan said.
Kamal Haasan said there were interferences when he started doing good things.
"We have been doing our job. We will bring out the corruption in the government," Haasan told the gathering.
"Today is the day of reckoning. I have to speak, and tomorrow, I will have to act," he said.
The Tamil actor also spoke about ending caste politics and told people to not accept money for votes.
"I don't have money to give voters. I will spend it on welfare," Haasan said.
Haasan's party flag in white background has six hands joining together with shades of red over three hands and rest with white along with a star in between surrounded by a star like background in black.
Colours black and white has a political significance in Tamil Nadu which forms part of the flags of the two big parties of the state-- AIADMK and DMK--and the shades are also seen as a pointer to the Dravidian ideology.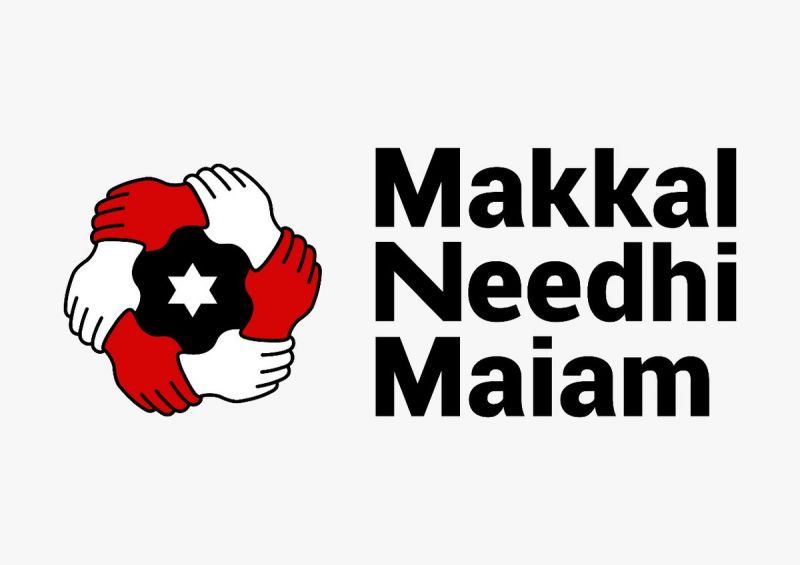 (Photo: Twitter/@ikamalhaasan)
Detailing on why he chose to use the word "Maiam" in the party name, he said that that he was not with "the left or the right" and that was the reason why he used the term "Maiam", which means "centre".
"Six hands in my party symbol represent six states, star in the middle represents people," he said.
Delhi Chief Minister Arvind Kejriwal, AAP Tamil Nadu in-charge Somnath Bharti were also present along with Haasan among others.
Kejriwal had met Haasan in Chennai in September 2017, when the actor had started dropping hints of taking the political plunge.
Kerala Chief Minister Pinarayi Vijayan congratulated Kamal Haasan via pre-recorded message on his party launch.
Addressing the audience, Delhi Chief Minister Arvind Kejriwal also congratulated Haasan on the launch of his political party.
"People of Delhi rejected both BJP and Congress and gave us 67 seats, the kind of response I am seeing here, I am sure the people of Tamil Nadu will the break record of the people of Delhi," Kejriwal said.
Haasan kicked off the event with a state-wide tour in Madurai. He began his political journey by visiting the house of A P J Abdul Kalam in Ramanathapuram, describing the former president as his "role model".
Haasan received the blessings of the late leader's centenarian brother Mohammed Muthumeeran Lebbai Maraikkayar.
He briefly interacted with Maraikkayar. Kalam's family presented a memento carrying an image of the former president to Haasan. He also paid homage at the memorial of the 'missile man' at Peikarumbu.
However, Haasan's plans to visit a school where Kalam studied could not fructify as the local administration denied permission, saying it was "political" in nature.
But the actor-director said there was "no politics" in his visit to Kalam's house or the proposed one to the school.
"Kalam who came from a simple house is an important person for me.. a role model. I am happy to have gone there. It was a planned visit, there is no politics in the visit to his house," he later told reporters.
Haasan praised, among others, Kalam's patriotism and aspirations, saying he was attracted by such characteristics in him.
Asked what difference he saw between his avatars as an actor and that as a politician, he said the former has a bit of "barter system" in it.
"Cinema is a medium to connect with people and so is politics. But there is more responsibility as a politician. It was like barter system-there (in cinema) -- their (people's) money for my talent. But there is no such thing here (in politics)," he said.
However, there was more responsibility and honour in his new avatar as a politician, he said.
On being hailed by his fans and supporters as as 'Nammavar' (our man) ahead of his political plunge, Haasan said it amounts to people "owning me up as their man."
Haasan has starred in a film titled 'Nammavar.' "It is the name of a film. My fans are aware of it. It's owning me up, it's our man, that's what it means," he said.
Replying to a question, he said anyone with a passion, time and desire to join politics should do so.
"Even you (journalists) should come to politics. Once advocates used to come to politics in large numbers... no body questioned... when actors come people question," he added.
Haasan said Andhra Pradesh Chief Minister N Chandrababu Naidu spoke to him Tuesday night and advised him to prepare a list of public welfare initiatives rather than spelling out policies. He said he considered Naidu as one of his heroes in politics.
The veteran actor also said he had lived in the hearts of fans but now wanted to live in people's homes in his new role.
After the media interaction, Haasan left for Madurai, about 170 km from Ramanathapuram, and addressed the public at some places, including his native Paramakudi, en route.
(With agency inputs)
Latest News
Most Popular
Columns